Hooghly river gulps 8 homes in 10 minutes in Nadia
At least 30 families near the river bank dismantled their houses to shift to safer places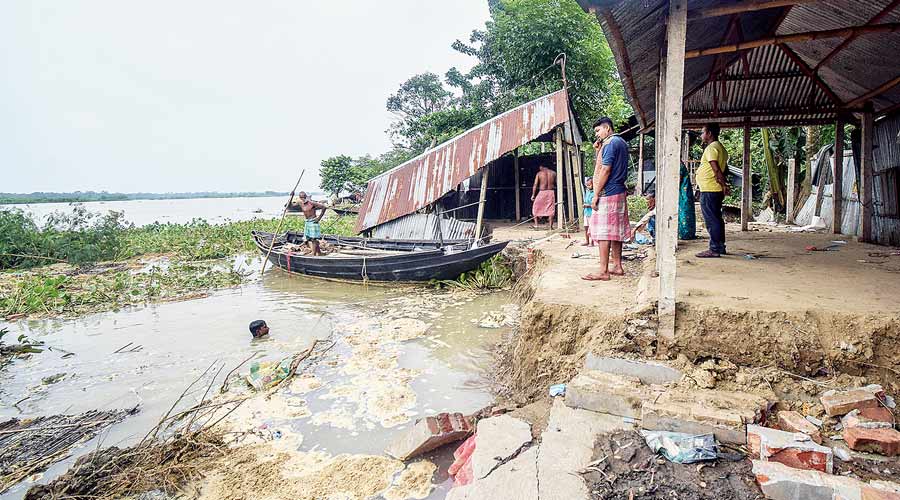 Residents in ward-16 of Santipur town, Nadia, on Wednesday survey the damage of Tuesday night's erosion.
Telegraph picture
---
Chakdah
|
Published 12.08.21, 02:50 AM
|
---
The spate of erosion along the banks of the Hooghly continued in Nadia's Santipur with at least eight houses tumbling into the river "in 10 minutes" at the town's ward 16 on Tuesday night.
Panicky at the fast-changing course of the Hooghly amid erosion, at least 30 families near the river bank in Char Saragar and Gobar Char areas of the ward dismantled their houses on Wednesday to shift to safer places with whatever belongings they could carry.
Till Wednesday afternoon, 40 families had taken shelter at a primary school. A few others moved to homes of relatives nearby.
Local sources said the erosion began around 7pm on Tuesday. Pradip Das, a farmer who lost his house, said: "The erosion was so sudden and rapid that we lost everything before realising what was happening. Around 10pm, I felt the earth below us shaking as if in an earthquake. The river gobbled up eight houses within 10 minutes," he said. 
Ajit Das, another victim, said: "I lost everything I own."
On July 18, five houses and about 30 bighas of farmland were lost in erosion in the same area. Residents had blocked NH12 alleging the district administration's apathy. "The administration had then assured us of preventive measures but did nothing," a villager said. "All they did before monsoon was piling erosion-prone areas with sand bags. It is an eyewash and doesn't help. Dredging the riverbed and building concrete guard walls along the erosion-prone stretch are needed, but those are not done," he added.
Former councillor and local Trinamul leader Brindaban Pramanik said: "Don't know why preventive measures had not been taken." A  state irrigation official said continuous rain worsened the situation. 
"In such a situation, no protective measures can arrest erosion, particularly since the water level of the river has increased alarmingly. Nevertheless, we will take up some temporary work once the water level drops," he said.