Homes emptied after cracks in Calcutta's Bowbazar
Cloud on East-West Metro deadline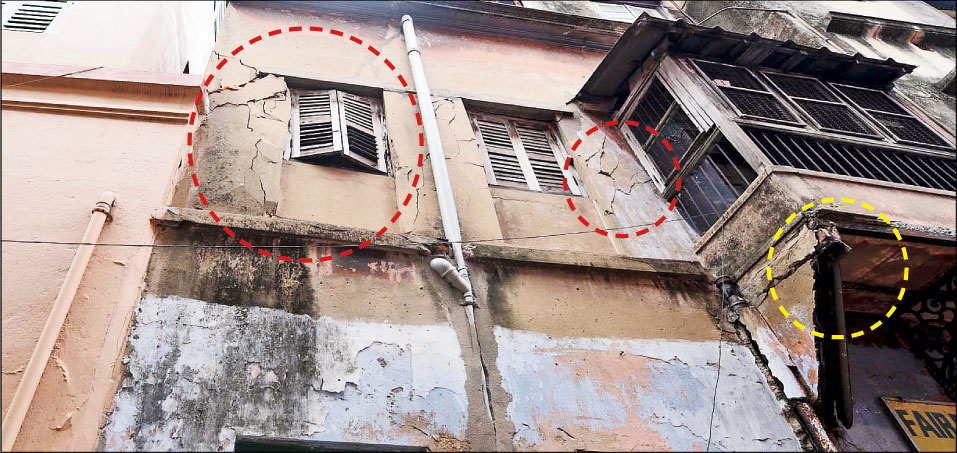 ---
Calcutta
|
Published 01.09.19, 07:23 PM
|
---
Around 250 people had to be evacuated overnight from 13 buildings in Bowbazar after they developed cracks and parts of at least of two of them collapsed while East-West Metro's tunnel-boring work was on between Saturday and Sunday.
There were no injuries but Metro stopped tunnel-boring work, at 14m under the surface, indefinitely, sparking concerns that the 2021 deadline for the final phase of the project could not be met.
The 16.5km East-West Metro, which has missed several deadlines, will connect Salt Lake Sector V with Howrah Maidan and will pass under the Hooghly. The first phase, likely to be unveiled around Durga Puja, will stretch 5.5km, between Sector V and Salt Lake stadium.
Till Sunday evening, 18 buildings were found to be affected in Durga Pithuri Lane and Syakra Para Lane. Thirteen of them were vacated. "The process of evacuating the remaining five has started," a police officer said. The authorities also evacuated a few houses in Gour Dey Lane and Madan Dutta Lane fearing they might develop cracks.
The affected residents have been moved to hotels at the expense of Metro.
A few days ago, before tunnel boring started in the area, more than 40 people had been moved from their homes in Durga Pithuri Lane and Syakra Para Lane to three hotels.
Police officers said multiple notices had been issued and pasted on some buildings in Bowbazar, asking the residents to stay at hotels between 9am on August 29 and 9am on September 2, when the tunnel-boring machine would be at work.
Mayor Firhad Hakim visited the spot on Sunday and held a meeting with the Metro authorities.
"Metro has said they will repair the damaged buildings. If any building is beyond repair, they will rebuild it. In the meantime, the residents will be kept in hotels. But if it (the repair) takes months, they will be shifted to apartments which Metro will provide," said Hakim.
Bowbazar has hundreds of old buildings, many of which are in poor shape. The area falls on the 2.45km stretch between Esplanade and Sealdah, which has 300-odd old buildings and will have Metro tunnels underground.
Metro found during a visit to Bowbazar on Sunday that ITD-ITD Cem, which is building the twin tunnels between Esplanade and Sealdah, had placed steel props in some buildings to reinforce them.
Engineers involved in the project said the machine that was boring the tunnel through which Howrah Maidan-bound trains will run apparently hit a sand aquifer, an underground layer of water-bearing sand, resulting in massive settlement.
"Water was flooding in from the front as well as the sides. There was almost knee-deep water in the tunnel.... The accumulated water caused huge settlements, which led to cracks," said an engineer of the Kolkata Metro Rail Corporation, the implementing agency of the project. "ITD-ITD Cem had conducted surveys... but it is not always possible to detect such aquifers."
KMRC managing director Manas Sarkar said he had not heard of any such incident in Metro projects in other parts of India.
The cracks triggered such scare that employees of jewellery shops — there are quite a few of them in the Bowbazar area — were seen taking out boxes filled with ornaments.
"The Metro authorities had held meetings with us and assured us that nothing would go wrong. Now, a portion of my house has collapsed," said Sushma Shaw, 22, who has just completed her postgraduation.