Home ministry showcause notice to Alapan under Disaster Management Act
Former Bengal chief secretary asked to reply within three days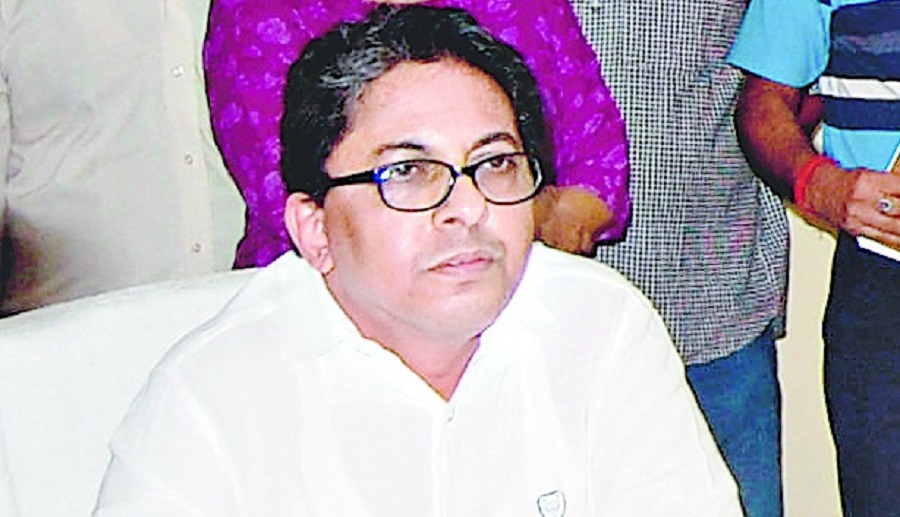 Bandyopadhyay, who was due to retire on May 31, was given an extension of three months and days later asked to report at the Centre.
File Photo
---
Calcutta
|
Published 01.06.21, 05:49 PM
|
---
The Union home ministry showcause notice to Alapan Bandyopadhyay for not attending a Prime Minister's review meeting cites provisions of the Disaster Management Act-2005, a move that is likely to embed the former chief secretary at the centre of a bitter dispute between the state and Centre.
A home ministry official said the showcause notice was served on Bandyopadhyay for not attending a Prime Minister's review meeting to assess damages caused by Cylcone Yaas, hours before chief minister Mamata Banerjee announced his retirement on Monday.
 Bandopadhyay, said the officer, has been asked to reply within three days to the notice that effectively opens up the senior and respected bureaucrat to the stringent provisions of the Disaster Management Act that entails imprisonment of up to two or more years, depending on the circumstances.
"… by this act of abstaining himself from the review meeting taken by the Prime Minister who is also the chairman of National Disaster Management Authority in the aftermath of cyclone Yaas as part of his visit to the cyclone affected areas in the state of West Bengal, Alapan Bandyopadhyay, chief secretary, government of West Bengal, has acted in a manner tantamount to refusing to comply with lawful directives of the central government and is thus violative of section 51 (b) of the Disaster Management Act, 2005," the letter reads.
Bandyopadhyay, who has time till Thursday to submit a reply, has, however, been left with few options. He can move a high court or the Supreme Court if any action is taken by the Centre or any other authority.
The notice has been served under Section 51 of the Act that specifies "whoever without reasonable cause refused to comply with any direction given by or on behalf of the Central government or the state government or the National Executive Committee or the State Executive committee, shall on conviction be punishable with imprisonment for a term which may extend to one year and a fine or with both".
If it is determined that the action of a person, through obstruction or refusal to comply with directions, "results in loss of lives or imminent danger", the conviction can be punishable with a term extending up to two years.
A senior bureaucrat said the Centre's decision to slap the Disaster Management Act on Bandyopadhyay was not surprising. 
"They could have issued the same notice to him on Saturday when the first notice was served. They knew he would not comply and waited till his retirement was announced to serve the notice under the Disaster Management Act. Technically, he is no longer in the protection of the state government," said a retired IAS officer who has served in Bengal.
A 1987 batch IAS officer, Bandyopadhyay was due to retire on May 31. On a request from the state government, the Centre had agreed to grant him extension for three months, starting from June 1.
"When the order to recall him to Delhi came, the Centre did not cancel the earlier order granting him extension. For any disciplinary action as IAS officer the department of personnel and training can take any action against him _ like, say, withhold post-retirement benefits," another former officer said, adding that the proceedings against Bandyopadhyay and the DoPT orders were not to be clubbed together.  
In any case, he explained, that the matter would not have been resolved amicably even if Bandyopadhyay had complied with the Centre's order of May 28. "He would have to be given a post equivalent to chief secretary in Delhi. Since he hasn't applied for secretary empanelment since he held the rank of joint secretary, he couldn't be given that rank in Delhi. The government would have to appoint him as officer on special duty," the officer said.
Sources close to the government debunked chief minister Mamata Banerjee's clarifications on the controversy.
"PM landed at Kalaikunda at 1.59 pm. Mamata Banerjee landed at 2.10 pm. It is clear that PM was kept waiting for Mamata Banerjee as he landed much before her," ndtv.com reported an officer saying.
Defending the move against Bandyopadhyay, sources said, he had ignored his constitutional duties. "Chief secretary is an All-India services officer. He chose to ignore his constitutional duties, as a result of which no presentation was given to PM and no officer of the West Bengal government attended the PM's review meeting," the officer added.
"She knows that facts of the matter are against the chief secretary and his behaviour was such that it will invite strict disciplinary action. All India officers are not expected to be part of politics. Mamata knows all this and his retirement is a last bid to save him," he said.