Hill teacher pens: The Forgotten Hero-INA Captain Dal Bahadur Thapa
Book brings to life a Gorkha martyr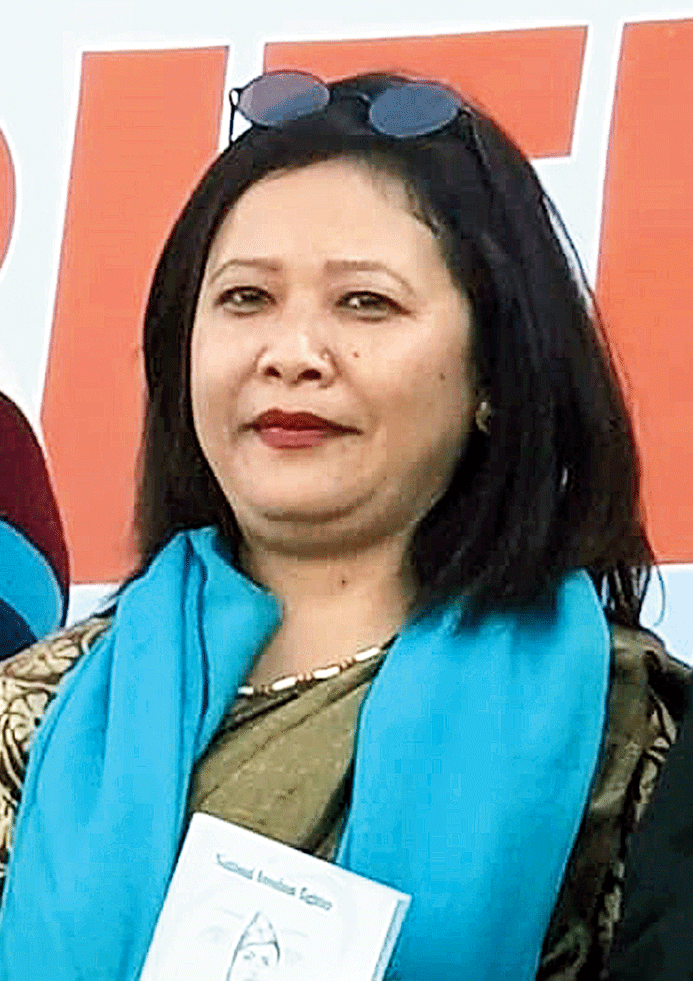 ---
---
A school teacher has written a comprehensive book on INA Captain Dal Bahadur Thapa, a martyr whose contribution was slowly sinking into oblivion.
Srijana Lunheem Subba, 39, managed to bring the INA hero to the spotlight with her 63-page book: The Forgotten Hero-INA Captain Dal Bahadur Thapa.
Two Gorkhas of Netaji's Azad Hind Fauj, INA Major Durga Malla and INA Captain Dal Bahadur Thapa, were sent to gallows separately in the 1940s by the British for their role in India's independence movement.
While Malla is a household name, especially after his bronze statue was unveiled at the Parliament complex in 2004 by then Prime Minister Manmohan Singh, many believe Thapa had been forgotten from the larger discourse.
"I was first approached by Gorkha Saheed Sewa Samity president Andrew Gurung. It took me four years to complete the project as there was hardly any material available on the Gorkha martyr," said Subba who teaches science at Pokhriabong Girls' Higher Secondary School .
Subba, a resident of Nagri, 34km from Darjeeling, found "few essays" and a death certificate issued by the All India INA Committee on March 7, 1972.
"The only informative piece was found in Jyoti Thapa Mani's book, The Khukri Braves," said Subba.
Jyoti Thapa was the design head of Businessworld — which was once published by ABP Group and was a sister publication of The Telegraph.
Jyoti Thapa also helped Subba with her project and the book was released in Siliguri on January 12.
Malla, a Gorkhali from Garhwal (now Uttarkhand) signed up with the INA in 1942 but was captured by the Commonwealth forces on March 27, 1944, and within six months, he was sent to the gallows on August 25, 1944.
Captain Thapa was from Kangra (now Himachal Pradesh) and born in 1907. He, too, joined the INA in 1942 and was captured in the jungles of Manipur on June 28, 1944, and executed on May 3, 1945.
Speaking to this correspondent from Noida, Jyoti Thapa said: "In Himachal Pradesh, both the martyrs are revered together. The statues of both Shaheed Durga Malla and Dal Bahadur Thapa stand side by side at Dharamshala."
An all India level football tournament named after the two martyrs is also organised every year at Dharamshala.
Many, however, believe Malla started overshadowing Thapa in public discourse mainly after the statute was erected in the Parliament complex. "The book was long overdue in the present context," said Jyoti Thapa.
He said following public uproar over the executions — around 300 INA officers had been captured, the British had decided that only those with most serious allegations would face trials.
In her book, Jyoti Thapa said other Gurkhas held guilty were released in the 1945 upheaval.
"They were Puran Singh, Dilman Singh Thapa, Budh Singh Gurung, Dhan Bahadur Chhetri, Chabbi Lal Nepali, Babu Lal Muktan and Ram Singh Thakuri. Hundreds of Gurkhas died on the battlefield while fighting for India's freedom under INA at Port Blair and the northeast battlefronts," said The Khukri Braves