He who steered Xavier's ship
Historian Geraldine Forbes spoke at the Father Albert Huart Memorial Lecture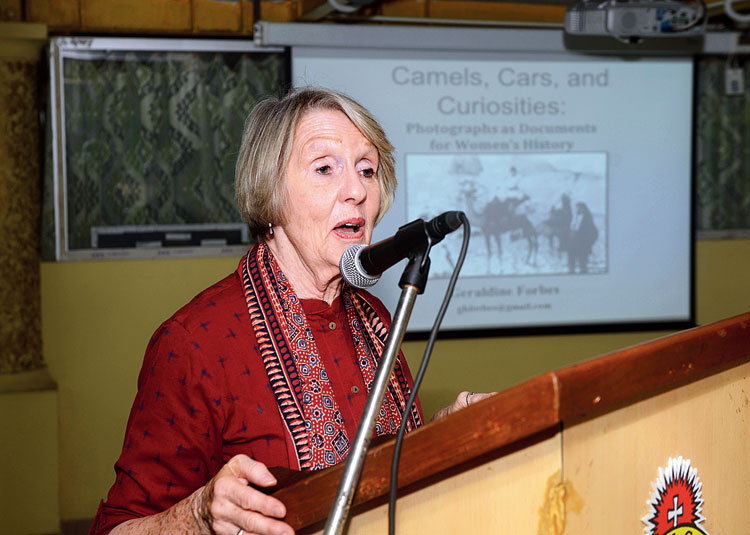 Historian Geraldine Forbes speaks at St Xavier's College on Wednesday
Picture by Bishwarup Dutta
---
Calcutta
|
Published 14.02.19, 10:36 AM
|
---
St Xavier's College on Wednesday remembered one of its most loved teachers with a lecture that celebrated Indian women of the early 20th century.
The Father Albert Huart Memorial Lecture titled "Camels Cars and Curiosities: Photographs as Documents of Women's History" turned the spotlight on women born in India between 1898 and 1910 who voiced their grievances and organised women.
Historian Geraldine Forbes gave these women credit for India's "fantastic laws and fabulous rights" for women that many countries didn't have for years. "They had made clear what they wanted. For example, they said they wanted education," said Forbes, professor emerita in the department of history at the State University of New York, Oswego.
"You can complain about the status of women in India. But the Indian Constitution states men and women are equal and women here could vote.... in many countries women had to fight for several years for this right," she said.
Father Huart, who taught political science at St Xavier's for 25 years, died in Belgium on September 6, 2018, at the age of 93. He was known for his "administrative skills", "mastery over the subject" and as a "strict disciplinarian", a teacher said.
Huart was vice-principal of St Xavier's College from 1966 to 1991 and rector from 1982 to 1989.
"He steered the ship of St Xavier's in its stormiest days (during the political turmoil of the late 1960s and the early 1970s). He was a man of few words and sometimes his look was enough to convey his message, be it to discipline or console. He touched hearts," said the principal, Father Dominic Savio. Huart was also the architect of the political science department of the college, he said.
Principal Savio said the Father Albert Huart Gold Medal would be introduced next year. "St Xavier's College will celebrate 160 years next year.... In trying to capture the story of its growth and evolution we come across several names, one of them is Father Huart," Savio said.