Hawker brigade back in Bagree lane
The return of hawkers to Canning Street and the adjoining lanes started the moment police eased entry restrictions on Saturday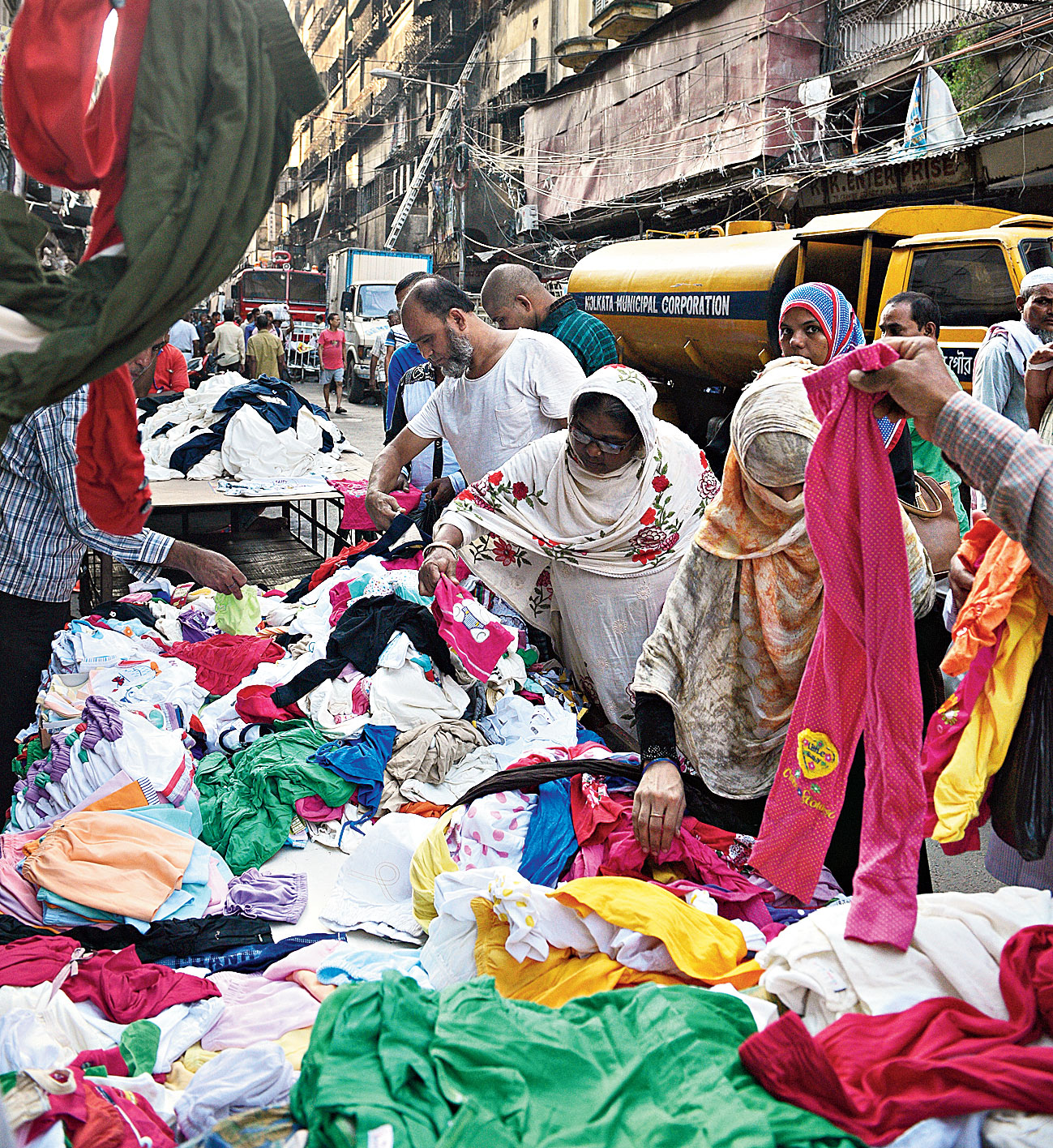 Brisk business on the footpath and carriageway of the lane leading to Bagree Market on Sunday.
Gautam Bose
---
Calcutta
|
Published 23.09.18, 09:30 PM
|
---
A comeback army of hawkers has overrun the lane in front of Bagree Market, stalls springing up overnight on the footpaths and carriageway that fire engines had struggled to enter during the blaze last week that destroyed around Rs 200 crore worth of businesses.
The return of hawkers to Canning Street and the adjoining lanes started the moment police eased entry restrictions on Saturday. The invasion was despite the police deployment around the market, with either end of Canning Street still barricaded with guardrails to prevent vehicles from entering.
The new stalls, made of plywood and plastic sheets, encroach on the footpaths as well as the width of the road.
Metro counted at least 100 stalls occupying the road on Sunday, most of them stacked with inflammable items like rolls of polythene and plastic, tablemats, garments, lighters and small cylinders filled with butane gas.
The only space left untouched by the hawkers is a 50m stretch in front of Bagree Market's charred façade. Workers of the Calcutta Municipal Corporation toiled through the afternoon to clear the debris. Two fire engines and their crew were on standby.
In front of the nearby Mehta Building, Jain Centre and even Amratala Lane, the devastation wrought by the blaze that started early on September 16 and continued for more than 86 hours seemed like a distant memory.
The air is still pungent with the smell of things burning and electricity supply hasn't been restored in most buildings around the market. But going by the chorus of resilient voices screaming "le lo 10 rupaye mein", hawkers function in a different universe.
Mohammed Kamran, 35, had set up his garments stall a shout away from Bagree Market. "This spot on the street has been mine for more than 10 years. I don't have a choice but to be back here. I can't afford to rent a stall in any of the buildings in this area," he said.
A hawker selling plastic rolls and tablemats opposite Bagree Market said it was unfair to expect him to change his business of 15 years because there had been a blaze nearby.
"I cannot switch to selling items that are not inflammable after so many years," he said.
Jayesh Patel, who lost his shop in the Bagree Market blaze, urged the government to regulate how hawkers do business. "Not only did the fire spread from a hawker's dala (stall) on the footpath, stalls blocking most of Canning Street prevented the fire brigade from deploying all its resources in fighting the flames," he said.
According to Patel, hawkers being allowed to wrest back the lanes is a sign that the authorities are not serious about change. "We understand that they need to earn a livelihood as well, but something must be done to keep them from blocking most of the road."
Ramkrishna Paul, a dealer in cosmetics and hairdressing tools, said he feared a rerun of the fire that gutted his storeroom in D Block of Bagree Market.
"The administration has clearly not learnt its lessons. Our businesses have been dealt a crippling blow and still no step has been taken to ensure this does not happen again."
Nihal Ahmed Saleji, a resident of the neighbourhood, said taking out his car even on a weekend had become a challenge because of hawkers.
A police officer on duty near Bagree Market said his team's brief was not to prevent the return of hawkers. "We have been asked to prevent theft inside Bagree Market. There is no instruction to stop hawkers from setting up stalls."
The preliminary hypothesis of the forensic team that had inspected the six-storey building on Thursday pointed to a short circuit in a switchgear box on the footpath as the trigger for sparks that spread through a stall stashed with cans of perfume and body spray.
Traders have requested urban development and municipal affairs minister Firhad Hakim to take steps to remove hawkers' stalls.