Hanskhali rape case: Girl's body forcibly taken away, says father
The accused had threatened the family with dire consequences if they dared to take the profusely bleeding girl to the police station or the hospital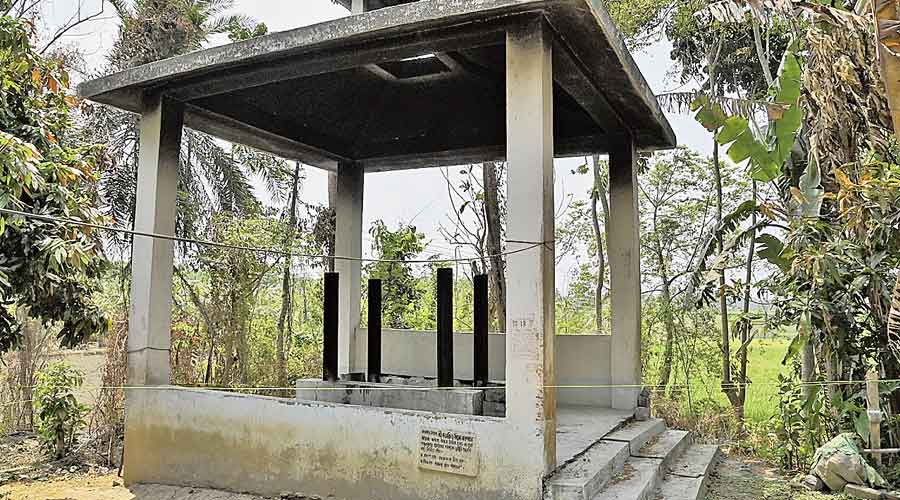 The unauthorised crematorium where the girl's body was burnt on April 5.
Picture by Subhasish Chaudhuri
---
Hanskhali
|
Published 14.04.22, 01:23 AM
|
---
A sleepy hamlet around 20km from Hanskhali in Nadia district woke up to an obnoxious burning smell on Tuesday last week and some of the villagers stepped out to find smoke billowing from the unauthorised crematorium at one end of the village.
The smell of burnt human flesh alerted them as a body had arrived there for cremation after a long time. A few ventured towards the burning ghat but were halted in their steps. 
"Those who stopped us were known to be close aides to Trinamul leader Samar Gayali, What we managed to see were two men trying hard to burn a body," said a villager who refused to divulge his name, apprehending retaliation. The villager added that they were unaware then that a small girl of the village was being cremated in a hush-hush manner.
What also emerged on Wednesday is that the father was forced to part with the body of the Class IX student who had died hours after she had been gang-raped allegedly by Gayali's son Sohail and his friends at a birthday party on April 4.
Talking to ABP Ananda, the girl's father claimed that Sohail had threatened the family with dire consequences if they dared to take the profusely bleeding girl to the police station or the hospital.
"Within 30 minutes of my daughter's death, Sohail and his gang came our home and held a gun to my chest. They threatened to kill me and took away the body by wrapping it in a mat on which she was lying," the father said.
The girl's mother told The Telegraph on Wednesday: "They didn't allow us to touch the body. They set it on fire in front of my husband and threatened us with dire consequences if we raised our voice or informed others. We had no option but to mourn the death silently."
Responding to the accusation, additional superintendent of police, Ranaghat police district, Rupantar Sengupta, said: "We are trying to find out who intimidated the girl's parents as stated in a complaint. At the same time, the official status of the crematorium was being examined."
A villager, who could catch a glimpse of what had gone on at the crematorium when the body was being prepared to be set on fire, said: "They were in a hurry to burn the body quickly but did not bring wood with them to set up a pyre. They frantically collected dry wood and dry leaves from a nearby bush. But as that was not enough to set up the pyre, they doused the body with kerosene to burn it."
The CBI on Wednesday filed an FIR for gang-rape, destruction of evidence, conspiracy and aggravated sex under IPC and Pocso Act. 
The police have cordoned off the crematorium and posted civic volunteers so that material evidence was not destroyed or washed away.
Local sources said a few years ago, a temple was constructed at the crematorium and a committee took charge of its management. An elderly couple was assigned the charge, but the man died last year. Since then, his wife Karuna Bawali has been looking after the crematorium.
Speaking to The Telegraph on Wednesday, Karuna said: "People seldom come here for the last rites. Even during Covid-19, no body was burnt here. Last Tuesday, I was woken up much before dawn following frantic summons by some local youths as they had brought a body for cremation. It was after a long time villagers brought a body. A man deputed by the puja committee who checks papers, however, was not present. So I asked them to wait but they seemed to be in a hurry and burnt the body."
On Tuesday, the police took Karuna to the additional chief judicial magistrate's court in Ranaghat where she recorded her statement.