Monthly finance statement query for Hamro Party
The party which created a flutter in hill politics with its transparency slogan, is under scanner on the same issue six months after taking control of Darjeeling municipality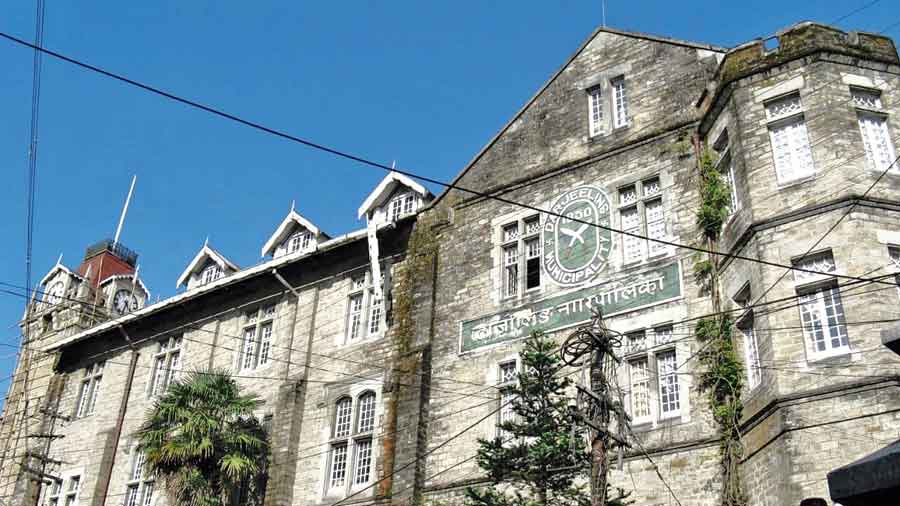 The Darjeeling municipality building.
File picture
---
Darjeeling
|
Published 15.09.22, 02:53 AM
|
---
Hamro Party, which created a flutter in hill politics with its transparency slogan, is under scanner on the same issue six months after taking control of Darjeeling municipality.
Founded in November 2021, the party took control of Darjeeling municipality on March 15 with Ritesh Portel elected as the youngest chairman of the civic body set up in 1850.
The party started issuing monthly financial statements of the Darjeeling municipality that was widely appreciated by people.
However, the last such report of the Darjeeling municipality for June was issued on July 7. Since then, no such finance report has been issued.
Asked about the delay, chairman Portel on Monday said he report would be issued the same evening. "We are trying to issue the report by this evening (Monday). We said that we would come up with the report on a quarterly basis," said Portel.
The report was not issued till late Wednesday evening.
Moreover, the last finance report made public by Darjeeling municipality on July 7 clearly states: "We will continue to publish the report every month to maintain transparency and keep the public informed." This runs contrary to the chairman's quarterly report statement.
The last report stated that while the opening balance of the civic body was Rs 87 lakh, the income for the month was Rs 57 lakh. The expenditure was shown as Rs 1.2 crore leaving a closing balance of Rs 24 lakh with the civic body.
A Darjeeling resident said: "The initiative of issuing financial statements was very much appreciated by the public at large. However, consistency is the key to any successful initiative."
Edwards appeal
Ajoy Edwards, the president of Hamro Party, on Wednesday appealed to Darjeeling municipality and the district magistrate to ensure strong action against buildings constructed flouting the 11.9m height cap.
"We also appeal to the general public not to construct buildings beyond the permissible height as illegal structures can never be legalised and you will spend the rest of your life apprehensive of government action," said Edwards.