Darjeeling was swathed in a white carpet on Saturday, not with snow but ice left behind after a 30-minute hailstorm.
The cover lasted hours and started melting when it rained after the hailstorm. The temperature dipped to around 4 degrees Celsius in the hill town. Met officials said a cyclonic circulation had led to the weather and predicted similar conditions for the next few days.
Traffic was affected in the hills as most drivers stopped to avoid damage to their windscreens from the hail. Also, the thick deposit of ice on the roads slowed movement.
Residents and tourists were elated. Many swarmed the streets and the Chowrasta, which was also under a cover of ice.
The hailstorm started around 1.45pm. "The moment the hailstorm stopped, we went out of our hotel and walked up to the Mall. There was no snow but we had a great time. Everything from the rooftops to the streets was under a white cover," said Rohit Dutta, a Ranchi resident on a family trip to Darjeeling.
Along with Darjeeling town, areas like Batasia Loop, Jorebungalow and a number of adjoining hamlets and tea gardens witnessed the hailstorm.
Back in March 2016, there had been a similar bout of hailstorm in Darjeeling town. "It was a great experience and no less than snowfall. In fact, the ice deposit was thicker than the snowfall that we had in December last year. As the day temperature was on the rise for the past few days, we were feeling the winters are over. But the hailstorm came as a surprise," said Nima Lama, a Darjeeling resident.
The hailstorm, however, left tea planters worried. This is because they feared damage to leaves of the first flush from the hail.
"The easterly winds are in confluence with the Western Disturbance.
This has caused the rain, hailstorm and even snowfall in upper reaches of sikkim," said G.N. Raha of the regional Met office in Gangtok. Siliguri had showers on Saturday evening.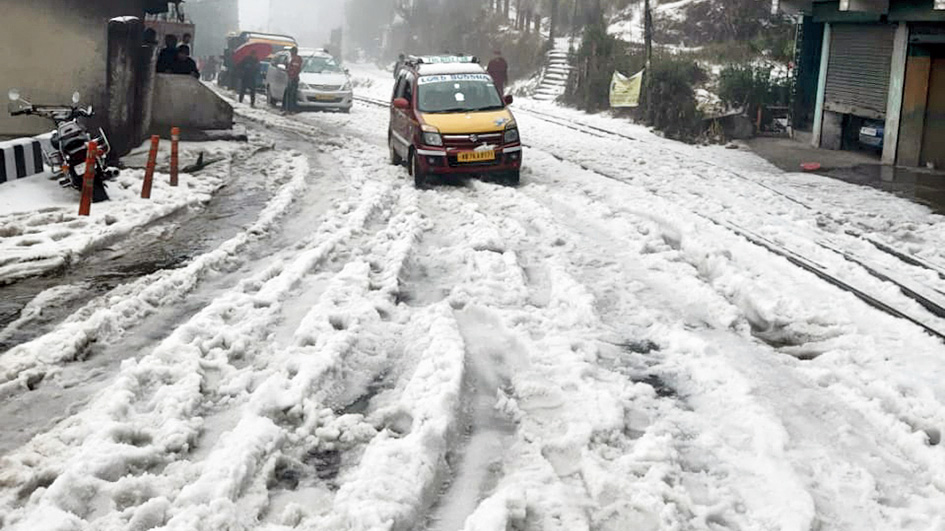 A road in Darjeeling after the storm. The Telegraph picture