Gurung volte-face changes hill equations, creates room for GNLF
Questions have started doing the rounds in Darjeeling hills about the new flag-bearer for the Gorkhaland issue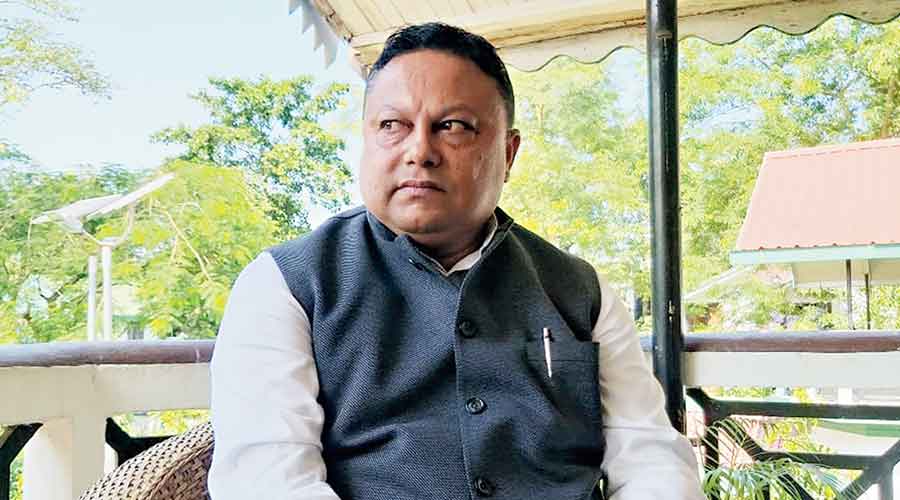 ---
---
Bimal Gurung's decision to join hands with Trinamul Congress, a party which opposes the demand for a separate state of Gorkhaland, may be seen as a masterstroke by Team Mamata Banerjee, but the hill leader has come under criticism from a large section in the hills.
After Gurung formally snapped ties with the BJP and embraced Trinamul at a news meet in Calcutta on Wednesday, questions have started doing the rounds in Darjeeling hills about the new flag-bearer for the Gorkhaland issue. Gurung's new political stand seems to have created a vacuum in hill politics as statehood continues to be the most influential political issue in the hills.
Gurung, who resurfaced in Calcutta after a gap of three years, did talk about Gorkhaland being his main issue and said he would pursue it during the 2024 Lok Sabha election.
But now, after joining hands with Trinamul, his credibility may be under question. Staunch statehood proponents may not buy Gurung's stand. "The reality is that there still exists a strong anti-TMC feeling in hills largely because of the party's opposition to the statehood demand. Gurung's decision to join hands with Trinamul has taken the sheen out of his aura," said an observer.
Sources maintain that other regional parties, mainly the GNLF, have started redrawing strategies in this emerging situation.
On Thursday, some senior GNLF leaders held a meeting in Siliguri. Sources told The Telegraph that the GNLF is now taking a lead to work out a new political equation.
A senior GNLF leader said as of now it was "100 per cent advantage GNLF", but added they would cautiously watch people's mood. "The word till now was that Bimal Gurung is the only one for Gorkhaland, but that myth has been busted... Even the BJP, if they want anything in Darjeeling, they can't ignore the GNLF," said the GNLF leader.
The GNLF, an ally of the BJP, has been sulking that the saffron party is not giving it importance despite its help in ensuring Raju Bista winning the Darjeeling Lok Sabha seat.
However, Gurung's latest decision, observers said, can change the direction of hill politics and much will depend on how the GNLF plays its cards. There is a possibility that contours of the BJP-GNLF relationship may change as well, as the hill party will have a higher bargaining power now.
"Bimal Gurung's arrival in Darjeeling will not ensure all votes will go to him," the GNLF leader said.
A political observer said that it would be interesting to see how the GNLF leadership manages to use this opportunity to prove they are the vanguards of the Gorkhaland issue.
"Back in 2007, the party's support base had fallen apart following the emergence of Morcha. During the past few years, GNLF has managed to revive its support, as the Morcha got divided into two factions (Bimal Gurung and Binay Tamang)," the observer pointed out.
He also said that steadfast advocacy for statehood by Gurung and other leaders of his party and their vehement opposition to parties in power in Bengal opposed to the demand — the Left earlier and Trinamul now — helped the Morcha draw immense support of hill people.
"But now that both factions of Morcha (Gurung and Tamang) are closer to Trinamul, GNLF will try to win back its support base with statehood," the observer added.
Sources privy to the negotiations between Gurung and the Trinamul leadership said that he might soon be offered a post that can also have a significant impact in hill politics.
Gurung has a number of cases pending against him, including charges under the UAPA. "It is obvious that GNLF and some other parties may raise questions if the state takes a soft stand about him," said a political analyst.
While hill residents and political pundits are waiting for GNLF's next move, they are equally curious to see the Binay Tamang faction react to ripples of Gurung's decision to back Trinamul.
On Thursday, Anit Thapa, general secretary of the Tamang faction, was at Pintail village in Siliguri, where he hinted that their faction had not thought of any reconciliatory approach (towards Gurung) so far.
"We are in the GTA and will continue to run it. I have spoken with the chief minister on the issue. So far the party is concerned, Binay Tamang is our leader and we will continue to work for the hill people. Anybody is free to return to Darjeeling but if he makes any attempt to revive his old image, common people will not accept it," said Thapa.
Gurung supporters have started coming out in the open. Some held a meeting at Vah-Tukvar, others in Kurseong plastered welcome posters.