GTA Sabha seeks statehood talks
Anit Thapa, who had assumed office as the chief executive of the GTA on July 14, placed the Gorkhaland resolution at the 50-member House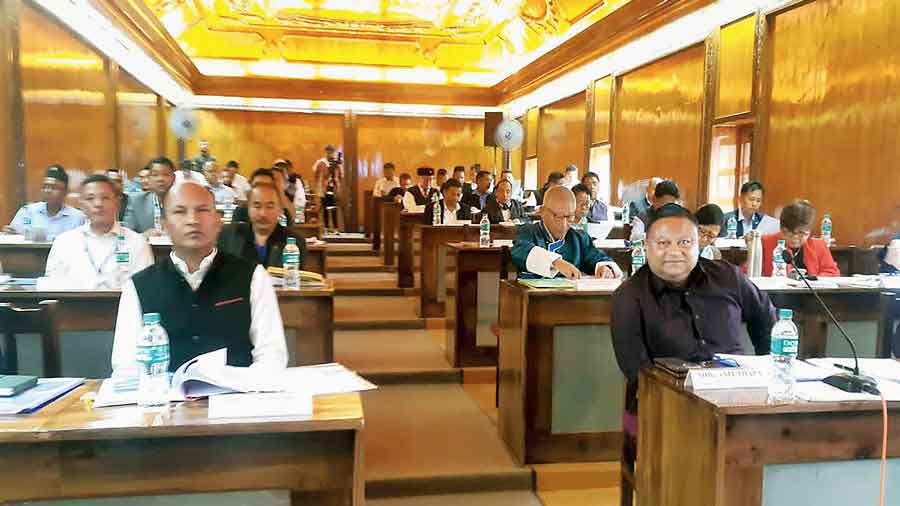 The GTA Sabha meeting in progress on Monday.
---
Darjeeling
|
Published 20.09.22, 01:34 AM
|
---
The first meeting of the newly constituted Gorkhaland Territorial Administration Sabha unanimously passed a resolution on Monday for reopening a dialogue on a separate state of Gorkhaland, a move which is likely to put pressure on the BJP government at the Centre.
Anit Thapa, who had assumed office as the chief executive of the GTA on July 14, placed the Gorkhaland resolution at the 50-member House.
"GTA chief executive Anit Thapa placed a resolution for the reopening of the dialogue on the demand for a separate state of Gorkhaland. While signing the GTA memorandum of agreement in 2011, it was clearly stated that the Gorkhaland demand was not dropped," said Rajesh Chouhan, the deputy chairman of the GTA Sabha.
The MoA had been signed by the central and Bengal governments and the Gorkha Janmukti Morcha. Prior to the formation of the GTA, the Centre had convened 11 tripartite meetings.
"The Bengal government is opposed to Gorkhaland and it cannot call a tripartite meeting on the demand either. The resolution would put pressure on BJP leaders as the BGPM (Bharatiya Gorkha Prajatantrik Morcha) can always claim the Centre is not convening tripartite talks specially on the issue of Gorkhaland," said a hill observer.
"Calling a meeting on Gorkhaland is unlikely to be welcomed by the BJP state unit."
During the campaign for the GTA Sabha polls, Thapa had promised voters that the BGPM would pass a resolution on the Gorkhaland demand at its first session. The observer said Monday's resolution had sent a clear message: no political party can ignore the Gorkhaland demand in hill politics.
Thapa's BGPM is in an "unannounced alliance" with the Trinamul Congress, which is opposed to the statehood demand."One message is clear: no political party can afford to ignore the Gorkhaland demand in Darjeeling politics. It is bound to rear its head time and again," said the observer.
While supporting the resolution, 11 opposition members of the GTA Sabha made clear their intention of making the BGPM pursue the issue."The motion was passed but I told the House that it was necessary to get the signatures of all 50 GTA Sabha members on the resolution. I also demanded that the same resolution be forward to the Prime Minister, Union home minister and the chief minister," said Trinamul leader Binay Tamang, who shared space with GTA Sabha members who are opposed to the BGPM.
GTA Sabha deputy chairman Chauhan said the resolution would soon be forwarded to the central and state governments.The GTA Sabha on Monday passed 54 other resolutions covering a wide range of issues from the need to grant tribal status to 11 communities and land rights to tea garden and cinchona plantations workers, setting up GTA advisory committee to framing of rules of procedures and conduct of business for the GTA Sabha.