Government officials take ill, administrative functions suffer
Jhargram SDO Babulal Mahato drives his official car to inspect Covid-19 situation and monitor lockdown after his driver tests positive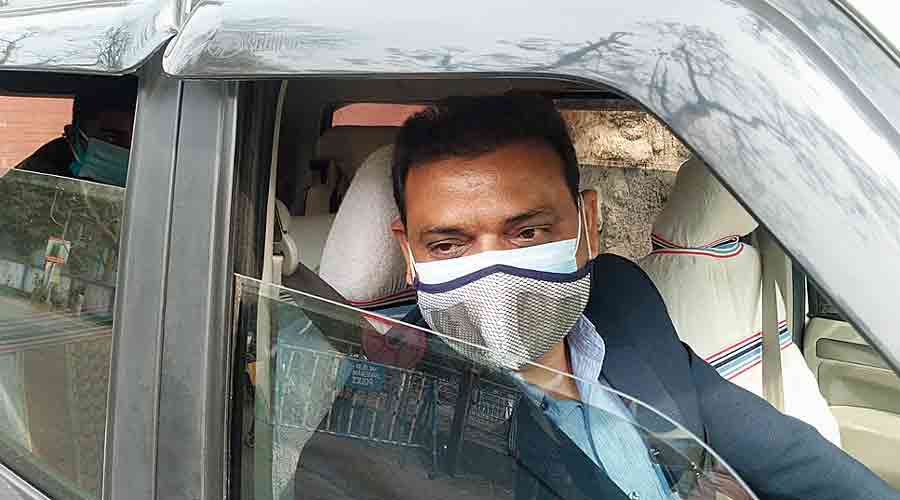 Babulal Mahato in the driver's seat of his official car in Jhargram on Monday.
Buddhadeb Bera
---
Bolpur(Birbhum)
|
Published 11.01.22, 01:22 AM
|
---
Jhargram subdivisional officer Babulal Mahato on Monday drove his official car to inspect the Covid-19 situation and monitor the lockdown in the district headquarters town after his driver tested positive.
Mahato has decided to drive his car himself and not to engage a driver till the Covid situation comes under control  in the area.
Over 15 officials in Jhargram, including an additional district magistrate, have already been taken off duty because of illness in the past few days, which prompted the district administration to function with 10 per cent of the existing staff in a bid to avoid mass infections.
"The situation here is the same as with other parts of the state. I did not take any driver to minimize physical contacts. As I can drive a car, then there is no question of taking the risk to infect others or to be infected myself," said Mahato who has tested negative.
Increase in Covid cases had led the district administration in Jhargram to announce a complete lockdown on Monday — an attempt to arrest the increasing trend. On Monday, Jhargram reported 145 fresh Covid cases when the state reported 19,286 fresh cases.
The situation in Jhargram and the move by Mahato shows how infections have affected officials in south Bengal districts.
A senior state government official said the third wave of the pandemic had hit several senior officials and administrative staff and it was adversely affecting day-to-day work of the administration.
"We can say at least 20 per cent of the existing strength of officials and staff are taking off for at least 10 days due to the infections. There are many with mild symptoms who are not getting tested. We apprehend more would come as positive if all of them are tested," said a senior official of East Burdwan.
"This time the virus is not claiming lives and the rate of hospitalization is minimal in numbers. But it has become a challenge for us to run the system with the skeleton staff," he added.
Senior officials in East Burdwan, Purulia, Hooghly and Birbhum confirmed that around 20-25 percent of their staff and officials have been infected by Covid-19 in their districts. "As the infection rate is higher this time, many staff who came in close contact are getting isolated," said an official in Purulia.
Sources said officials at block and district levels monitor several development projects including providing sanctions for several schemes like 100 days' work, issuing caste certificates and others.
Block level officials also monitor several projects under gram panchayats.
Sources said, infections among officials and staff are delaying several sanctions and the process of several projects in the districts.
"We are allowing a few employees in our offices to save others from infection. If we use more staff during this period, most of them get infected and the system would collapse," said an official in Birbhum.
During the first wave of the pandemic, West Bengal Civil Service (WBCS) Officers' Association in Bengal had developed a mobile application to help out cadres across the state. Senior members of the association said they had asked their officials to get in touch with them in case of any need.
"Our mobile app is open and a team of the committee to take care of the needs of our colleagues is there. We have already asked all officers to inform the association in case of any requirement. We have nothing to do in such a situation when a large number of our colleagues are getting infected across Bengal," said a state committee member and senior WBCS officer in Calcutta.