Good morning Calcutta, time for another run
Nearly 2,000 participants at sector V run managed by students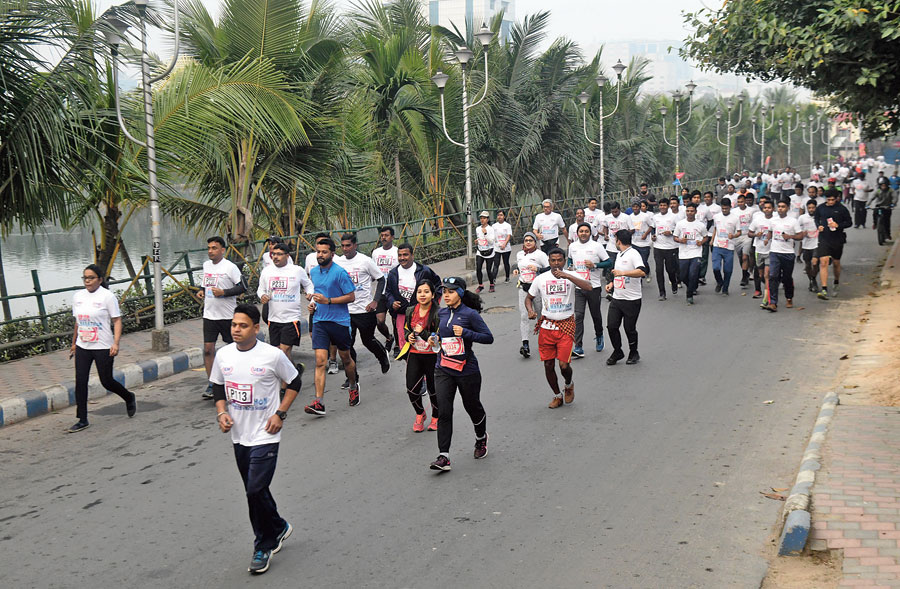 ---
|
Calcutta
|
Published 09.02.20, 07:39 PM
---
The usually-quiet road in front of Godrej Waterside in Sector V was buzzing with enthusiasm at 5.30am on Sunday.
Men and women, young and old, waited for the 4th IEM UEM Kolkata Marathon 2020, in association with The Telegraph, to be flagged off.
The 21km run, the longest of the five categories in Sunday's run, was the first to be flagged off. The other caregories were 10km, 10 miles (around 16km), 5km and 3km.
Nearly 1,900 people, including over 560 women, took part in Sunday's run, the organisers said.
The unique feature of the run was that it was managed by the students of IEM (Institute of Engineering & Management) and UEM (University of Engineering & Management). "Two-hundred-and-thirty-seven students were part of the management of this event. There is no other run in the city where so many students are among the organisers," said an official of IEM-UEM. The students also took part in a 3km fun run.
Priya Handa, 39, was among the first to arrive. She ran the 10-mile run. "I was not into running earlier. But since I started two years ago, I am enjoying it. It is a refreshing exercise," she said.
Diganta Kumar Singh, 25, is in Calcutta for only six months but has already participated in a couple of runs, including Sunday's. "I enjoyed playing football, badminton and some other sports. I had participated in a marathon in junior school but I never got the opportunity to sustain the interest," said the man from Rourkela, who works for TCS.
Diganta has joined a runners' group and trains at least thrice a week.
There were pacers for each of the categories. The pacers had a pole going up from a bag on their shoulders that could be seen from a distance.
Sunmbul Rahman, the pacer for the 10-mile run, had an orange flag attached to the pole.
She explained how as a pacer she had to run every kilometre at a specified speed, she could neither be faster nor slower.
A pacer's job is to inspire and help people who struggle to finish the distance
The passion on the runners' faces was what made the organisers happy. "This year we are also sending out a message for water conservation through this run," said Satyajit Chakrabarti, the chancellor of UEM.
Members of the Cycling Network Group (CNG) rode ahead of each of the races. "There are 15 of us here for the different runs. We were leading on bicycles to show the runners the way," said Reshav Sharma, a member of CNG.
There were medals for all participants for finishing the run, besides a cash prize of Rs 1.6 lakh for the toppers in each category.
The Telegraph spoke to some of the participants.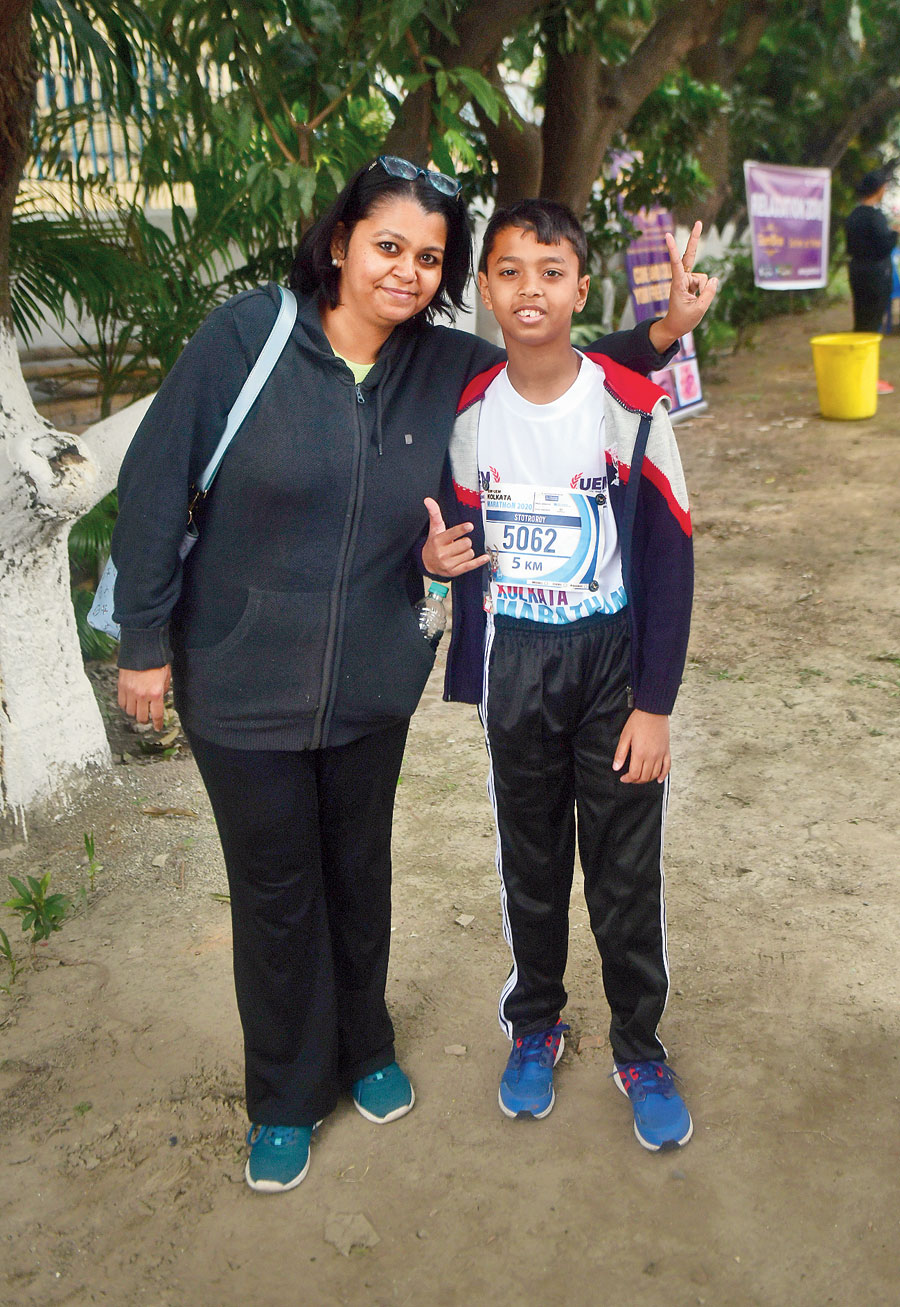 For Stotro Roy, a student of Class V at La Martiniere for Boys, Sunday's race was his fifth this season. "I try to run every day. I track my time with a smart watch to know whether I am improving," said the10-year-old. "I finished 5km in 15 minutes in the last race."
Stotro's mother Soma Datta said her son wanted to take part in races after seeing newspaper reports.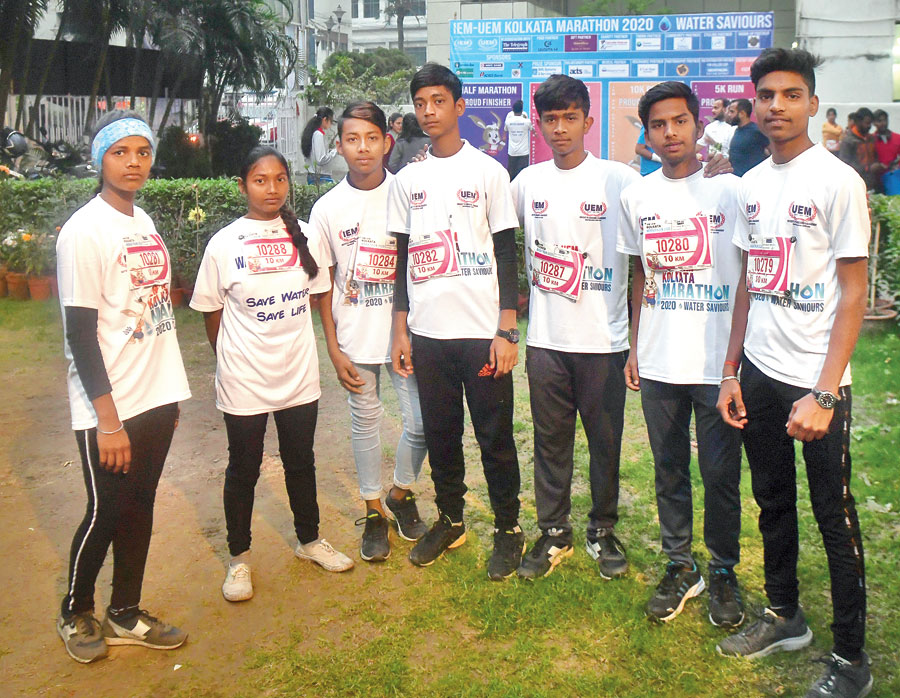 A group of seven from the education centre at Calcutta Rescue, an organisation that works for underprivileged children, took part in the 10km run. "Some of us have participated in runs before and for some it's their first time. We came here after we got to know about the event from our school," said Chandan Sharma (extreme right), 18, the eldest in the group.
The friends were diligently doing their warm-up in a corner of the IEM management campus before the race started.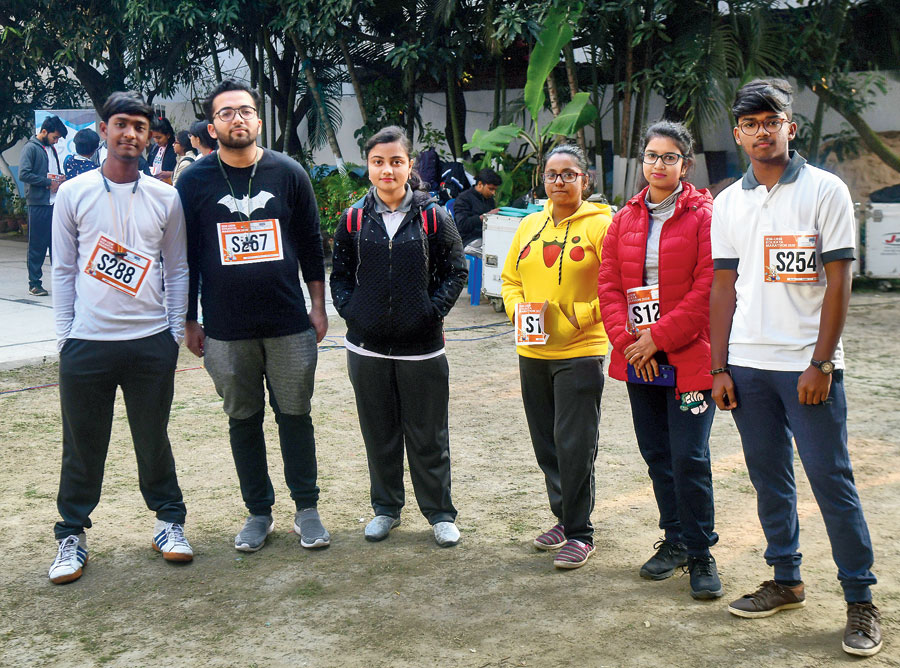 Six first-year students of UEM, all taking part in their first run, said they were enjoying it thoroughly. "This is our maiden run. We are here because we want to enjoy the experience. Some of us love sports, one goes to the gym but no one has ran regularly," said Rahul Mondal (extreme right). The group took part in the 3km category.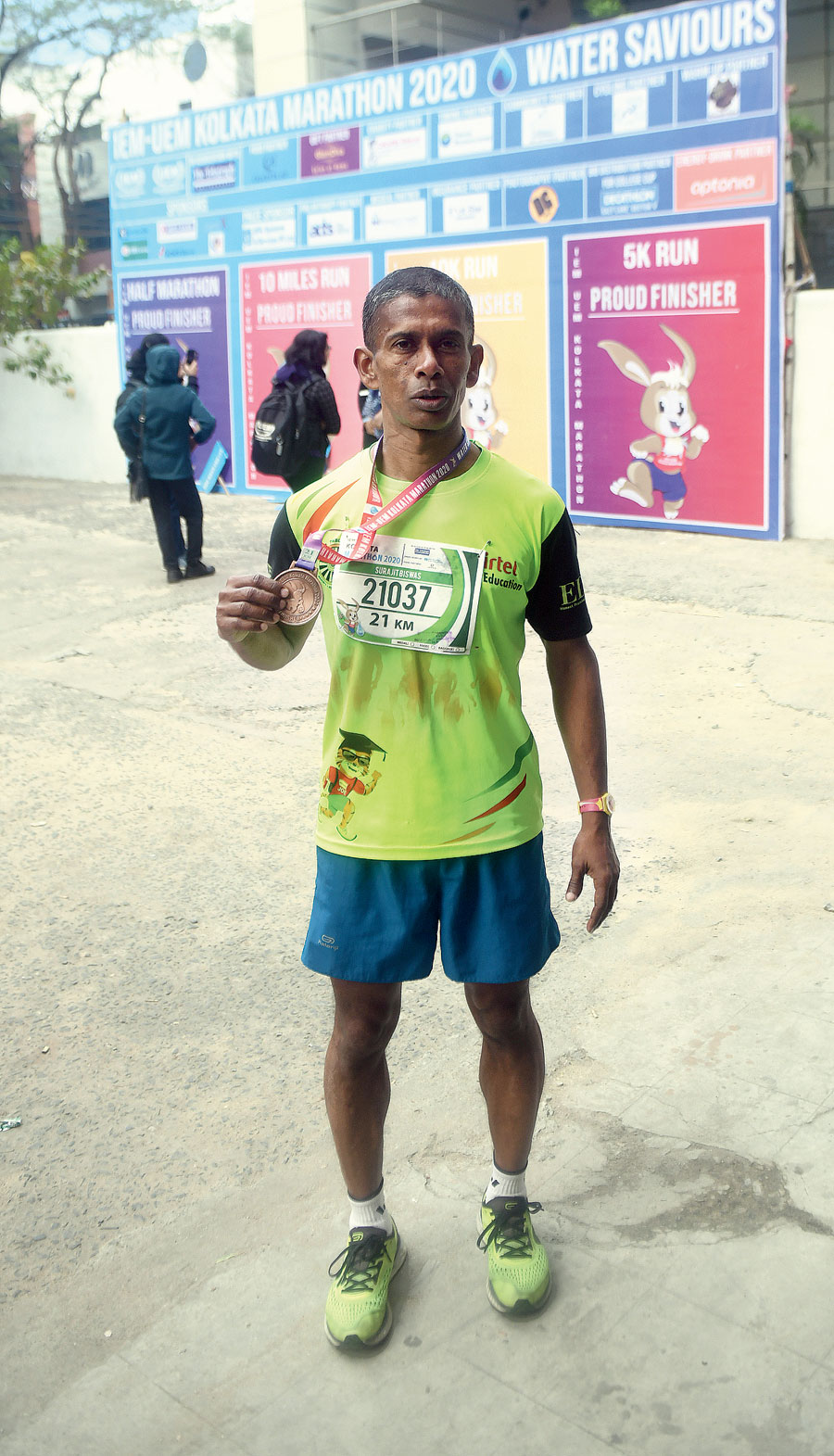 Surajit Biswas, physical education teacher at New Town School, was among the first few to finish the 21km race on Sunday, clocking an hour and 32 minutes. Biswas had come second in a 10km run for 45 and above last Sunday. "I run five days a week — two days at Rabindra Sarobar, two days along the EM Bypass and one day on a ground near my home," said the Garia resident.
Many of the runners in Sunday's races were known to Biswas. "We all participate in various runs and have come to know each other," he said.