Glare on rain deficit in dengue spread
Districts like Murshidabad, Howrah, Hooghly, North 24-Parganas and South 24-Parganas, where the rate of dengue cases is higher, has had below normal rainfall this year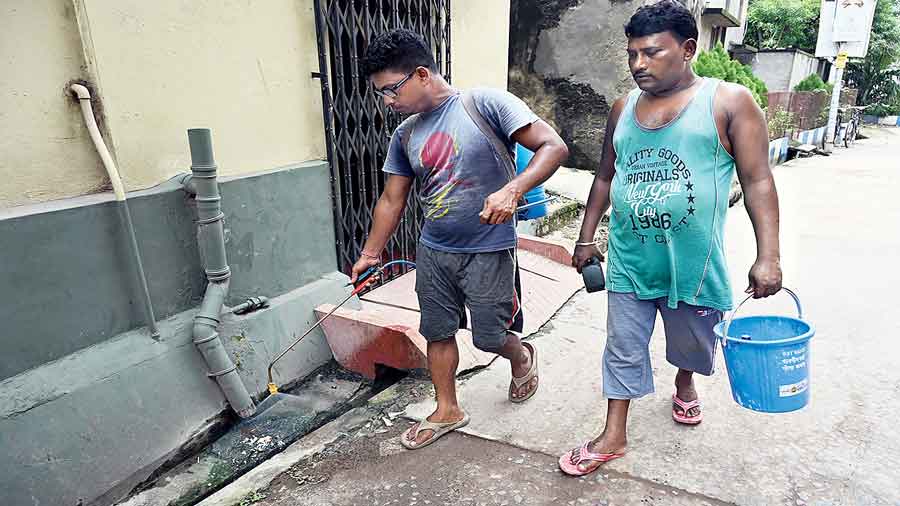 Municipal workers spray larvicide in Burdwan on Wednesday.
Munshi Muklesur Rahaman
---
Calcutta
|
Published 22.09.22, 01:09 AM
|
---
Deficit rainfall this year left drains in rural and semi-urban areas choked, creating a situation that is helping Aedes aegypti mosquitoes breed and increase the number of dengue cases across Bengal.
Officials in the public health department said heavy showers usually helped wash away larvae of Aedes aegypti mosquitoes but the lack of rainfall this year left drains clogged, particularly in rural Bengal that do not have a dedicated team of sanitation workers.
"Although heavy rainfall causes problems like waterlogging in urban areas, in rural Bengal, it helps wash away mosquito larvae that often breed in drains. This year, there has been deficit rainfall and it is one of the reasons for the spike in dengue cases in rural and semi-urban areas," said a senior health official.
This year, most districts in south Bengal and Gangetic Bengal have witnessed severe shortfall of rain. Districts like Murshidabad, Howrah, Hooghly, North 24-Parganas and South 24-Parganas, where the rate of dengue cases is higher, has had below normal rainfall this year.
Murshidabad got 439.4mm rainfall from June 1 to September 13 this year but the normal rainfall the district usually receives every year is 852.4mm. During the same time period, Howrah and Hooghly and South 24-Parganas received 658.5mm, 730.6mm and 879.1mm rainfall, respectively. The figure in previous years in these districts have hovered around 1,007mm, 910mm and 1,261mm, respectively.
Officials said the health department had already instructed all civic and rural bodies to clear the stagnant water in their areas at least in those districts which are reporting a higher number of cases."We are continuously in connection with the civic bodies and panchayat departments asking them to clear all such places that might turn into a breeding zones for Aedes aegypti. We can't depend on rain to wipe out mosquito breeding spots," said director of health services Siddhartha Niyogi.
Apart from the issue of deficit rainfall, health officials also acknowledged that unplanned urbanisation was one of the reasons behind the increase in dengue cases in rural Bengal this year. Sources in the health department said 965 new confirmed cases of dengue were reported on Tuesday and the rise is alarming in districts like North 24-Parganas, Murshidabad, Howrah and Hooghly.
"The state had reported only 324 dengue cases on Sunday and it touched around 1,000 within three days. It is really alarming and we don't know where it would stop," said a senior health official. The state health department officials, however, remained tight-lipped on the number of deaths due to dengue in the state despite multiple reports of deaths getting reported from several Bengal districts. The state health department had already formed separate committees in districts headed by the assistant chief medical officer of health (ACMOH) who are visiting dengue-prone areas in the districts to find out mosquito-breeding spots.
Doctors in several dengue-prone districts said patients suffering from dengue was on the rise."I treated at least 15 dengue patients in the past four days at my clinic. This time patients are complaining of new symptoms that are not usual for dengue patients. Several patients reporting late and that is a major concern," said Pradip Kumar Das, a doctor and president of the Indian Medical Association unit in Hooghly's Serampore."Delay in treatment complicates the situation for a dengue patient. It is risky. As dengue cases are rising in semi-urban and rural areas, the government should increase the number of fever clinics," Das added.