Gautam Deb and Rabindranath Ghosh face civic poll test in Siliguri
The two prominent TMC faces were ministers in Mamata Banerjee government but faced defeat in last year's Assembly elections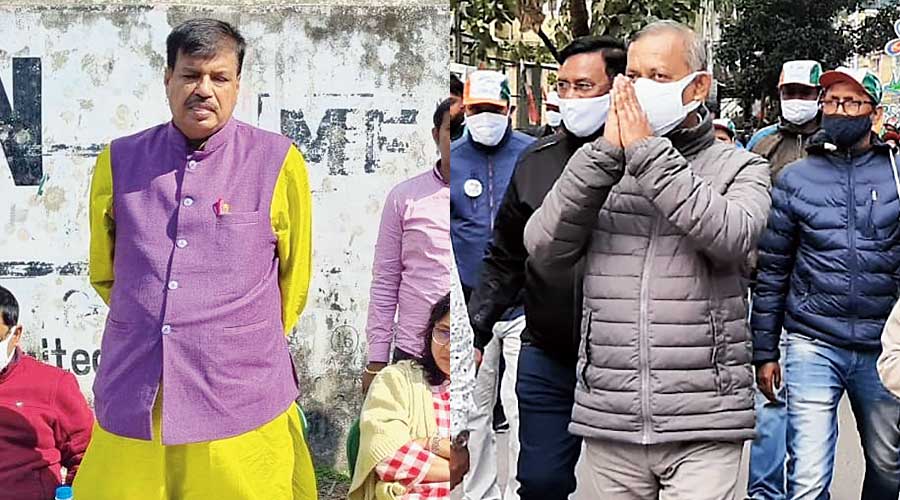 Ghosh (left) in ward 8 of Cooch Behar town and Deb in ward 14 of Siliguri.
Pictures by Main Uddin Chisti and Passang Yolmo
---
Siliguri, Cooch Behar
|
Published 09.02.22, 01:45 AM
|
---
Two prominent Trinamul faces in north Bengal — Gautam Deb and Rabindranath Ghosh — who were ministers in the Mamata Banerjee government but faced defeat in last year's Assembly elections, have been fielded by the party at the upcoming civic polls.
Deb is contesting from ward 33 of Siliguri Municipal Corporation and Ghosh is the candidate from ward 8 of Cooch Behar Municipality.
"Both are prominent faces of our party in the region. The decision to field them in civic polls hint that the party leadership has given them another opportunity to prove themselves and simultaneously work for the region through elected posts," said a senior Trinamul functionary in Siliguri.
Last year, Deb and Ghosh had lost to BJP candidates in Dabgran-Fulbari and Natabari seats of Jalpaiguri and Cooch Behar, respectively.
In 2015, when Deb was the north Bengal development minister, he had made preparations to contest the civic polls. However, at the last minute, he was asked not to.
"It had left Trinamul faceless in Siliguri. The Left had announced Asok Bhattacharya as the mayoral candidate. Trinamul could not come up with a second leader for the mayor's post to counter the Left," an observer said.
Currently, both are ready for polls. Deb, who was made chairperson of the board of administrators of the SMC last year, came up with many new initiatives and plans for better civic services of the city, including a live interactive session with Siliguri residents.
Ghosh transferred his name on the voter list of Cooch Behar civic area. He was earlier a voter of Natabari Assembly seat under Cooch Behar-I block.
A Trinamul leader in Cooch Behar said civic polls were vital for both. "Both are veterans… if they lose, questions would be raised about their participation in electoral politics in future," he said.
The leaders however, are confident. While Deb has said he is getting an overwhelming response from people, Ghosh feels Cooch Behar residents will stand by him.