Suspicion of attempt to malign Nobel laureate
Visva-Bharati VC doesn't align with Santiniketan culture: Amartya Sen
The varsity estate office recently prepared a list of "illegal occupants" that includes the renowned economist's name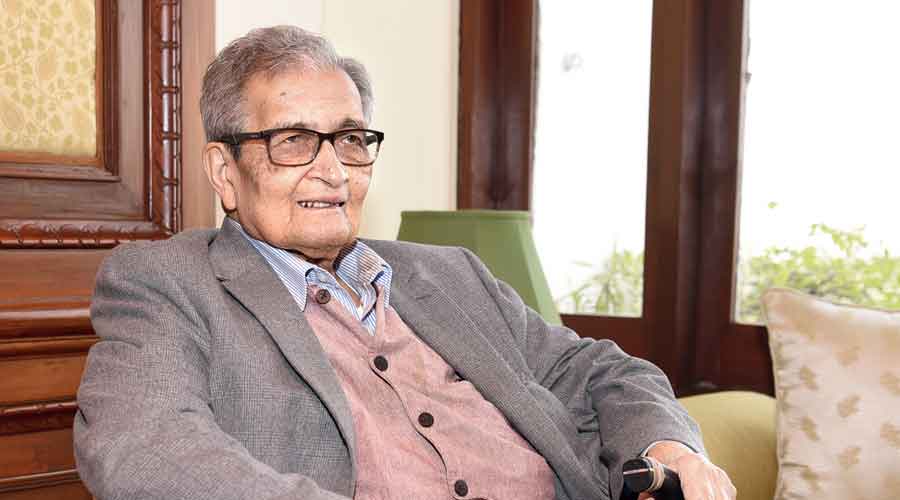 ---
Santiniketan
|
Published 26.12.20, 02:37 AM
|
---
A big gap exists between the Santiniketan culture and that of the Visva-Bharati vice-chancellor, "empowered as he is by the central government in Delhi, with its growing control over Bengal", economist Amartya Sen has suggested in response to a question from The Telegraph on a land controversy kicked up by the varsity establishment.
"Having been born and brought up in Santiniketan, I could comment on the big gap between Santiniketan culture and that of the VC, empowered as he is by the central government in Delhi, with its growing control over Bengal. I would prefer to use Indian laws as they exist," said Sen, whose family has been an integral part of the Visva-Bharati community since the days of Rabindranath Tagore.
According to the Visva-Bharati estate office, it had recently prepared a list of "illegal occupants" that includes the name of Sen as his house, Pratichi, occupies around 138 decimals while the original lease was given on 125 decimals.
The way a section of the varsity has gone about making public the information through innuendoes has fuelled suspicion that an attempt is being made to malign Sen, whose indefatigable pursuit of scholarship and stellar accomplishments in academia reflect the highest ideals that prompted Tagore to set up what eventually became a central varsity.
Ever since vice-chancellor Bidyut Chakrabarty assumed office two years ago, the varsity has taken some controversial steps that have given the impression that efforts are on to try out the Sangh parivar agenda. Sen, Nobel laureate and the Thomas W. Lamont University Professor at Harvard University, has been a vocal critic of some of the policies of the Modi government.
On Friday, chief minister Mamata Banerjee also wrote a letter to Sen to express solidarity with him and say that she would always be by his side as his sister.
Earlier in the day, in response to a series of questions from this newspaper, Sen said: "We are being told by Visva-Bharati university that its vice-chancellor Bidyut Chakrabarty is busy arranging the 'eviction of unauthorised occupation' of leased land on the campus and that I have also been named in the 'list of occupants', even though Visva-Bharati has never complained about any irregularity of landholding to us."
"The Visva-Bharati land on which our house is situated is entirely on a long-term lease, which is nowhere near its expiry. Some additional land was bought by my father as free hold and registered in land records under mouja Surul," Sen added.
Tagore had invited Kshitimohan Sen, the maternal grandfather of the economist and Sanskrit scholar of repute, in 1908 and he played a key role in building the university along with the Bard. It is well-known that Sen, born in 1933, was named Amartya by Tagore.
It's also common knowledge on the campus that several plots were given to many eminent persons on 99-year lease since the time of Tagore.
On Friday, Sen said: "For mental strength, I may clutch the beautiful old picture of our home by Abanindranath Tagore, among others."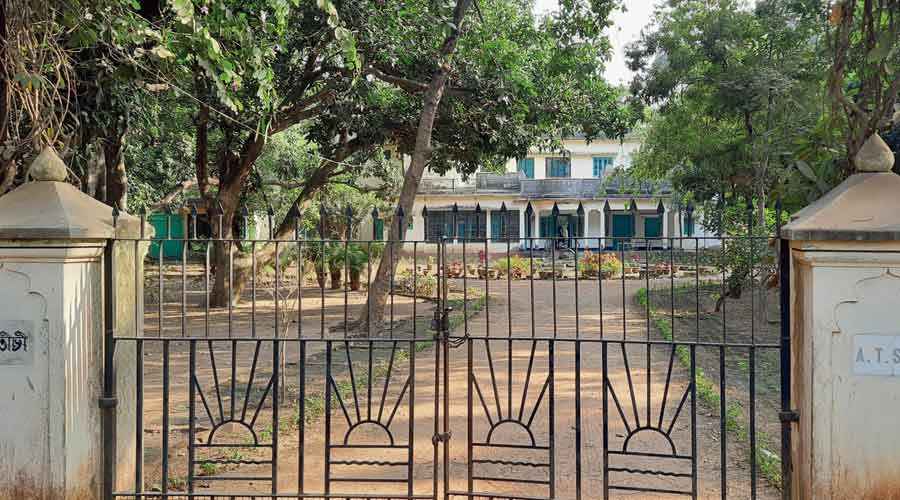 In his inimitable style, Sen also responded to an account attributed to the vice-chancellor at a faculty meeting on December 9 that the Nobel laureate had called him up, identifying himself as "Bharat Ratna Amartya Sen", and requested him not to evict hawkers from the varsity land near his home as it would inconvenience his daughter who buys vegetables from them.
In response to a related question on the matter, Sen said on Friday: "The vice-chancellor would be spared the necessity of inventing completely imagined conversations with me, beginning impossibly with my introducing myself as Bharat Ratna — something that no one has ever heard me do. The VC, of course, is an inventive artist as well."
A few hours later, Mamata wrote to Sen: "Kindly count me as your sister and friend in your just war against intolerance and totalitarianism. Let us not be daunted by their untrue accusations, and unfair attacks. We shall overcome."
Addressing Sen as "Respected Amartya da", Mamata said in the letter: "We are all aware about your family's deep and organic linkages with Santiniketan. Your maternal grandfather, the revered scholar Kshitimohan Sen, was one of the early leading settlers in Santiniketan, while your father Ashutosh Sen, a noted educationist and public administrator, had his famed house Pratichi built up in Santiniketan about eight decades back. Yours have been a family weaved in the culture and fabric of Santiniketan, inalienably.
"Some nouveau invaders in Visva-Bharati have now started raising surprising and completely baseless allegations about your familial properties, etc. This pains me, and I want to express my solidarity with you in your battles against the bigotry of the majoritarians in this country, the battles that have made you an enemy of these forces of untruth."
Several old-timers in Santiniketan and some of Sen's relatives said VC Chakrabarty's purported claim that Sen introduced himself as Bharat Ratna, an honour conferred on him in 1999 after he received the Nobel Prize in economics in 1998, sounded preposterous.
"He never speaks like that. It is sad for us, the descendents of Kshitimohan Sen, that such false allegations and humiliation are coming from the varsity and its present VC," said Shanta Bhanu Sen, a cousin of the Nobel laureate.
Many felt that Chakrabarty is deliberately trying to malign Sen. "I am ashamed that such allegations are being hurled at the eminent Sen family. I can only say it is unfortunate, very unfortunate," said Supriya Tagore, a descendent of the Tagore family and former Patha-Bhavana principal.
Some veterans lamented that under Chakrabarty, Tagore's abode is losing its legacy. "The culture of Santiniketan has changed so much that even Amartya Sen is not spared from humiliation. It is nothing but a degeneration of culture and tradition under this vice-chancellor," said Swapan Kumar Ghosh, a writer.