Games & stories to end gender bias in Calcutta
Parents encouraged to let daughters play football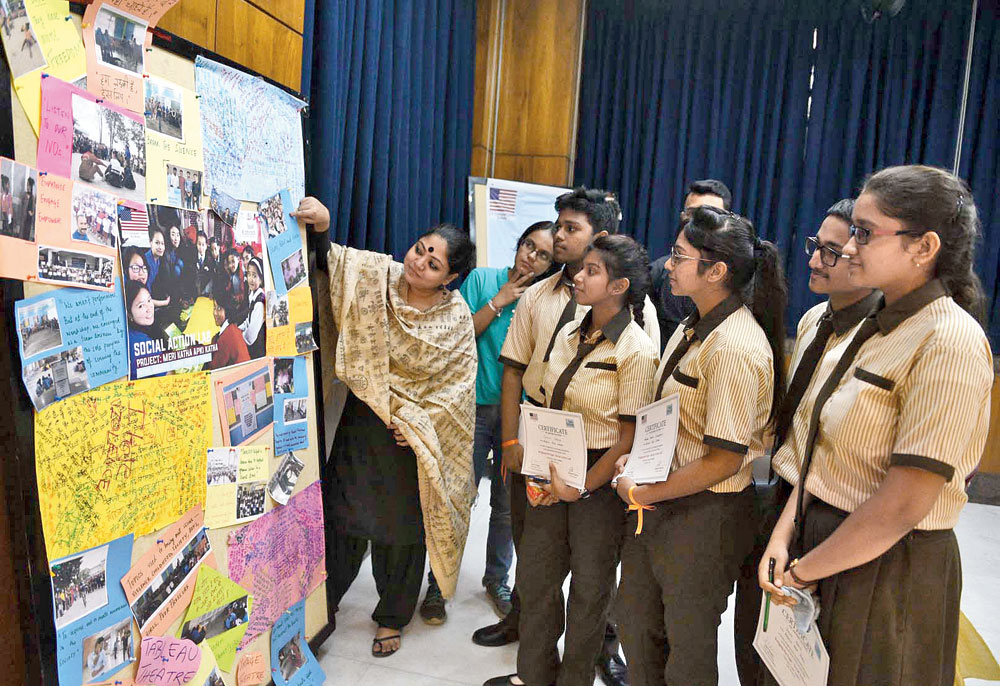 ---
|
Calcutta
|
Published 26.07.19, 08:07 PM
---
A group of boys went door-to-door in the villages of Meghalaya and Assam urging families to send their daughters to play football.
The count of girls increased from just three to 30 in six months.
Young professionals Rekha Sarma, Chenmiki Laloo and Shanbeni Nguille started the initiative to encourage gender equality and end discrimination. They shared their story at the American Center on Friday.
The workshop, Bridging the Gap: Social Action Lab, in partnership with the US based non-profit Transformational Sports, marks the finale of the US department of state-funded project that brought together young adults to address issues of gender equality, gender-based violence, sexual abuse and human trafficking.
Six projects have been implemented in Delhi, Bihar, Jharkhand, Assam, Meghalaya and Bengal since February.
"We experimented in various ways to attract more girls. Parents who would not allow their daughters to go out and play football are now the ones who bring the girls to us for them to learn football," said Rekha Sarma, one of the team members.
But sports was not the only tool. Another group used storytelling and performance to reach out to trafficking survivors, their family members, students and community leaders in Jharkhand, Bihar and Bengal.
"Many of them have a story they are not comfortable speaking about, so we enabled them to express themselves through storytelling. They gradually opened up. We would give them words and they would express what they felt about it," said team member Antara Raychaudhuri.
When a group of students were asked to depict "violence" they stood with folded hands. "We wracked our brains to understand what violence had to do with folded hands. It meant they had folded their hands in front of the goons and also the law enforcers. That's their plight," team member Samira Bhattacharya said.
Group leaders felt the project was a wake-up call as well as a motivational exercise, said Liz Haynes, programme director.
The facilitators also felt the participants had gained confidence.
"Everyone identified small but crucial things they could do. Young people have big ideas and they think they can work with 800 and 1,000 people but getting 15 people on a session is a challenge," said Sangeeta Isvaran, facilitator.
Friday's workshop had an audience of more than 80 students from 15 city schools.
"Gender discrimination exists even in our homes. The male members of the family would eat first and the woman, who is the mother, would be the last one to eat," said Sneha Addo of Behala High School.