Fruit trees on campus to help birds survive
The move was part of a drive by a Sunderbans-based organisation headed by Umashankar Mondal to plant fruit trees on college and school campuses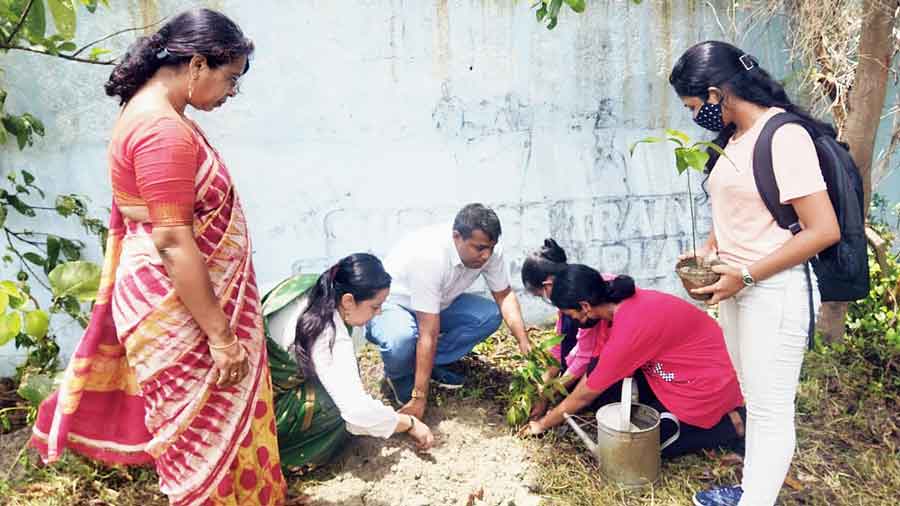 A fruit tree being planted on the Birati campus.
File photo
---
Calcutta
|
Published 16.07.22, 01:29 AM
|
---
Teachers and students of the geography department at the Mrinalini Datta Mahavidyapith in Birati recently planted saplings of 20 fruit-bearing trees on their campus in a bid to create a food source for birds.
The move was part of a drive by a Sunderbans-based organisation headed by Umashankar Mondal, who local residents fondly call the Mangrove Man, to plant fruit trees on college and school campuses in Calcutta and surrounding areas to help birds thrive.
"We have gone through several studies and reports which suggest Calcutta and its outskirts have lost a large number of birds owing to the scarcity of fruit trees that once were their primary source of food. Apart from urbanisation, back-to-back cyclones Amphan and Yaas caused a large number of trees to disappear," said Mondal, a geography teacher and social worker involved in mangrove plantation work in the Sunderbans.
Mondal and his organisation, the Purbasha Eco Helpline Society, had earlier sent proposals to colleges and schools in and around Calcutta to plant fruit trees which they said they would supply free of cost.
"We have lost at least 64 types of trees and a dozen species of birds from Calcutta in the past two decades. The birds are not here as they have no source of food. If we provide the source, the birds will come back," Mondal said.
On Tuesday, teachers and students of the Birati college planted 20 saplings of mango, guava, blackberry and lemon. A workshop was held to teach students the need to plant fruit trees and take care of them.
"We welcomed the proposal as the crisis facing birds is visible to all. We planted 20 fruit trees. Our students will take care of them," said Mrinal Kanti Roy, head of geography department at Mrinalini Datta Mahavidyapith.
Organisers said they chose particular colleges or schools for planting fruit trees for various reasons. "Many campuses have grounds or free space for trees. The campuses also are free from noise by dusk which help birds take shelter in trees at night. Also, educational institutions usually don't use bright lighting systems at night unlike other places in the city," said one of the members of Purbasha Eco helpline society.
"This is really a nice move and I think all schools and colleges should come forward to plant more fruit trees. It will be good for birds and humans," said environmentalist Subhas Datta.
Mondal agreed that students of colleges or schools would also enjoy having trees once they matured on campus.
"In rural areas, schools have more trees and we can still find students eating fruits during breaks. Won't it be nice if the students of Calcutta enjoy a similar experience?" he asked.