Frostbite toll on Sri Kailash climbers from Bengal
The Bengal government is bearing all costs of the mountaineers' treatment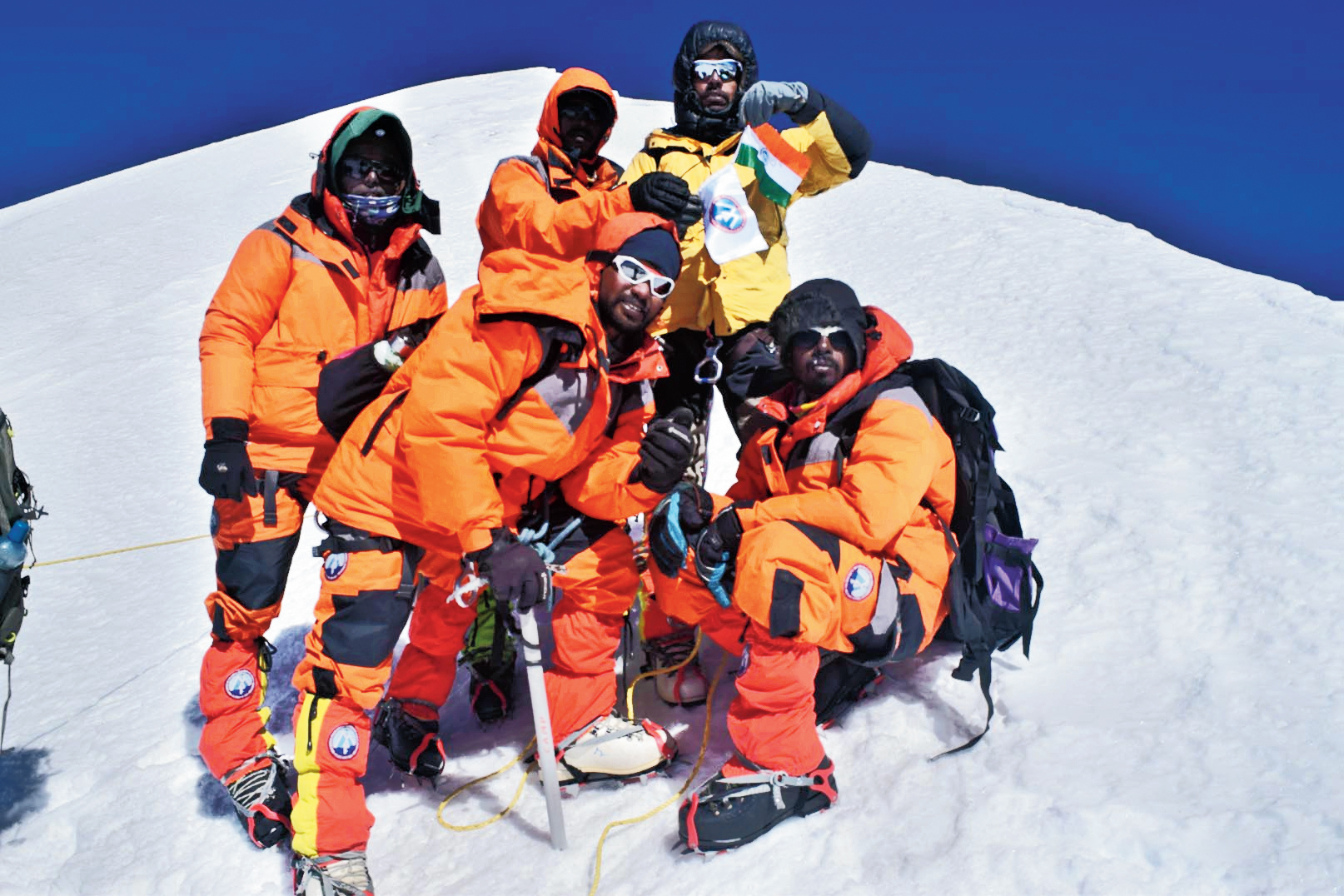 (From left) Sumit Das, Subhankar Dutta, Niraj Jaiswal, Partha Dutta (with flag) and Sankar Biswas (sitting) at the Sri Kailash summit
Sourced by The Telegraph
---
Calcutta
|
Published 31.12.18, 09:33 PM
|
---
Four mountaineers from Bengal who recently scaled Sri Kailash (6,932m) in Uttarakhand are battling frostbite and are on the verge of losing their fingers and toes, a price several veteran climbers say the four are paying for crucial errors in judgment.

Niraj Jaiswal, Sumit Das, Subhankar Dutta and team leader Partha Dutta — part of an eight-member summit team that included three sherpas — suffered severe to moderate frostbite after they ran out of ropes and stood idle on the snow for more than an hour.
Frostbite is an injury, caused by freezing of the skin and underlying tissues, mountaineers are most vulnerable to.
"We had fallen short of ropes on the summit day," said Partha, 38, who has third-degree frostbite on four fingers of his right hand and three left toes. The Dunlop resident has scaled Nanda Ghunti (6,305m) and Ramjak (6,318m).
"As Niraj and Sumit were on their first expedition to a six-thousander, we had to fix ropes from lower altitudes. So, we ran out of ropes on the summit day. The sherpas had to descend to bring ropes and we were left standing still at such high altitude. That led to frostbite, apart from a delay of about one-and-a-half hours in scaling the peak," Partha said.
Debashish Dhar of Sagore Dutta Hospital in Kamarhati said when Partha had first visited him, his fingers had blackened, a sign of dry gangrene (dead tissue).
If the gangrene stays dry and does not get infected, the portion will fall off (medically called auto-amputation). But if the gangrene becomes "wet" (infected), the affected part will have to be surgically removed. Surgical amputation cannot be ruled out for Partha.
The Bengal government is bearing all cost of the mountaineers' treatment.
Niraj, 34, is being treated for third-degree frostbite on all fingers at CMRI Hospital. He has been advised "complete rest" and "extra precaution" to avoid surgical amputation.
Subhankar, 23, said proper treatment for his injury started after they came back to Calcutta on October 29, almost eight days after the signs of frostbite became visible.
The team, which had 10 climbers, had left Calcutta on September 29. The summit team made it to the top at 10.30am on October 21.
The expedition was mentored by the West Bengal Mountaineering and Adventure Sports Foundation, which functions under the youth service department.
Everester Basanta Singha Roy, who had scaled Sri Kailash in 1993, blamed the condition the four climbers have found themselves in on "wrong planning".
"It's never advisable to attempt scaling the peak after September as the temperature considerably dips there," Singha Roy said. "You also need to have a very experienced team leader and proper co-ordination among the climbers to make an expedition a success."
Ujjwal Roy, a member of the foundation's advisory committee, refused to agree that wrong timing was to blame for the current state of the climbers.
"At such a high altitude, one should never stand idle. It increases chances of frostbite. Had the climbers descended till the ropes were arranged and fixed, this could have been averted. Besides, they should have been changing their inners (socks and gloves)," said Roy, an Everester himself.
Asked whether the planning was adequate, Debdas Nandy, adviser to the sports foundation and an Everester, refused to comment.
Partha highlighted another lapse. "We depended on 20-year-old data from the Indian Mountaineering Foundation. As the terrain had changed in the intervening years, things did not go as planned."