Fresh tidal wave of woes for the Amphan-hit
At least 50,000 rendered homeless in Sunderbans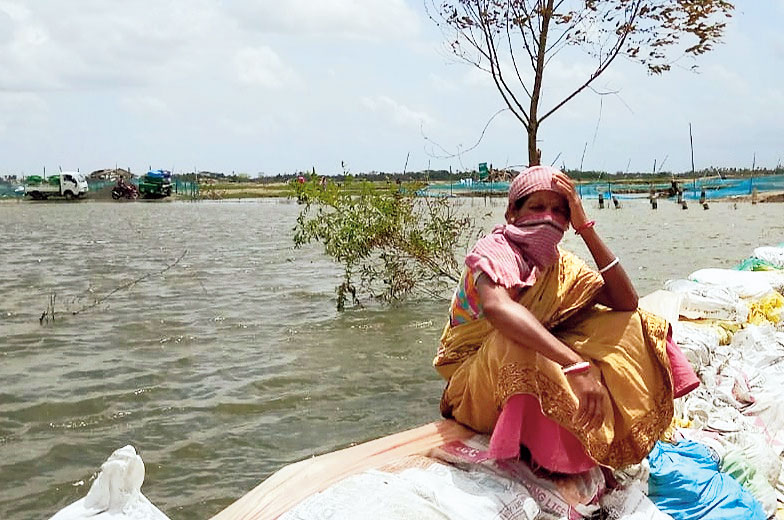 A woman sits helplessly at the inundated Bispur village in the Hingalganj area of North 24-Parganas on Sunday.
Picture by Pashupati Das
---
Basirhat
|
Published 07.06.20, 09:17 PM
|
---
Large parts of the riverine belt of the Sunderbans in the North 24-Parganas as well as parts of South 24-Parganas were inundated by a heavy spring tide that started on Saturday morning and continued well through Sunday.
At least 50,000 people were rendered homeless this weekend by the tidal waves, barely two weeks after Cyclone Amphan on May 20 had devastated the coastal parts of both districts.
According to a preliminary estimate, at least 15 gram panchayats in Hansnabad, Sandeshkhali 2 and Hingalganj, all North 24-Parganas, were devastated by the tidal waves.
The district administration this weekend evacuated at least 30,000 people from the affected zones, but thousands more are still stranded.
The fresh devastation, caused by heavy tidal waves lashing at coastal settlements, damaged several thatched dams set up across tributary rivers including Dansa and Kalagachi, a source said. These dams were being renovated after Amphan's rampage.
Officials said that the government had been aware in advance of the strong tidal wave precipitated by Friday's full moon, and tried their best to take precautions by repairing dams damaged by Amphan.
"But the situation on Saturday spiralled out of control with rising water levels of rivers Dansa and Kalagachi in Hansnabad, and Chhatua in Roydighi," said an official in the state irrigation department. He added that by Saturday afternoon, several areas in Hansnabad including Tiyamari, Sulkuni, Tilarchak, Patlikhanpur, Bena, Bedpatli, Baliadanaga, Goalati and Khanpukur had been submerged.
In Tiyamari and Tilarchak, water swept over the thatched dams on the Dansa, causing fresh damage since Amphan's fury.
Several villages under the Khanpur gram panchayat, like Banstala, Rupmari, Kumirmari, Bainara, Geomari and a large area of Sitaliya were also inundated after a thatched dam over the river Kalagachi was damaged.
The tidal wave swept away several areas in Mousuni and Ghoramara islands, caused by the overflow of the Muriganga river.
On Sunday, nearly a thousand residents were seen wading through a flooded road in Khanpukur area of Hansnabad.
Resident Subal Hauli said he lost his home to Amphan and received some tarpaulins and dry food from the panchayat.
"But today (Sunday) no one has helped us so far," he said.
On Sunday, a team led by minister Jyotipriya Mullick accompanied by Trinamul MLAs Debesh Mandal and Nirmal Ghosh visited the affected areas in Hingalganj and held meetings with officials on relief efforts.
"The state government has been trying its best to extend all possible help to victims who suffered a double blow," the minister said. "It is very unfortunate as the tidal wave came at a time people were trying to return to a semblance of normal life. We have rescued many people and given them shelter. Relief materials have been sent to people who could so far not be rescued," Mullick added.