Fresh row over Visva-Bharati VC's 'social boycott call'
The physics teacher had earned the wrath of the varsity administration for lodging the police complaint against Chakrabarty for allegedly confining English teachers on February 26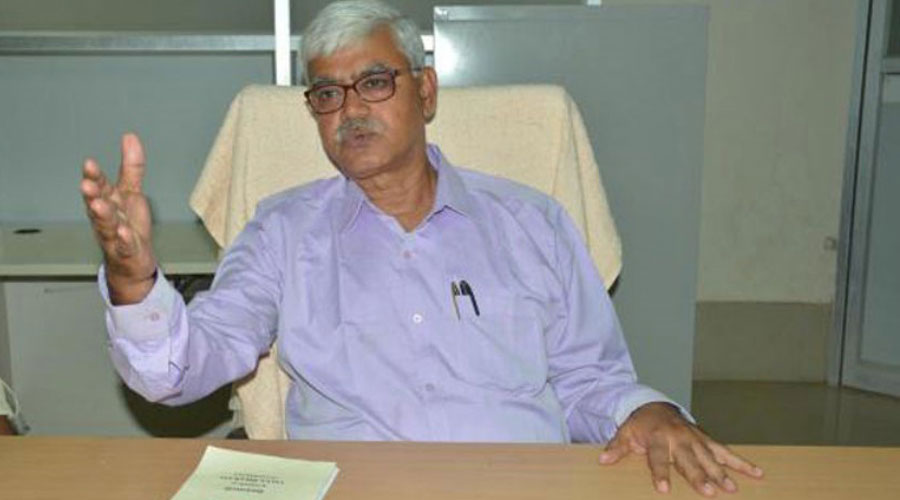 Bidyut Chakrabarty
File picture
---
Santiniketan
|
Published 05.03.21, 01:30 AM
|
---
A physics teacher of Visva-Bharati, who along with his colleague had recently filed a police complaint against vice-chancellor Bidyut Chakrabarty for allegedly confining teachers of the English department, on Thursday lodged another complaint against the VC for allegedly asking, during a virtual meeting on Tuesday, some 300 teaching and non-teaching staff to "socially boycott" him and other dissenters.
"…He (Chakrabarty) also incited others to launch a social boycott against me. This happened in the presence of about 300 people. The next day, 03.03.2021, he visited the department of physics, Visva-Bharati, where a meeting was in progress at around 4pm. In that meeting he abused me with threatening gestures," the teacher wrote in his complaint lodged with Santiniketan police on Thursday afternoon.
"I feel insecure enough by now to ask for police help. A call for this kind for social boycott implies ostracism and an attempt to drive me away from my hearth and home. I feel my wife and I face the risk of physical violence," the senior faculty member added, requesting the police to get the transcript of Tuesday's virtual meeting.
Birbhum police chief Meeraj Khalid said they had received the complaint and would probe into it.
Sources said the physics teacher had earned the wrath of the varsity administration for lodging the police complaint against the VC for allegedly confining English teachers on February 26. The teacher, aged around 60, and popular among students, received a showcause from authorities that same day.
Two divergent views had emerged on the February 26 incident. While the teachers alleged that they were confined so that authorities could "grab" a copy of a petition to the Prime Minister and president— supposedly critical of the varsity's current state of affairs — to identify those who wrote it, the varsity authorities later claimed that there was no confinement but a series of meetings, especially on issues such as absenteeism. 
Many of the physics teacher's colleagues who had attended Tuesday's virtual meeting confirmed that the VC had asked a teacher from the journalism department to launch a social boycott campaign against all those teachers trying to "tarnish" the varsity's image with false complaints.
A teacher who attended Tuesday's virtual meeting said Chakrabarty had expressed "a grudge" against many dissenting voices on campus, including the physics teacher. The VC spoke of launching a social boycott after a teacher of journalism criticised filing "false" complaints against Chakrabarty and the varsity.
"Boycott them socially. I told you to boycott those teachers socially. You, who are attending this meeting, write a letter condemning those teachers and submit it to me. I will take steps. Let me send your letter to the President and the Prime Minister," the teacher quoted Chakrabarty as having said at the meeting.
Reacting to Chakrabarty's purported call for social boycott against dissenting teachers, general secretary West Bengal College and University Teachers' Association Keshab Bhattacharya, said: "There are no words to condemn such advice (of social boycott), particularly when it comes from the VC's chair. It proves there is no democratic right of teachers on the campus."
General secretary of All Bengal University Teachers' Association Goutam Maity agreed it was a crime to call for anyone's social boycott and it should not have been done by a VC.
The varsity's public relations officer Anirban Sircar did not take calls or reply to a text from this reporter.
On Wednesday, Chakrabarty allegedly humiliated some teachers in a meeting by calling them awmanush and Mir Jafar for apparently neglecting to save files from termites during the lockdown.
Teachers asked him to behave like a gentleman and virtually shouted him out of the meeting.