Former KLO militants resume statehood cry
On Tuesday morning, over 200 people assembled in front of Jalpaiguri Palace at Rajbaripara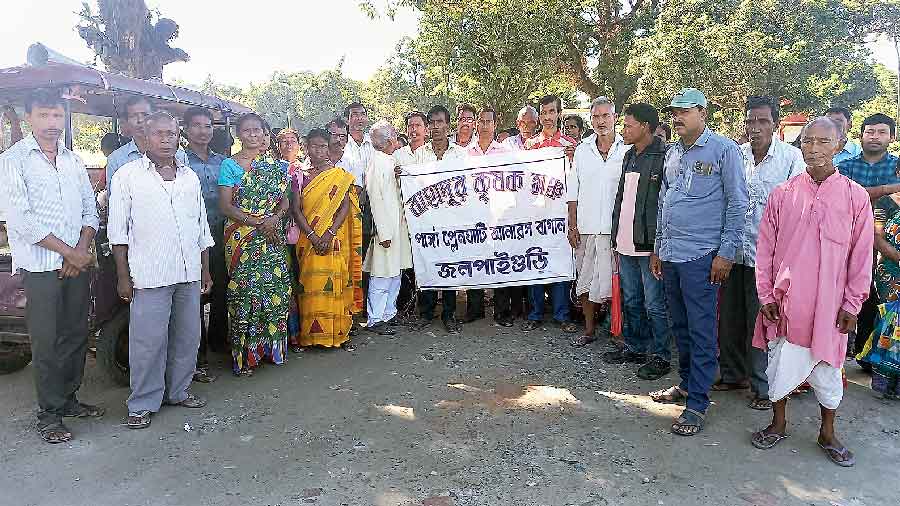 Former KLO militants and linkmen with their supporters in Jalpaiguri on Tuesday
Biplab Basak
---
Jalpaiguri
|
Published 02.11.22, 01:03 AM
|
---
A group of former militants of the Kamtapur Liberation Organisation (KLO) and their sympathisers assembled in Jalpaiguri town on Tuesday and reasserted their demand for statehood.
Some former militants even said that they were ready to quit the home guard jobs provided to them by the state government when they had surrendered so as to launch an extensive movement on statehood.
The move by the former militants, which were accompanied by organisations that represent tribals and committees fighting for land rights of people have been dubbed by Trinamul as a planned attempt by the BJP to try and foment tension in north Bengal ahead of the 2023 panchayat elections.
On Tuesday morning, over 200 people, including the former militants, assembled in front of Jalpaiguri Palace at Rajbaripara.
They planned a march on their demand for statehood and submit memorandums to senior officials of the district administration and police. However, their march was cut short by police after about 2km.
Jyotsna Roy, a former militant who also heads an association of women like her, said they decided to resume their movement.
"A number of organisations who support our demand joined hands. We will continue our democratic movement and if required step down from the jobs provided to us by the state government," she said.
The assertion to launch movement on statehood comes a day after Trinamul flagged two letters sent from the Union home ministry to Kamtapur Progressive Party that is also mooting the same demand.
Trinamul leaders had said that it is another attempt by BJP to play the divisive card and draw support of Rajbanshis in north Bengal before rural polls.
Mahua Gope, the Jalpaiguri district Trinamul president, said chief minister Mamata Banerjee and party's all-India general secretary Abhishek Banerjee made it clear that the party will fight tooth and nail to prevent any division of Bengal.
"During their recent visits to Jalpaiguri district, both have made it clear. The state government has done a lot for the former militants and also a comprehensive rehabilitation package has been introduced for them. We suspect BJP is orchestrating these so-called protests as it wants to create tension in north Bengal," said Gope.
At Rajbaripara, as police stopped the protesters from moving out to the streets of the town, the latter started shouting slogans. Eventually, police allowed them to hold a rally which moved through some streets of the town and ended at Kadamtala. In the afternoon, the protesters left for their homes.
"The rally has ended peacefully. We are keeping a watch over the entire region. Any attempt to breach the law and order will be handled strictly," said a senior police officer of the district.