Former Jet pilots on flight mode for training
Lack of enough simulators prompts airlines to send recruits abroad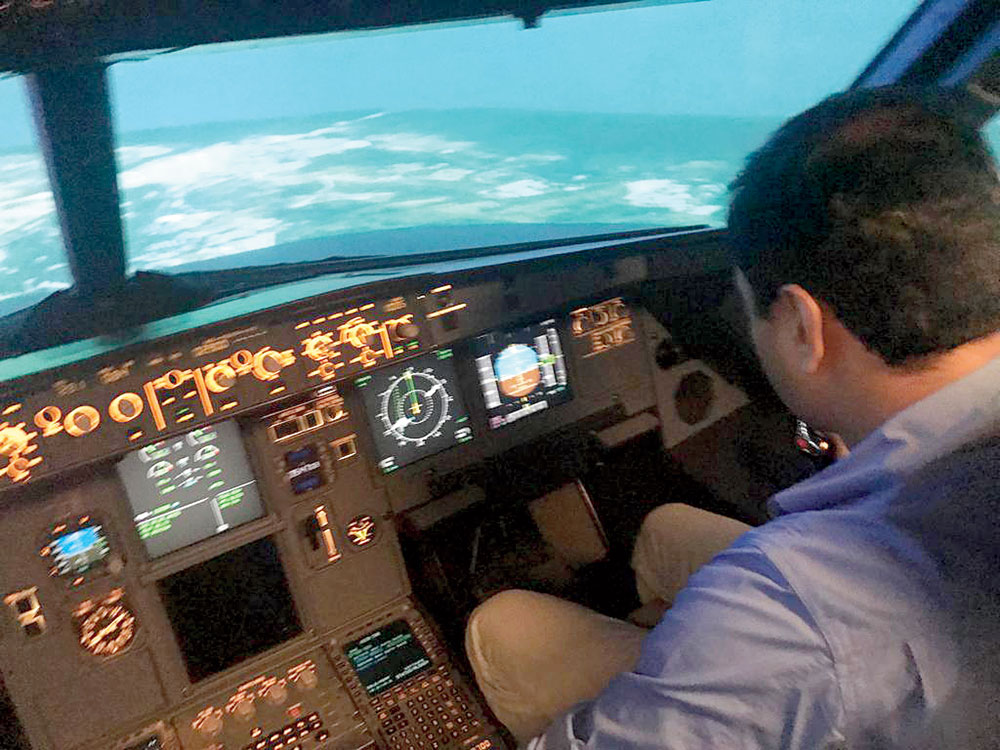 An Airbus simulator at Air India's Hyderabad training centre
(Telegraph picture)
---
Calcutta
|
Published 24.07.19, 08:54 PM
|
---
Ten pilots from Calcutta who were earlier with the grounded Jet Airways and now hired by IndiGo will soon leave for Madrid in Spain to undergo refresher training, which will include hours in a simulator.
It's not the Calcutta group alone that is on flight mode to get the hang of the aircraft they will be flying in their new assignments.
Lack of enough flight simulators in India has left the airlines that have absorbed former Jet pilots with no option but to send them abroad for the mandatory refresher training.
While working for Jet, most pilots were flying Boeing aircraft. Jet also had a few Airbus A330 aircraft.
IndiGo — which has hired more than 300 Jet pilots — has 220 aircraft of the Airbus A320 family. "As many as 128 of them are A320 Ceo, 87 are A320 Neo and five are A321 Neo," an IndiGo official said.
The airline's fleet strength stands at 220.
"The operation of Boeing and Airbus aircraft is completely different. There are major differences between Airbus A330 and Airbus A320, too," said a senior pilot who was with Jet and is now with a low-cost airline.
"Someone joining IndiGo from Jet has to unlearn and then learn fresh. On an average a pilot has to undergo six months of training, which include many hours in a simulator, during a transition."
Among the foreign destinations the pilots are heading to are Dubai, Singapore, Amsterdam (the Netherlands), Amman (Jordan), Bangkok (Thailand) and Madrid, said sources of various airlines that have recruited Jet pilots.
Apart from IndiGo, SpiceJet, Vistara and Air India are among the carriers that have appointed Jet pilots.
"All pilots joining a new airline need to undergo a refresher training, including simulator training," an official of a private airline said.
Aviation industry sources said the pilots were being sent to various countries for the refresher course because the sudden spurt in demand for training has created a shortage of simulators in India.
According to the sources, India has around 25 simulators for pilots' training approved by the Directorate General of Civil Aviation (DGCA), the regulatory body in civil aviation in the country. They are mostly in Gurgaon, Delhi, Mumbai, Bangalore and Hyderabad.
The Indian carriers have tied up with a number of simulators abroad that are approved by the DGCA.
"Airlines that do not have their own simulators tie up with companies in India and abroad that operate such virtual cockpits," a DGCA official said.
Given the current demand for refresher training, an official in one of the airlines said, 25 simulators are hardly enough. "The spurt in demand has resulted from former Jet pilots joining other airlines," he said.
One pilot said those who had operated only Boeing aircraft in Jet needed to attend 25 sessions in simulators, each lasting four hours. Those who operated Airbus A330 need 15 sessions in simulators, each of four hours, to be able to fly Airbus A320 series aircraft.
Keeping the shortage in mind, Airbus, which has set up its pilot training centre in Gurgaon, is planning to have eight simulators, said sources. The aircraft manufacturer has one simulator and is in the process of installing a second.
A pilot explained that Boeing's 737 aircraft, which first appeared in 1967, has a conventional floor-mounted yoke connected to control cables, which in turn are connected directly to hydraulically boosted control surfaces.
An Airbus aircraft, on the other hand, operates through fly-by-wire control, which uses a sidestick that is connected to a computer. The computer senses the pilot's input and delivers electrical signals to hydraulically actuated controls.