Forensics put pool car speed at 90km an hour
Bengal police on Saturday said plans were on to start training sessions for school bus and pool car drivers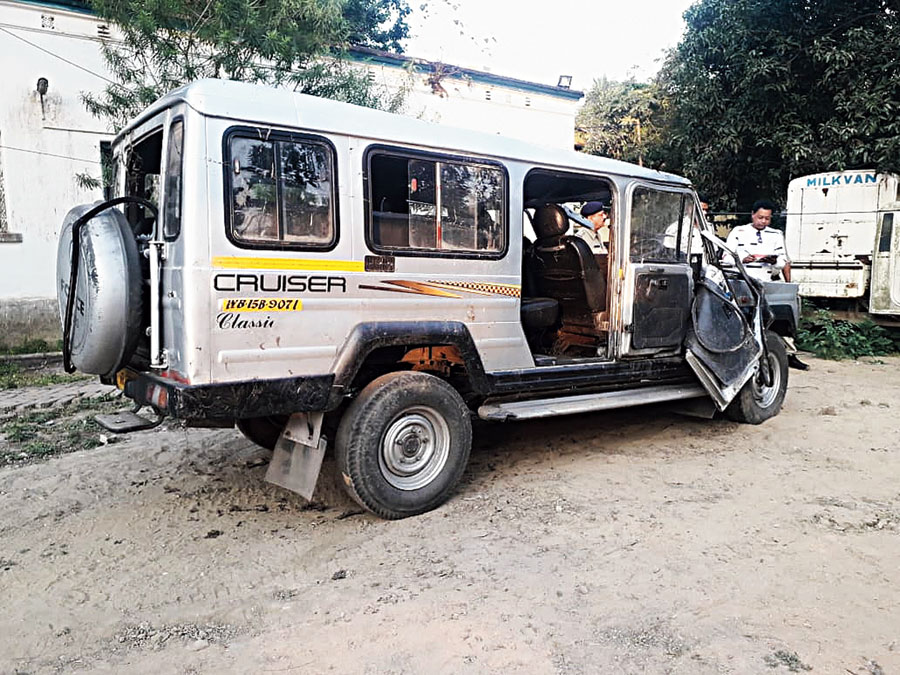 ---
Calcutta
|
Published 15.02.20, 08:44 PM
|
---
Rishav Singh, 8, and Debangshu Bhakat, 6, — injured in a pool car accident on Friday — continued their battle for life at SSKM Hospital with broken ribs and haemorrhage in the head and lungs.
Bengal police on Saturday said plans were on to start training sessions for school bus and pool car drivers.
Several schoolchildren were injured, three of them critically, when a pool car ferrying 15 students and a guardian plunged into a ditch along Delhi Road in Hooghly district on Friday morning.
While Rishav and Debangshu were admitted to SSKM, the third critically injured was admitted to a hospital in Hooghly district.
A Force Cruiser was ferrying the students, aged between five and nine, from Serampore and Baidyabati to their school in Chinsurah through Delhi Road when the accident occurred in Polba, around 50km from the heart of Calcutta.
Forensic department officials examined the vehicle on Saturday and found that its speed limiter was detached.
The device is used to limit a vehicle's speed to a predefined value.
A forensic department official said it was apparent that the vehicle had been moving at close to 90kmph when the accident occurred.
The driver had anticipated danger, which is why the vehicle skidded a long distance before falling into the ditch, the official said.
"We will try to involve schools to collect data on the transport mode of students and then invite drivers for training sessions," an officer of the Bengal police's traffic department said.
Friday's accident could have been averted had the Force Cruiser moved at a slower speed, the officer said.
Rishav had multiple rib fractures and haemorrhage in his lungs. He had gulped a lot of mud and water that choked his lungs. Debangshu had a broken rib and haemorrhage in the brain.
Pabitra Das, the pool car driver, has been admitted to Jawaharlal Nehru Memorial hospital in Kalyani with injuries. He has respiratory trouble and is not in a position to talk, doctors at the hospital said on Saturday evening.
P.K. Mohanty, a doctor who has been monitoring his condition, said: "The patient has no visible injury. He has respiratory troubles and pain. We have done an X-ray of the chest and an MRI scan. The X-ray has revealed no haemorrhage. We are waiting for the scan report."
The inspector general of police, traffic, Tanmoy Roy Chowdhury, had said on Friday it was an apparent case of reckless driving.
Das's wife Nikita refuted the charge of reckless driving and said Das had been driving children and ambulances for "years now".
Pradipta Chatterjee, principal of Techno India Public School where the injured students study, said officers of Polba police station were in touch with school officials.
"We have been told that the police would soon meet us and other schools to discuss pool cars and school buses," he said.
The police are thinking of installing speed limiters in pool cars and school buses to ensure drivers cannot go beyond the prescribed speed limit.
Rohit Koley in whose name the Force Cruiser is registered is not the current owner, the police said. He had sold the vehicle to Shamim Akhtar but the details haven't been updated in the motor vehicles department records.
Akhtar was behind the wheel on Friday but Das took over midway, the police said. "It is still not clear why the change took place," an officer said.