Forensic sleuths see stall as seat of fire
Forensic experts are convinced that the fire broke out in one of the stalls on the footpath and spread rapidly to the adjoining kiosks covered in tarpaulin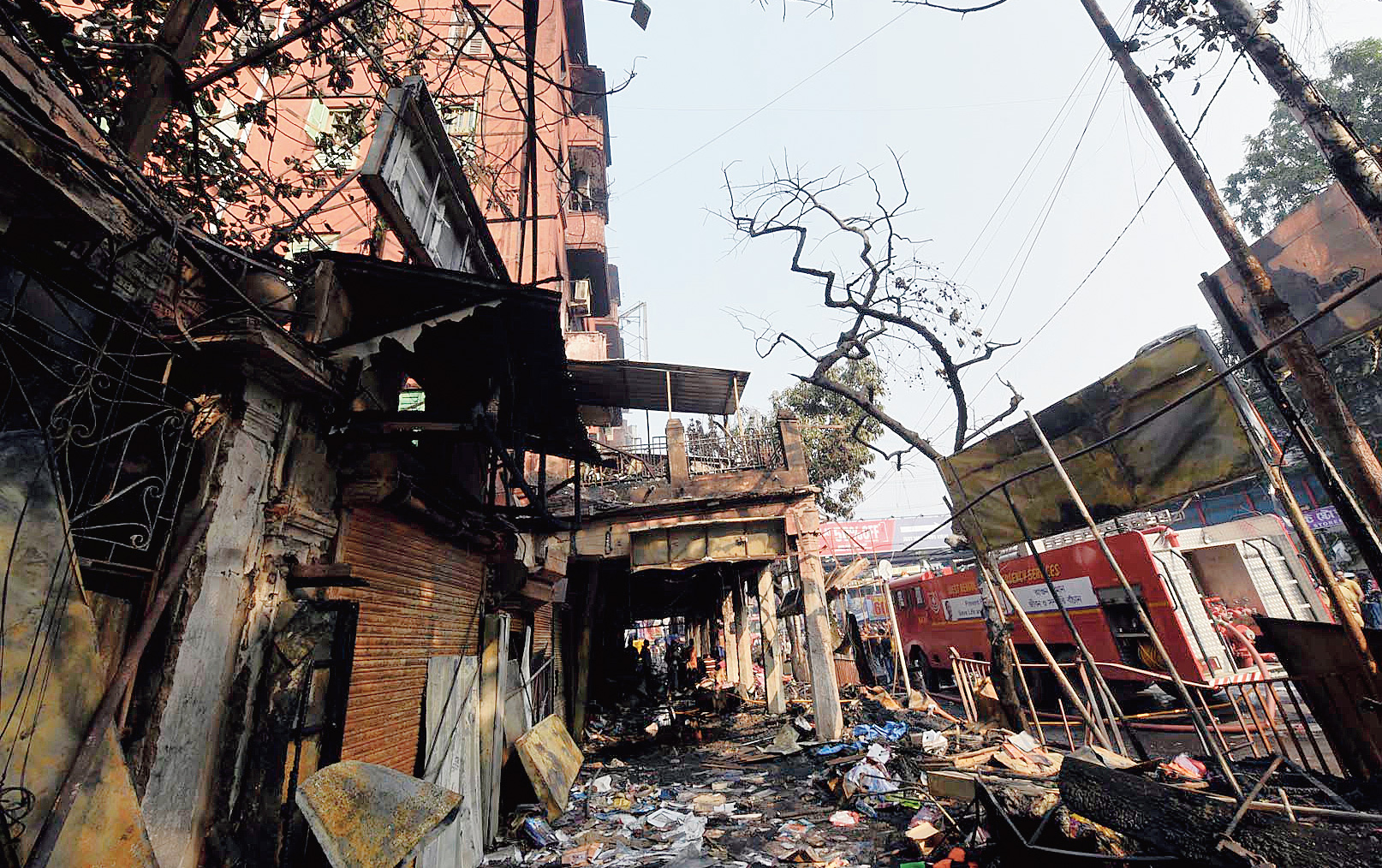 Remains of stalls that caught fire on the pavement in front of the Gariahat building that houses Traders Assembly and Adi Dhakeswari Bastralaya.
Sanjoy Chattopadhyaya
---
Calcutta
|
Published 21.01.19, 11:47 AM
|
---
Electrical wires entangled in the knitted bamboo ceilings of stalls in front of Gurudas Mansion and joints without any insulation are the focus of the forensic investigation into the fire early on Sunday that left portions of the Rashbehari Avenue building gutted.
According to officials of the state forensic laboratory, a stall on the footpath in front of the building was the seat of the fire.
"It appears the fire broke out in front of the building and the flames spread to the eastern portion of the structure. We suspect an electrical short circuit to be the trigger," said Wasim Raja, a forensic expert who was in the team that inspected the building and the pavement in front of it.
The report of the forensic investigation will be based on the results of the forensic tests on samples collected from the spot.
Residents of the building corroborated the forensic assessment. "When the younger of my two daughters alerted us about the fire early on Sunday, I came down and saw a few stalls on the footpath engulfed by flames. I returned to my apartment and came out of the building along with my family, by which time the fire had spread," said Rathin Samajpati, a resident of the first floor of the building.
Fire brigade officials backed the hypothesis that the fire started somewhere in front of the building and spread rapidly.
Forensic experts are convinced that the fire broke out in one of the stalls on the footpath and spread rapidly to the adjoining kiosks covered in tarpaulin. Synthetic garments stored in wooden boxes at these stalls added fuel to the fire, an official said.
The flames got bigger after spreading to the flex boards and banners fixed to the building. "Two first-floor apartments facing Rashbehari Avenue were affected. Other parts of the building that house showrooms of Traders Assembly, Adi Dhakeswari Bastralaya and other shops were badly damaged. The fire did not spread to the rear portion of the building," a fire services official said.
Forensic experts said they wouldn't rule out sabotage.
"We will evaluate the samples collected from the spot to confirm the presence of any item, including fuel. These tests are meant to find out if there has been foul play," an official said. "The fire moved upwards from the ground floor of the two sari and garments stores. The flames couldn't be doused for several hours because of the nature of items stored there," an official said.