Footpath froths in queue for coffee
Dash for big Starbucks 'sale'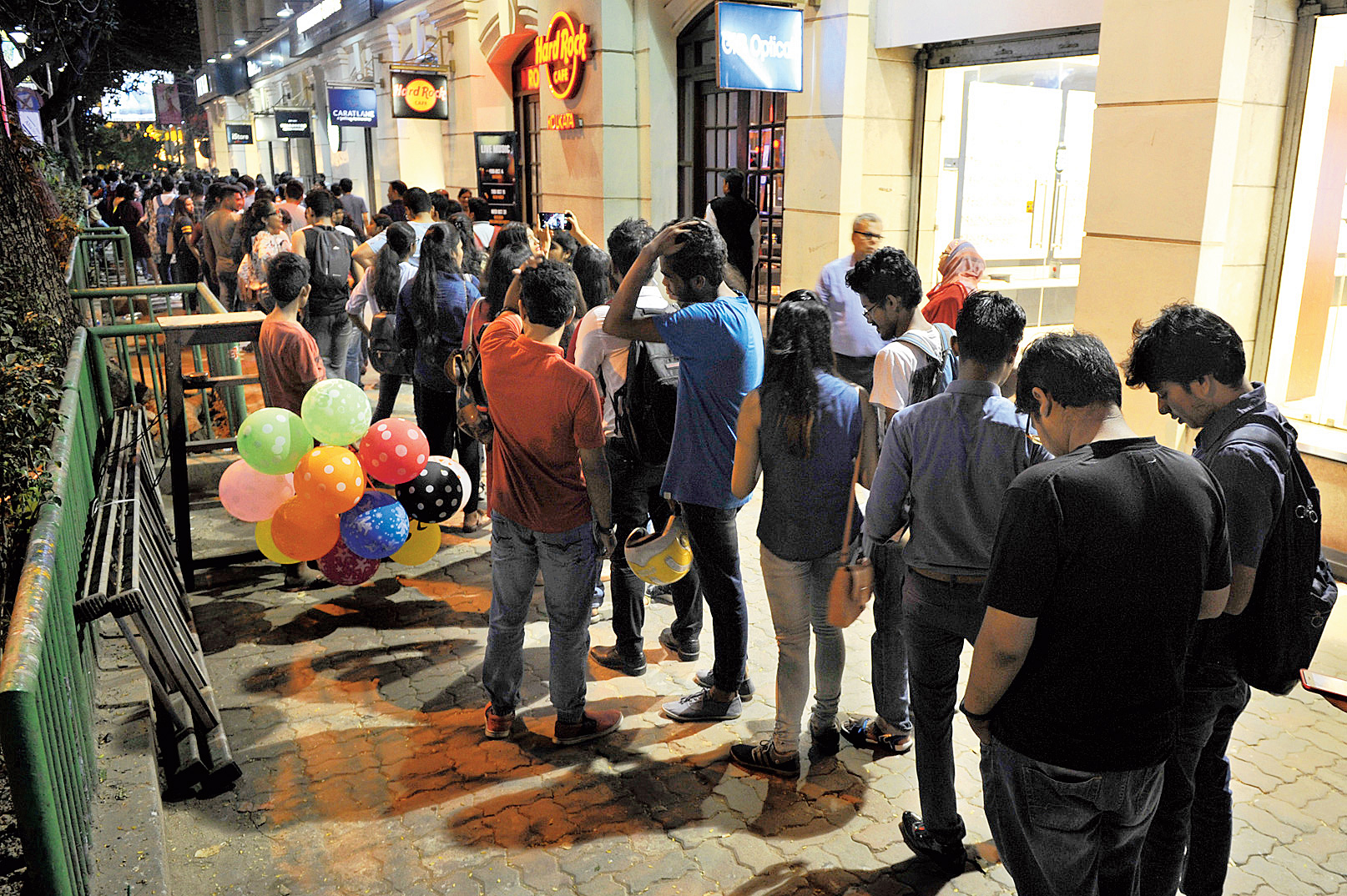 The queue outside Starbucks on Park Street at 6.12pm on Saturday.
Sanat Kr Sinha
---
Calcutta
|
Published 06.10.18, 07:33 PM
|
---
Calcutta woke up and smelt the coffee on Saturday, making a dash for Park Street to grab a cupful of a Starbucks promotion that apparently was too good to miss.
As the queue outside the city's flagship Starbucks store all day suggested, nothing quite works in this city like a good bargain.
The US-based coffee retail chain was offering any beverage on its menu at a flat rate of Rs 100 as part of its International Coffee Week celebration from October 1 to 7 at stores across India.
Around 6.30pm, there were at least 150 people in the queue outside the store, many of them youngsters.
Ritesh Parekh, 22, thought getting a Starbucks Double Chocolate for Rs 100 was "a steal". With add-ons, it normally costs in excess of Rs 300.
For Mahima Garg, the "fun element" of grabbing an offer before it disappears was the pull factor. "It is like a high-end fashion label selling dresses at a flat, cheap rate," said the student of computer science.
Starbucks deployed a couple of waiters for queue management alongside the in-house security guard and a constable from Park Street police station.
Joy Bhowmick, a third-year commerce student at Seth Anandram Jaipuria College, couldn't conceal his delight at making it to the front of the queue.
A nod from the guard was the only thing standing between him and his choice of a Starbucks beverage priced Rs 100.
"I have had to wait 45 minutes for this," Joy said.
There was more excitement inside the 1,500sq ft store, with not an inch of empty space. The store can seat around 70 people at a time. Double the number were standing at any given point in time.
The queue to place an order was just as long, on an average taking someone at least 20 minutes to reach the counter.
"I did not expect such a crowd. It is a little awkward," said Abhay Sharma, whose Starbucks visits were restricted to airports until Calcutta got a store of its own.