Flood rescuer with hut passes up PMAY home
Have home, don't need one from scheme, says Mohammad Manik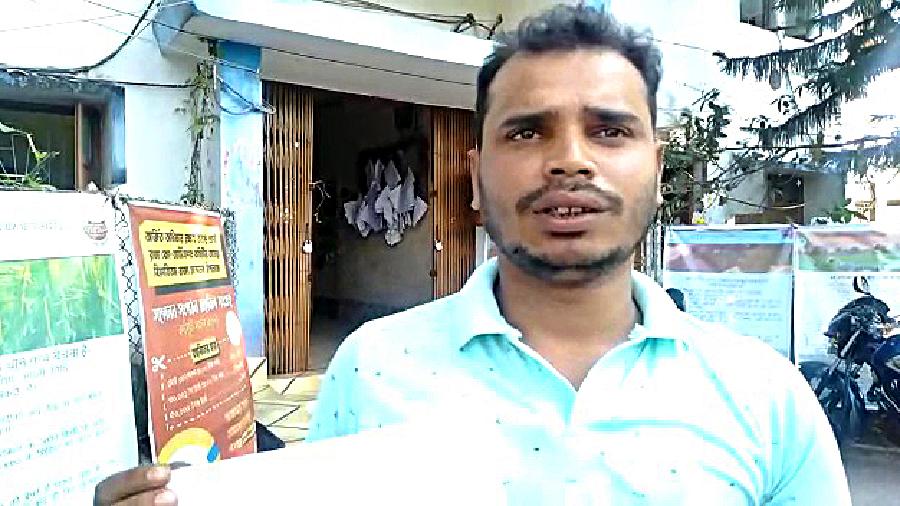 Mohammad Manik in front of the BDO office in Malbazar, Jalpaiguri, on Monday
---
Jalpaiguri
|
Published 10.01.23, 03:48 AM
|
---
Mohammad Manik, the youth from Malbazar tea town in Jalpaiguri district who had saved at least nine lives during the flash flood in Vijaya Dashami last year, went to the BDO office on Monday and deregistered himself as a beneficiary of the central housing scheme.
"I have a hutment to live in and don't need a house under Pradhan Mantri Awas Yojana (PMAY). I believe that somebody else who genuinely needs it should get it instead of me," said Manik.
On October 5 last year, a flash flood occurred in river Mal which skirts Malbazar town when the immersion of Durga idols was in progress. Eight persons drowned.
The toll would have been higher had Manik and other local youths not jumped into the swollen river to save lives. Manik alone managed to save at least nine people, including women and children, from being swept away.
Chief minister Mamata Banerjee, who had visited Malbazar to meet bereaved families, also felicitated Manik and the other youths for their feat with cash awards and civic volunteer jobs.
Manik, who used to be a welder, joined the job.
"A few days back, I came to know my name is on the list of PMAY beneficiaries. I spoke with my family and decided we don't need assistance. I visited the BDO office today (Monday) and gave a written request that my name be struck off," said the youth.
His move drew appreciation from Malbazar BDO Subhajit Dasgupta.
"He proved his mettle by saving people during the flash flood and now he proved himself to be honest. We appreciate his gesture," said BDO Dasgupta.