Flavours of Bengal: Shola
TASTE AND CRAFT WE LOVE | The plant grows wildly in marshy areas of Bengal, Assam, Odisha and the Deccan and shaping its wood into finely detailed designs requires great skill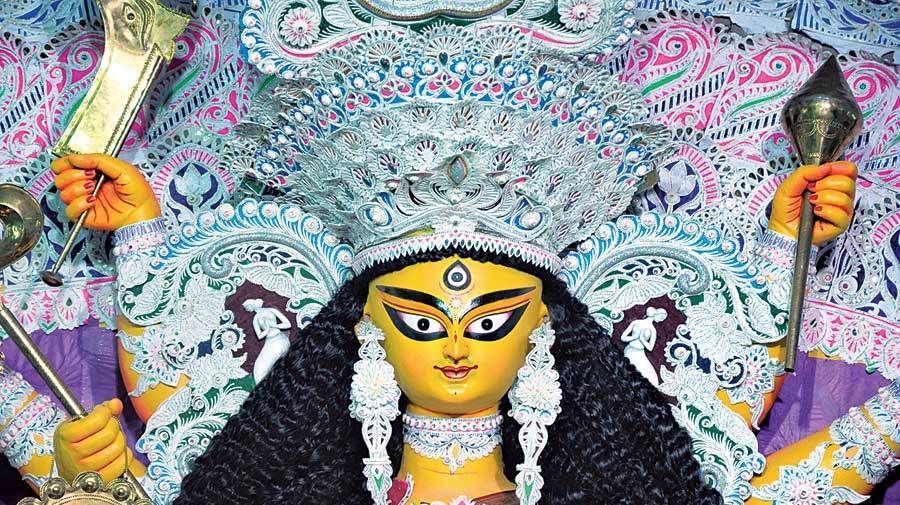 ---
Published 26.04.21, 01:08 AM
|
---
The dazzling white look in which Ma Durga or her daughter Saraswati often appear in Bengal — the crown, the breastplate, the sari — are all made of a bright white material with intricate patterns that comes from shola (white sponge wood plant/Indian cork). 
The material used is actually the wood of the plant, among one of the lightest woods in the world. It can be shaped exquisitely, allowing for a whole range of designs that is a glorious Bengal craft.  
When the Goddess is dressed up in the white of shola, her look is called "sholar saaj", in itself a Bengali tradition. It is a rival of "daaker saaj", the style that has the Goddess wearing shimmering ornaments and clothes made with metal foil and wire.
The shola plant grows wildly in marshy areas of Bengal, Assam, Odisha and the Deccan. Shaping its wood into finely detailed designs requires great skill.
Shola is not only decoration for deities, but also an intrinsic part of Hindu rituals in Bengal. The chandmala hanging from the hand of an idol was traditionally made of shola. The mukut and topor, the headgear of the Bengali bride and groom, are made of shola.
The Manasa chali, the backdrop of the snake goddess's idol, can have a touch of shola at the top. String puppets are made from a shola base and a clay exterior. Marugacha of Nadia is famous for its shola puppets. Flowers are made with shola for both ritual and ornamental purposes.