Flash mob breaks menstrual taboo in Esplanade
The performance began with a bunch of boys and girls shaming the girl for her stained skirt. Soon, a crowd gathered around the artistes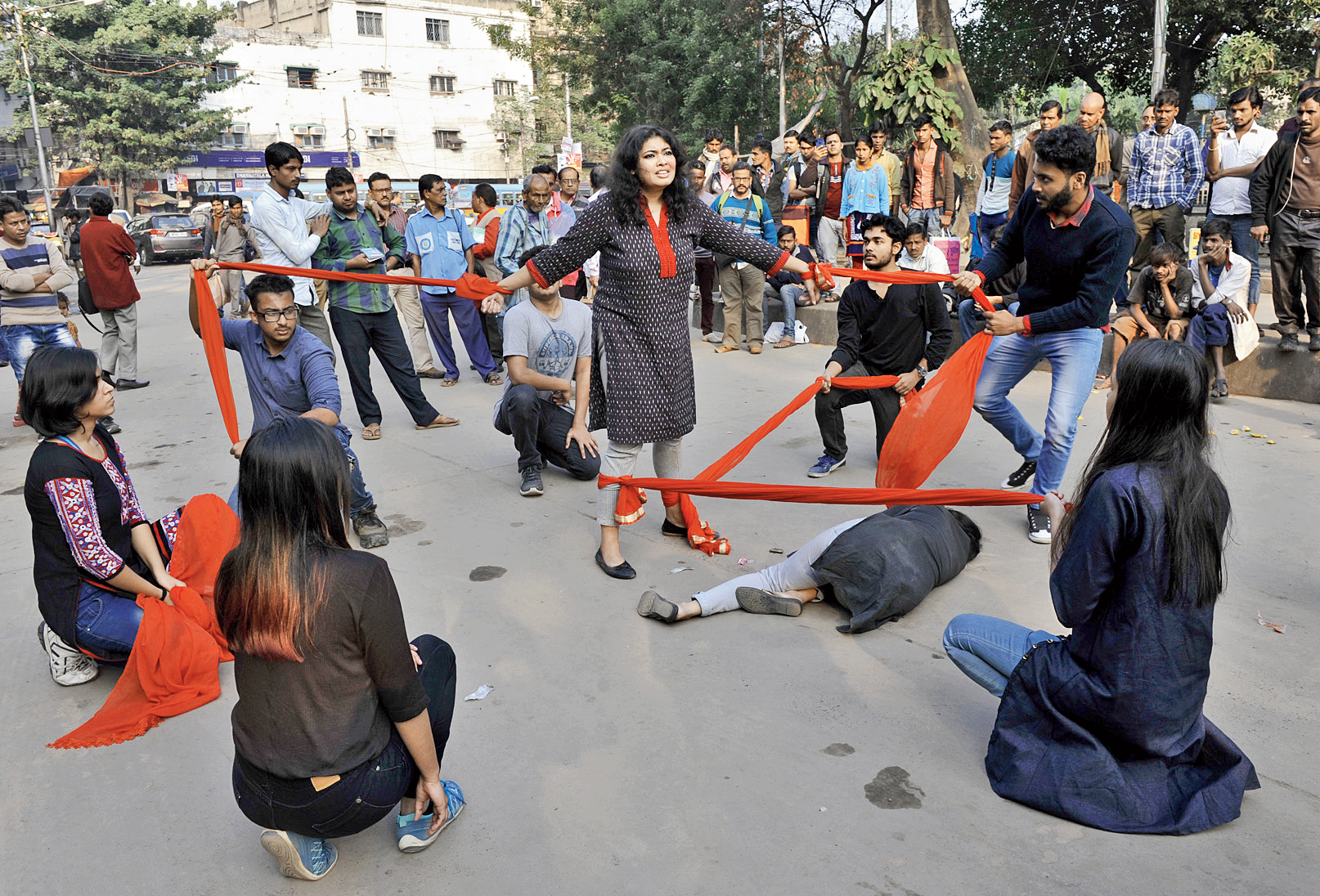 ---
|
Calcutta
|
Published 20.12.18, 10:54 PM
---
A girl walks down Esplanade in a stained skirt. She asks passersby for a sanitary napkin or the way to the nearest medical store. Women pedestrians are quick to offer her advice or directions, most men are unwilling to even talk to her.

Esplanade: A flash mob near the CTC bus stop in Esplanade on Wednesday afternoon caught passersby unawares with a street play on menstrual health and the taboos associated with it.
The performance began with a bunch of boys and girls shaming the girl for her stained skirt. Soon, a crowd gathered around the artistes.
"This play was needed. Our girls must learn to talk," said Rekha Banerjee, who had offered the girl with the stained skirt her shawl.
An initiative of social welfare organisation DITO, the play was part of an ongoing project to spread menstrual awareness and save women from greater health hazards.
"We have been operating a mobile medical unit for women in several neighbourhoods of Howrah, including Tikiapara, Ghusuri, Munsirhat and the area around Botanic Garden since last year. Consultation with gynaecologists revealed how irregular periods and the unwillingness to talk about it was leading to health hazards for around 40 per cent of women in these areas," said Sahana Bhowmick, the director of DITO.
The mobile medical units have reached out to over 35,000 women in two years, Bhowmick said.
A survey conducted by the organisation in Uluberia revealed that most rural women had poor menstrual hygiene and low-cost pads were of inferior quality and offered little protection. In Bengal, only 47 per cent of rural women and 73 per cent of urban women use sanitary pads.
"We started conducting community awareness programmes to change mindsets among adolescents. We would find many teenagers being harassed for resisting the forced isolation they were subjected to during periods. This is the first time we have collaborated with a theatre group to spread the message. Art has a greater impact," Bhowmick said.
The play was put up by 14 students and professionals, all members of Dramatically Correct. "We have worked on health issues in the past but this subject was new for us. I faced no hostility but the response of the audience was lukewarm compared with our other plays. That shows menstruation is still considered a taboo topic and we need to raise awareness," said Navamita Chandra, a film studies student at Jadavpur University.
The 15-minute play was also performed outside the Academy of Fine Arts and Tollygunge Metro Station on Wednesday.