Five BJP MLAs in north Bengal skip first party meeting
Ashok Lahiri (Balurghat), Satyen Roy (Gangarampur), Manoj Oraon (Kumargram), Joyel Murmu (Habibpur) and Gopal Saha (Maldaha) were absent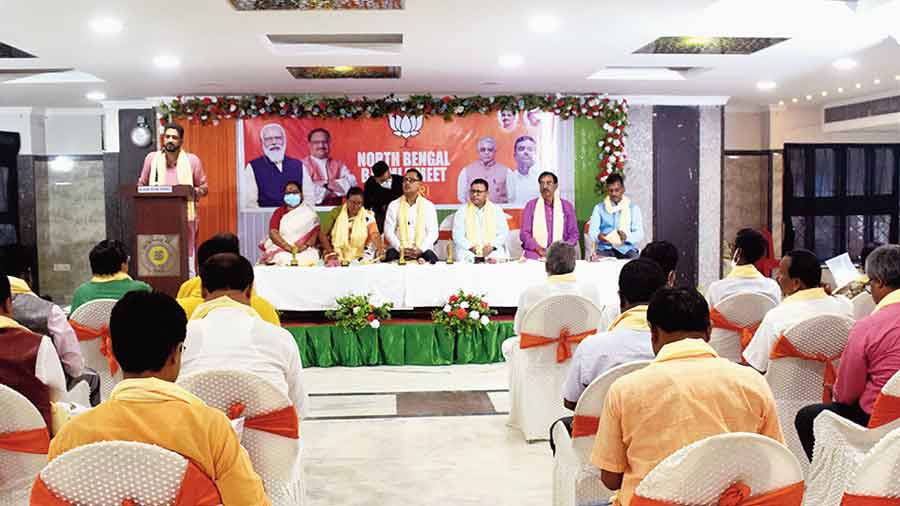 ---
Siliguri
|
Published 02.09.21, 01:10 AM
|
---
Five BJP MLAs from north Bengal skipped the first post-poll party conference of MLAs convened here on Wednesday, fuelling speculations on whether this region's saffron camp would also see defections similar to two back-to-back ones in south Bengal that have reduced the party's legislative count to 72.
Twenty-four of 29 MLAs from north Bengal took part in the event that mulled on strategic ways to consolidate the party base in the region. MLAs Ashok Lahiri (Balurghat), Satyen Roy (Gangarampur), Manoj Oraon (Kumargram), Joyel Murmu (Habibpur) and Gopal Saha (Maldaha) were absent.
"One or two may be ill or have problems. But it is surprising that five didn't come. We believe senior party leaders will talk to them," a senior party member said.
Manoj Tigga, the BJP MLA of Madarihat and party's chief whip in the Assembly, put up a brave face. "We can vouch for the fact that none of our MLAs in north Bengal will walk out of the party," he said.
However, the absence of the five also raised questions on whether the demand for statehood or Union territory status for north Bengal, flagged by the party's Alipurduar MP John Barla, who is also a Union minister now, has created a rift among BJP legislators of the region. While state unit chief Dilip Ghosh appeared to back Barla, many others in the BJP haven't.
 "Prominent state leaders like Rahul Sinha and Locket Chatterjee have spoken against it. There is a similar undertone of disgruntlement among some elected leaders of north Bengal too," said an insider.
On Wednesday, Tigga told newspersons the demand was the "personal opinion of those who have said it" and that the "party has not taken any stand on the issue." A few minutes later, Darjeeling MP Raju Bista, also a national spokesperson of the party, defended the demand. "If people of north Bengal want a separate state under the Constitution, we will stand with them and raise the issue at appropriate quarters, be it the Parliament or in the Assembly," he said.
On Tuesday evening, state unit chief Ghosh had expressed discontent at being kept in the dark about the meeting. Tigga apologised for it.