Fish bite into Bhai Phonta pockets
A day before Bhai Phonta, the price of Bengal's favourite fishes soared across the markets but still found takers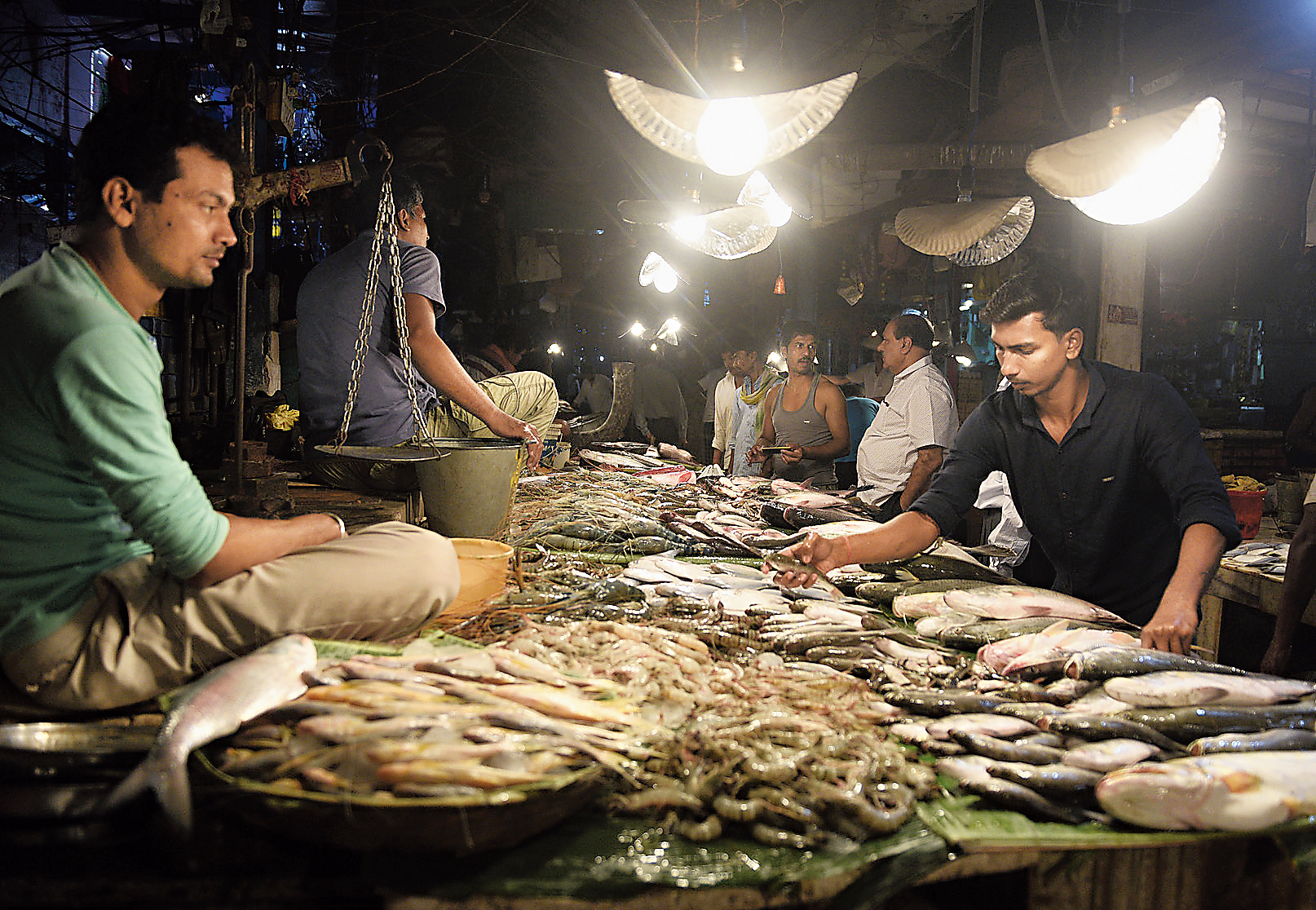 ---
|
Calcutta
|
Published 08.11.18, 09:18 PM
---
Hilsa sold at Rs 1,500 a kilo at Gariahat, Maniktala and other markets in the city on Thursday. Topshe cost Rs 750 and parshe Rs 500 plus.
A day before Bhai Phonta, the price of Bengal's favourite fishes soared across the markets but still found takers.
Most varieties of fish in the market have become costlier by at least Rs 100 a kilo since last week. Hilsa, on its way out for this year, has seen a steeper rise, fish sellers said.
Tarun Parui, a businessman from Howrah, bought a 1.25kg hilsa from Maniktala on Thursday evening. "I was in two minds over hilsa and mutton. But when the fish seller said the hilsa was from Bangladesh, it was a no-brainer," said Parui, who will host his brother-in-law for lunch on Friday.
"I get treated to a lavish feast on Jamai Sashthi at my in-laws' place every year. Bhai Phonta is when I get to play host and I don't want a loss of face," said Parui, a regular at Maniktala. He also bought lobsters for Rs 600 a kilo.
Bacchu Pramanik, a fish seller at Maniktala, said apart from hilsa and prawn, topshe, parshe and pomfret were the hot selling items.
Pratima Roy bought topshe and parshe from Gariahat, for Rs 750 and Rs 500 a kilo respectively. Also on her shopping list was mutton. "I like to cook for my brothers on Bhai Phonta," said Roy, 49, a Bengali teacher at a government school.
A group of three sisters came looking for katla, lobsters, pabda and topshe at the Gariahat market on Thursday morning. "We have a grand family feast on Bhai Phonta every year. We have two cousins who come with their families," said Tulika Bandopadhyaya, 40, the elder sister.