Firhad Hakim takes swipe at BJP over Durga Puja tax
BJP has been trying to get into the puja organising committees but were not successful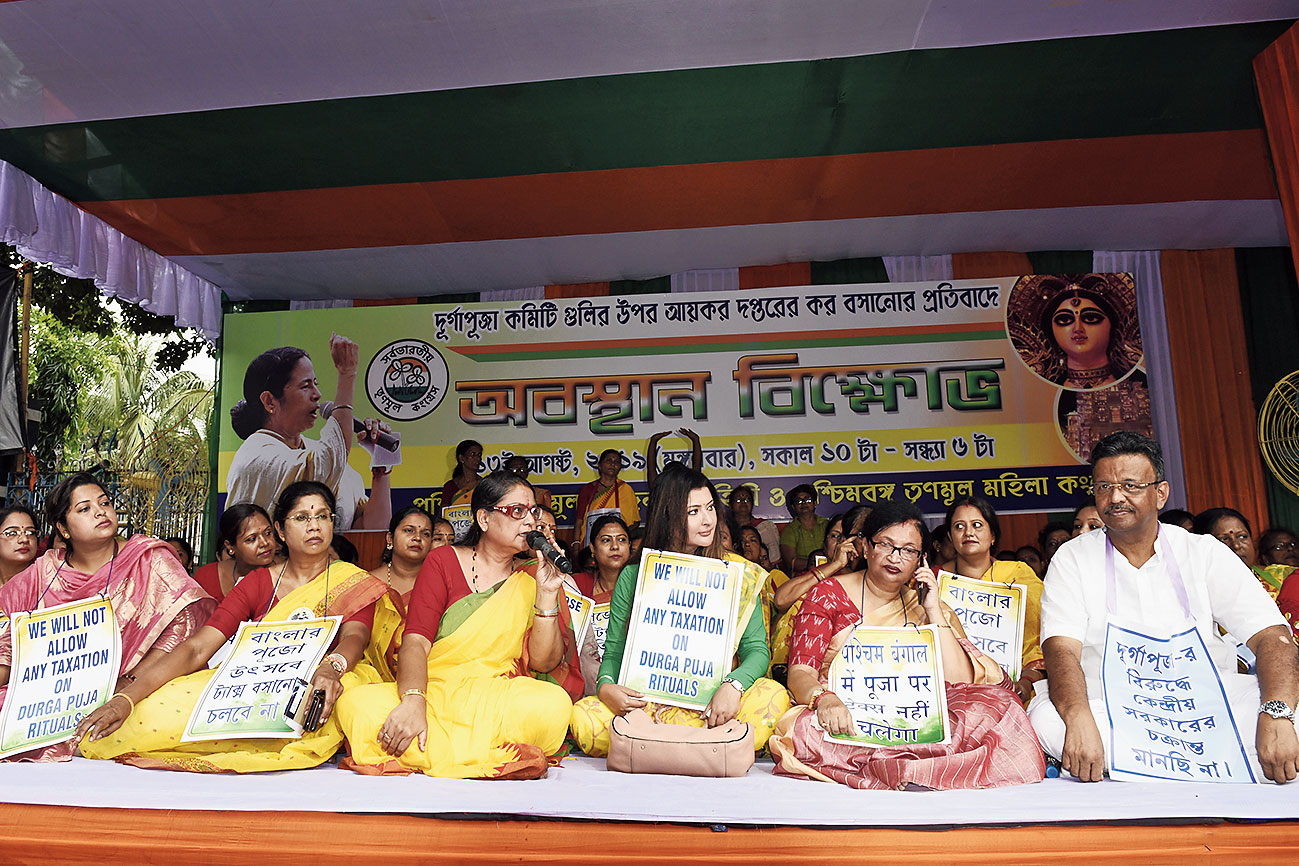 ---
|
Calcutta
|
Published 13.08.19, 08:06 PM
---
Trinamul leader Firhad Hakim on Tuesday alleged that the Narendra Modi government had sent income tax notices to Durga Puja committees as the BJP had failed to make it to the panels organising the festival in Bengal.
However, the Union finance ministry said on Tuesday evening that the CBDT (Central Board of Direct Taxes) hadn't sent notices to any puja committees in Calcutta.
Participating in an eight-hour dharna organised by Trinamul's Banga Janani at Raja Subodh Mullick Square in central Calcutta on Tuesday, Hakim said: "Many Trinamul leaders are involved in organising some of the best-known Durga Pujas in Bengal. But it is also the hard work of local club members that make the pujas huge success. Any effort by the saffron camp to disrupt Bengal's greatest annual festival will not be tolerated."
Hakim is a member of the Mamata Banerjee cabinet and Calcutta mayor. Besides, he is at the helm of the Chetla Agrani Sangha, a puja organiser.
"The Centre is trying to stop Durga Pujas in Bengal by harassing the committees through income tax notices. The BJP has been trying to get into the puja organising committees but were not successful. So, they are trying to disrupt pujas here," Hakim said.
Members of committees that organise several big pujas, too, were present at the protest venue. The pujas include Suruchi Sangha, Jodhpur Park Sarbojonin, Bagbazar Sarbojonin, Bose Pukur Shitala Mandir, Kashi Mitra Lane and Hindusthan Club.
In a tweet denying that income tax notices had been sent to the puja committees, the Union finance ministry said: "CBDT (Central Board of Direct Taxes) rebuts incorrect reports in media about Income Tax notices issued to Durga Puja Committees in Kolkata recently. The said reports are factually incorrect and are strongly denied.."
A press release issued by Surabhi Ahluwalia, commissioner of income tax (media & technical policy), and attached to the tweet, however, said: "The department had been getting information that several contractors who were doing work for puja committees were not paying due taxes. Therefore, notices were issued in December, 2018, to about 30 committees calling for details of tax deducted at source on payments made to contractors and event managers.