Firecracker compliance test for Calcutta and police
Run up to Kali Puja and Diwali was quiet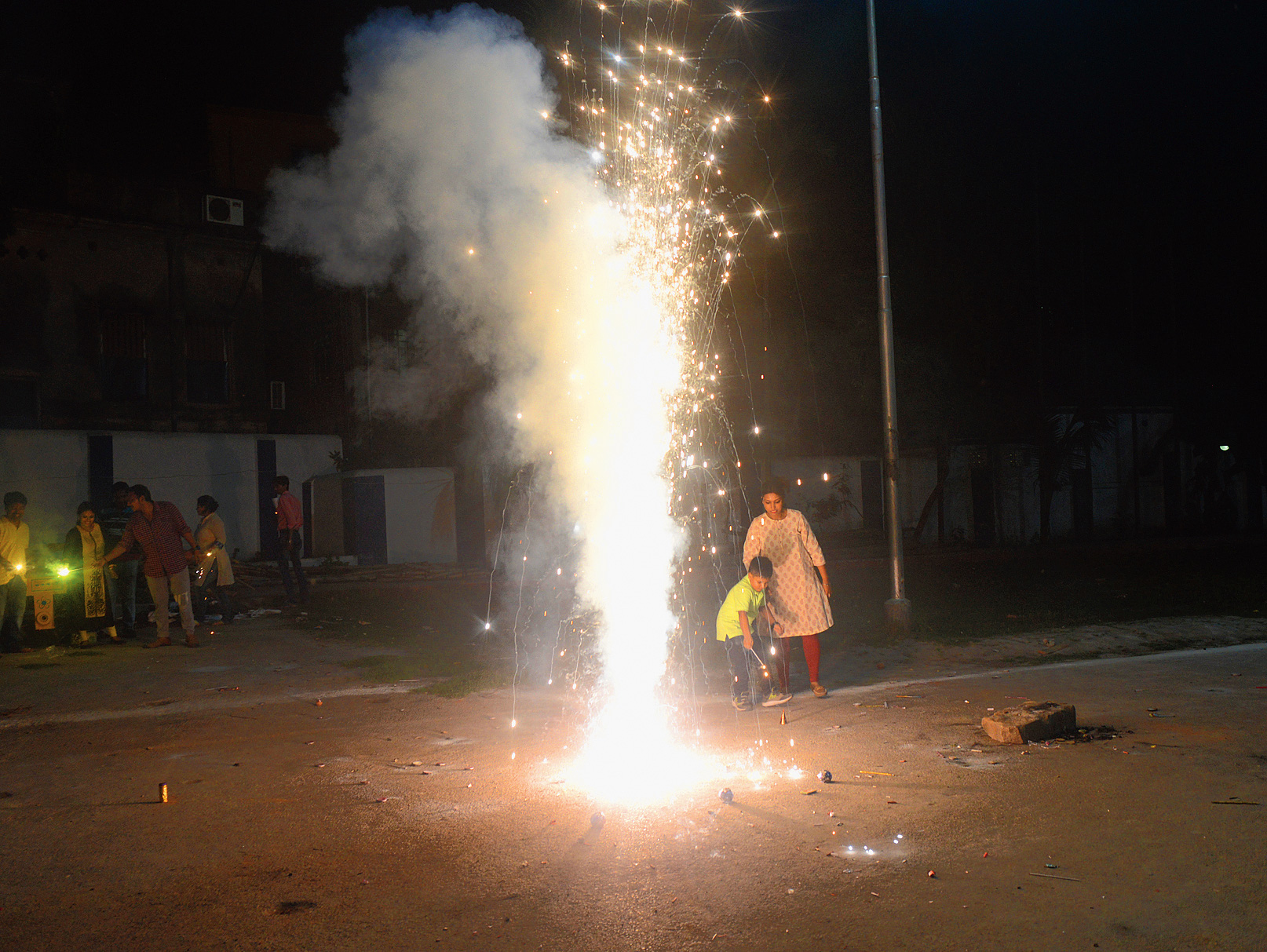 ---
|
Calcutta
|
Published 06.11.18, 09:15 PM
---
The run-up to Kali Puja and Diwali has been quiet but the real test of compliance starts after dusk on Wednesday.
Any type of fireworks, silent or noise emitters, can be lit only between 8pm and 10pm in accordance with restrictions clamped by the Supreme Court to prevent pollution, a police officer said on Tuesday.
Whether Calcutta remains obedient or not will be known around the time when the cacophony of banned firecrackers on Diwali usually starts.
For those who intend to stick to the official script, there is the forecast of good weather to look forward to and the possibility of strict enforcement by the police.
Lalbazar, the city police headquarters, has announced that any violation of the Supreme Court's order can even invite arrest.
Metro provides a primer on the new noise norms, how to report a violation and everything else in between that has to do with celebration rather than worrying about falling foul of the law.
New norms
The Supreme Court's two-hour window for fireworks on Diwali is applicable countrywide.
The officer-in-charge of a police station said that the order should be interpreted as no fireworks post-10pm and before 8pm, not even the innocuous chorki or a sparkler.
The police have planned a crackdown on violations because failure to do so can invite proceedings against them for contempt of court.
The Supreme Court has made the officer-in-charge of a police station solely responsible for any violation in the area under his/her jurisdiction, which makes it mandatory for police stations to crack the whip.
A fine of up to Rs 5 lakh and a year's imprisonment is the maximum punishment for a violation.
The noise limit for firecrackers in West Bengal is 90 decibels within five metres of where one is burst.
All noise-producing fireworks, including chocolate bombs, kali pataka, dhani pataka, dodoma, chain crackers and rockets, are banned. Licensed vendors and traders are selling approved fireworks at the bazi bazaars set up in Lake Town, Vivekananda Park and Tallah Park.
Weather
There is a possibility of light rainfall in the city at some point in the morning. After that, the sky is expected to remain partly cloudy. According to the weather office, the maximum temperature won't exceed 32 degrees Celsius, a notch lower than normal for this time of the year.
"The inflow of northwesterly winds has started, altering the equation. The city had so far received only moist southwesterly winds. Calcutta will receive light rain at the most (rain less than 20mm). Thursday onwards, a dip in temperature is expected," a Met official said.
Helplines
If you wish to report any violation of the fireworks norms, call your local police station. Alternatively, the following helplines will be in operation:
Calcutta police: 22143230 or 1090
Howrah police: 26415614
Bidhannagar police: 2335-8788/2341-0465
Fire services control room: 22521165
West Bengal Pollution Control Board: 23353913/23358212