Fire in Darjeeling garden manager's bungalow fans suspicions
The gutted location is the venue where the 1979 movie Lahu Ke Do Rang starring Vinod Khanna and Shabana Azmi was shot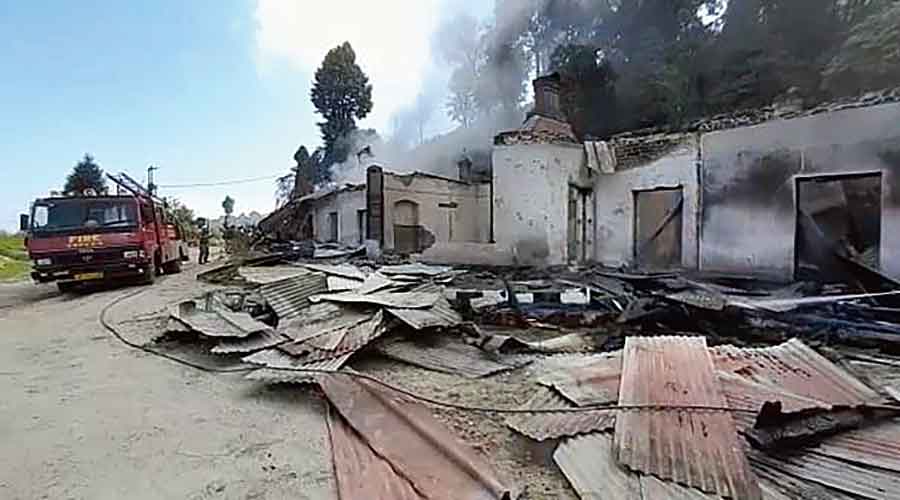 The gutted manager's bungalow at Kanchan View tea estate on the outskirts of Darjeeling town.
---
Darjeeling
|
Published 18.11.21, 01:23 AM
|
---
An empty tea garden manager's bungalow where the 1979 movie Lahu Ke Do Rang starring Vinod Khan¬na and Shabana Azmi was shot was gutted in a fire in the early hours of Tuesday.
But even before the ashes settled, conspiracy theories started swirling in Darjeeling.
The fire came under scrutiny because the management of the Kanchan View tea garden, where the bungalow stood, has envisaged a Rs 200 crore resort in the garden, barely 6km from Darjeeling town.
Owner  Ajit Agarwala, who filed a case with Darjeeling Sadar police, told this paper the wooden bungalow was gut¬ted to create "fear psychosis" around this new investment.
Some local residents, in turn, feel the management might have a hand in the fire to discourage tea plantation and focus more on the upcoming resort.
The resort proposal, the management claimed, got the nod after the launch of the state government's Tea Tou¬rism and Allied Business Policy 2019. Under this, land ceiling for tourism  and commercial projects was increased to 15 per cent of total land with a tea garden, up to 150 acres. Construction can come up only on 40 per cent of land earmarked for a project.
Work stopped in October in the estate with 99 workers.
 Jiten Rai, chief adviser of Gram Sudar Sammelan, a social organisation in the area said: "We, too, cannot blame anyone before investigations are over but we cannot rule out a conspiracy."
 "We are not sure whether guards were being properly posted on the property," Rai added.
"We are not against the project (resoirt), but we want all provisions in the tourism policy be followed. Our apprehension is that the garden management may not do it," said Rai.
Residents said under the new tourism policy, only fallow and vacant land can be used for projects such as resorts and that there can be no retrenchment of workforce or curtailment in tea grown areas. "However, over the years, workforce (in this tea garden) has reduced in the garden with no major appointments," said a trade union leader.