Fields and fisheries flooded in south Bengal, prices rise ahead of Durga puja
Many people are already struggling over the loss of income due to the pandemic and now the price pinch of daily need has made the situation worse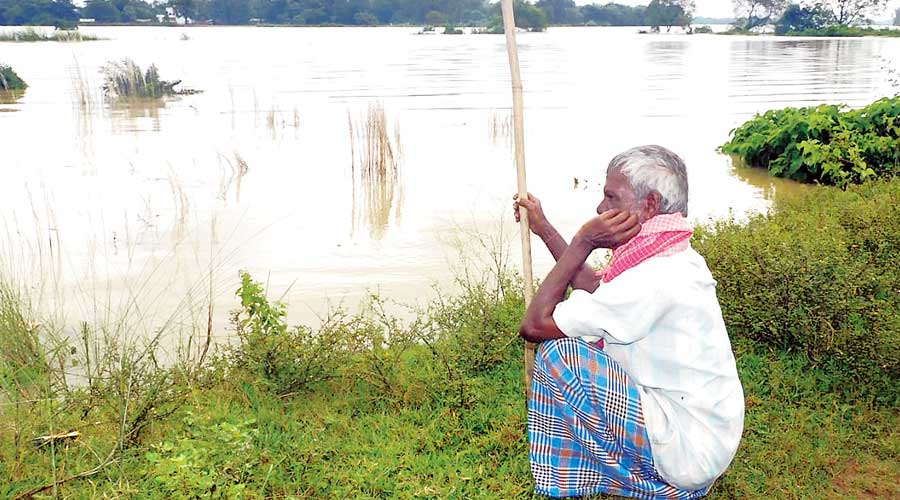 ---
Durgapur
|
Published 07.10.21, 03:14 AM
|
---
Inundation of vast swathes of south Bengal has led to a shortage in the supply of vegetables and fish in the market and the resultant price rise ahead of Durga puja.
Sources said more than 1 lakh hectares, where seasonal vegetables were cultivated, got submerged because of the record rain last week and subsequently, the release of water from the Damodar Valley Corporation's dams in Jharkhand worsened the situation.
Fish were also swept away from overflowing ponds and fisheries in East Midnapore and North and South 24-Parganas.
"Rohu fish, which is a common item on the Bengali platter, is now sold at around Rs 350-Rs 400 per kilo, almost double the regular price," said Gopal Das, a fish trader in Durgapur.
One kilogram of brinjal, which was sold at Rs 40 before the flood, costs Rs 80 per kilo now in the state. Similarly, okra, which was earlier Rs 20 per kilo, is now sold at Rs 60.
Many people are already struggling over the loss of income and jobs because of the Covid-19 pandemic, and now the price pinch of the daily need has made the situation worse.
In West Burdwan, which is known as an industrial hub, a major portion of vegetables like pumpkin, cabbage, brinjal, and ridge gourd is supplied from neighbouring Bankura and West Midnapore districts.
Low-lying areas along the Damodar and Gandheswari rivers in Bankura's Mejia, Borjora, Sonakukhi, Onda, Indus and Patrashayar blocks are known for vegetable growers.
West Midnapore's Ghatal and a large part of Hooghly – also a major producer of vegetables – feed many south Bengal districts as well as Calcutta and have been severely affected by the flood.
"Most of the fields where we grew vegetables were submerged. All our crops were destroyed in the water," said a farmer in Bankura's Onda.
The area was inundated because of the overflowing of the Damodar, Gandheswari and Dwarakeswar rivers.
"I have cultivated bitter gourd and pumpkin on my one bigha plot but the inundation has ruined everything," said Bholanath Gorai, a farmer at Patrashayar.
A stockist of cabbage and pumpkin in Durgapur said he had not been receiving vegetables for the past three days.
"I supply cabbage and pumpkin on four trucks to Durgapur, Asansol and Burdwan retail markets, but I have not been able to send a single truck for the past two days. The supply of vegetables from Bankura has stopped because of the flood," said the stockist.
Additional reporting by Anshuman Phadikar in TamlukFields & fisheries flooded, prices rise