Festive mood hurdle to storm evacuation plan
Cyclone Sitrang is slated to make landfall between two islands in Bangladesh on Tuesday morning, which is likely to affect coastal districts of North and South 24-Parganas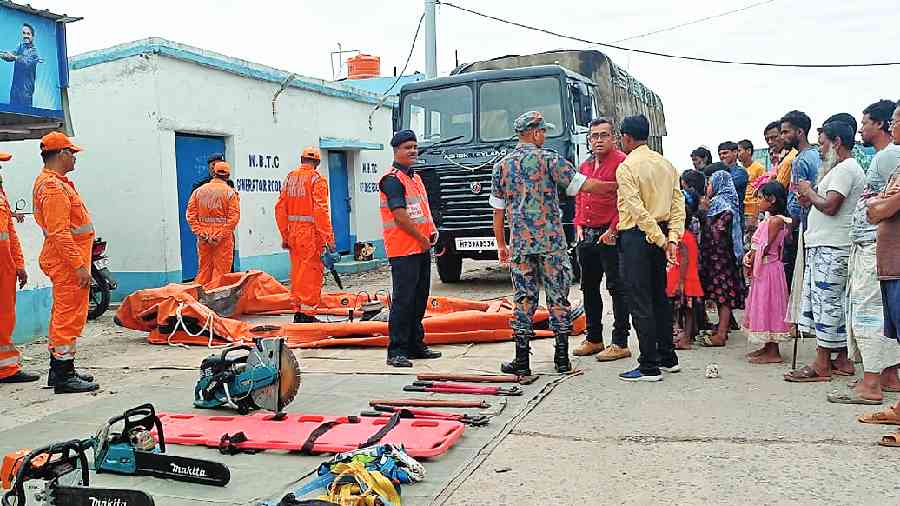 An NDRF team evacuates villagers from vulnerable areas of Kakdwip in South 24-Parganas
Telegraph picture
---
Tamluk(EastMidnapore), Calcutta
|
Published 24.10.22, 12:43 AM
|
---
District administrations in South 24-Parganas and East Midnapore  are facing a challenge in evacuating people to safety ahead of cyclone Sitrang because many are unwilling to leave home amid Kali Puja and Diwali festivities.
Cyclone Sitrang is slated to make landfall between two islands in Bangladesh on Tuesday morning, which is likely to affect coastal districts of North and South 24-Parganas, and East Midnapore the most. Heavy rainfall, tidal waves and gusty winds are likely from Monday.
Sources said parts of Howrah and Hooghly are also likely to bear the brunt of Sitrang.
The Bengal government wants to evacuate people from vulnerable points to safer locations by Monday afternoon as the cyclone is also slated to coincide with high tide.
"It has really been a challenge to evacuate people as they are in a festive mood. Most are trying to convince us that they will leave home only after Kali Puja. We are telling them that the forecast for South 24-Parganas and East Midnapore is serious," said a state official.
According to an estimate, the state government plans to relocate one lakh people from North and South 24-Parganas, and East Midnapore, with 40,000 from  South 24-Parganas alone. "Keeping festivities in mind, we decided to only evacuate people from areas where the impact of the cyclone is likely to be severe," said South 24-Parganas district magistrate Sumit Gupta.
District disaster management departments have identified over a dozen blocks across the three districts on the riverine areas of the Sunderbans and adjacent to the coasts of Bay of Bengal.
Sources said South 24-Parganas has identified six blocks, including Kakdwip, Namkhana, Partharpratim and Gosaba.
East Midnapore has identified five blocks, including Ramnagar-I and II, Khejuri and Nandigram. North 24-Parganas is focusing on Barasat sub-division.
On Friday's meeting with district magistrates and police superintendents of seven south Bengal districts, chief secretary H.K. Dwivedi sought all Kali Puja committees be told to strengthen pandals that could face gusty winds.
East Midnapore's Contai sub-division is famous for organising hundreds of Kali Pujas.
"We have readied our pandal. People in our area want to leave their homes but not before completion of puja on Monday night," said Arjun Dolai, president of the Maa Sitola Youth Sangha, a club at Chandpur on the coast of Bay of Benga, East Midnapore. Sources said district officials urged local representatives from gram panchayats to go with evacuation teams and convince residents that the cyclone could pose a more serious risk than they thought.
"Many people are unwilling to leave home. We are campaigning that life is more important than celebrations," said Biswajit Jana, chief of Talgachhari gram panchayat in East Midnapore.
An official in South 24-Parganas said they had started the evacuation process since Saturday afternoon. "If heavy rain starts from Monday, we hope unwilling people will cooperate," said an official.
Additional reporting by Subhasish Chaudhuri