Festivals await tourists in hills during winter
From Thursday, Kholey Dai, a four-day rice harvest festival, will be organised at Parentar along Bhutan border of Kalimpong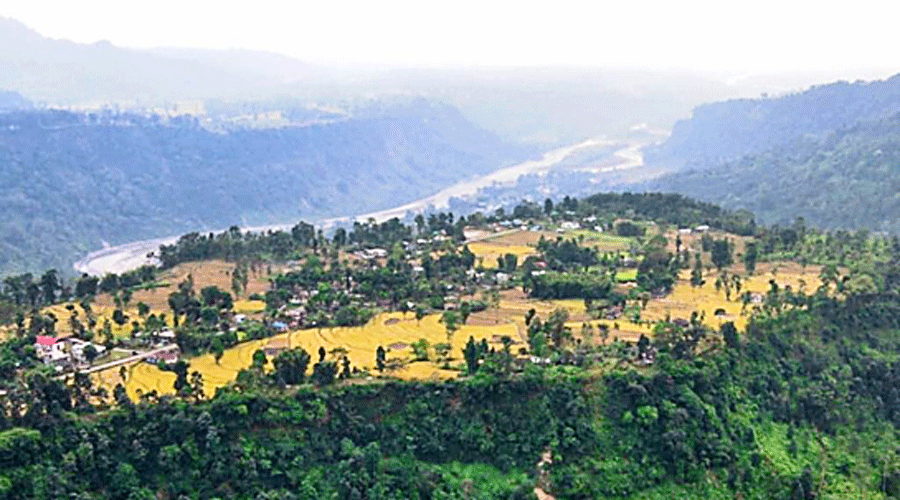 Parentar, the venue of Kholey Dai Festival in Kalimpong district.
The Telegraph
---
Darjeeling
|
Published 14.12.22, 03:45 AM
|
---
The chill has set in and there is an air of festivity in the Darjeeling hills as tourists have started visiting the region braving the cold.  
From the annual harvest, folk music and food festival in Kalimpong to the tourism festival at Chowrasta in Darjeeling, the stage has been set.
From Thursday, KholeyDai, a four-day rice harvest festival, will be organised at Parentar along the Bhutan border of Kalimpong district.
"Visitors can witness and participate in the harvest and folk music festival which is being organised through the community initiative ofParentar Nawlo Umang Welfare Society, Muhaan (a community tourism initiative) andCafé Kalimpong from December 15 to 18," said ArunavhDam, organiser.
The festival is also aimed at preserving ancient traditions and their transfer to future generations, along with the protection of the rural landscape by improving the economic prospects of agriculture and ensuring its continuity.
"Besides the harvest rituals, visitors can also witness the performance of various folk artists from all over India and Nepal," said Simran Sharma, a member of the organising team.
The performers include Bharat Gandharbha & Night from Nepal, Siyom from Manipur and well-known singers from the region likeShreedhya Sisters, Anmol Gurung and Pushpan Pradhan.
Apart from music and cultural performances, the organisers have also lined up traditional games, workshops and traditional local cuisines."A campsite will be available for the night," said Simran.
Another event, the Kalimpong Street Food Festival, has also been lined up along the Main Road of Kalimpong town from December 26 to 29. "Since tourists have started arriving in the hills, we are organising this street food festival where nearly 100 food stalls will beset up," said Narendra Tamang, a member of the organising committee.
The Kalimpong town festival will start at 4.30pm and end at 8pm.
The Gorkhaland Territorial Administration (GTA) will organise a four-day tourism festival from December 28 to 31. The Darjeeling Tourism Festival will be held at Chowrasta.