Fatal lure to click them wild
Lack of animal knowledge proves costly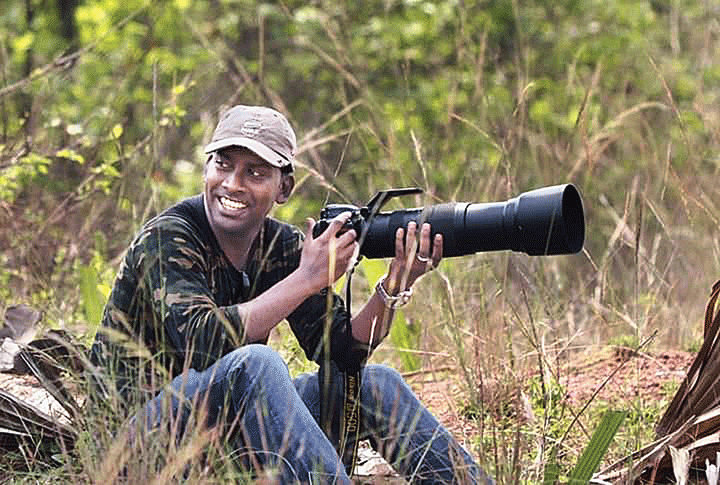 Ashis Shet, who was killed by an elephant while trying to photograph the herd
Telegraph picture
---
Calcutta
|
Published 16.11.19, 08:37 PM
|
---
The death of an amateur wildlife photographer in an elephant attack in a Jhargram forest earlier this month underscores the risks posed by his tribe to human lives as well as the ecosystem.
Ashis Shet, 32, was killed by an elephant on November 2 while trying to take pictures of the herd the jumbo was a part of. A resident of Howrah, Shet was remembered by friends and acquaintances as someone with "a passion for wildlife photography". His Facebook account is replete with pictures of birds.
On the day of the accident, Shet was headed to a relative's place in Jhargram's Sankrail block when he heard about the presence of a herd in the nearby Atadiha forest, according to newspaper reports on his death.
The reports said a hula party — squads on improvised mini vans armed with searchlights, fireballs and crackers and deployed to chase away elephants straying into human settlements — was in action when Shet was taking the pictures.
A forest official in Jhargram said what happened with Shet was nothing new. There have been several instances of hula parties being trailed by photographers in the recent past. "Tackling elephants is a daunting task itself. Imagine having to tackle these photographers in addition to that," the forest official said.
Pockets of Jhargram, Bankura and West Midnapore have become "weekend tourist destinations" for amateur photographers from Calcutta, who are members of online photography groups, he said.
"These people have zero experience of being around wild animals. They are outsiders and keep coming to forest pockets as weekend destinations. They don't know the terrain.," said Arup Mukherjee, the divisional forest officer of Kharagpur.
Senior forest officials, veteran wildlife photographers and wildlife experts attributed the problem to the rise of social media and the boom in digital devices.
"This attraction of likes and comments is fatal. A close shot of an elephant calf cosying up to its mother might be a picture of tranquillity but the same elephant can be ferocious if it senses a danger to her baby," said Ravi Kant Sinha, the chief wildlife warden of Bengal.
Friends and fellow photographers remembered Shet as someone who loved nature. "I have known Shet for three years. He was passionate about clicking birds. I am shocked to learn about his death," said Timir Baran Mazumder, the founder of a nature lovers' group that counts several novice photographers like Shet among its members.
Anujit Basu, a veteran wildlife photographer and conservationist, said most aspiring photographers did not know the basic dos and don'ts of clicking animals in the wild. "While taking pictures of an elephant, a gap of at least 50 metres should be kept from the subject. A breach is likely to be interpreted by the elephant as a danger, more so if there is a calf. Before attacking a person, an elephant sends distress signals —drags feet, flaps ears, shakes head or trumpets. These are clear signs that you should retreat but novice photographers may not understand them," said Basu.
Joydeep Kundu, general secretary of SHER, an NGO working to minimise human-wildlife conflict, called the trend "unethical photography". "These days, anyone with a DSLR or an expensive phone is a photographer. Unless there is self restraint, these deaths will not stop," he said.
"Elephants are known for sharp memory. The elephant that charged at him might become aggressive whenever it sees a human being," he said.
Dhritiman Mukherjee, award-winning nature photographer from India who has been featured in National Geographic Traveller, Lonely Planet, BBC and The New York Times, said three qualities make a good wildlife photographer — knowledge about habitat and subject, experience and common sense.
"Above all, there is a human quality, a sense of ownership. A nature photographer should feel this is my forest, these are my animals and I have to care for them. That feeling is far more important than any momentary impulse that can lead to danger," said Mukherjee, who has shot in 40 countries and all states and natural parks in India.