Vow to take farm protests to capitals
The movement will no longer remain restricted to Delhi, rather will spread across the country with the participation of more farmers and common people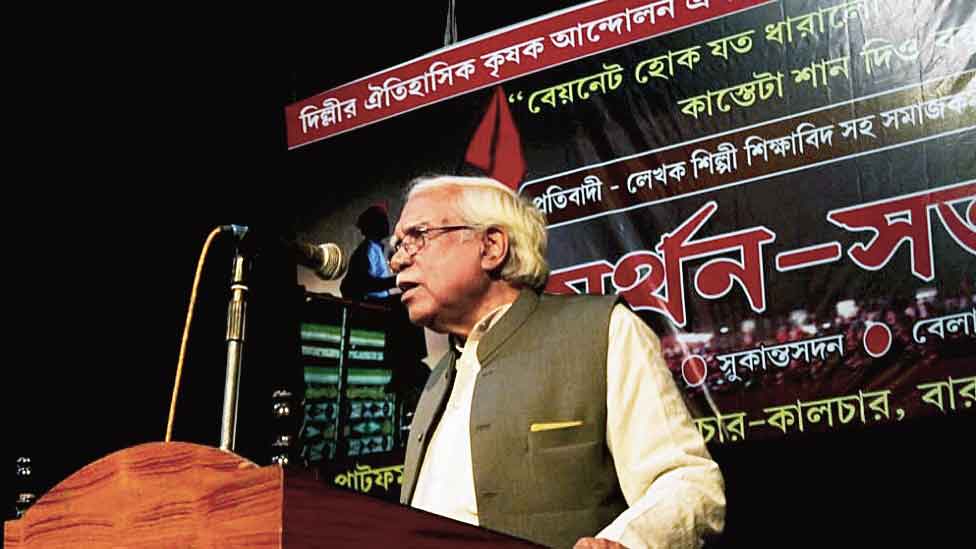 Hannan Mollah speaks at the convention in Barrackpore on Sunday.
Pranab Biswas
---
Barrackpore
|
Published 04.01.21, 02:20 AM
|
---
Peasant unions from Bengal which will attend the seventh round of talks on the Centre's agriculture laws on Monday in Delhi have vowed to "intensify" their movement if core issues, including a legal guarantee for "minimum support price", are not solved.
Sources said a fresh round of protests, backed by countrywide farmers' unions, would begin on January 6 and would be followed up on January 26 with a nationwide "Kisan Parade" in all state capitals.
"The farm laws need to be rolled back unconditionally," former MP and peasant wing leader Hannan Mollah said at a convention organised on Sunday in Barrackpore in preparation of the talks.
Mollah, however, added he was "not confident" about a positive outcome in the current week. "It appears the Centre is not in a position to repeal the acts owing to its compulsions and obligations to corporate houses."
"The movement will no longer remain restricted to Delhi, rather we will spread it across the country with the participation of more farmers and common people. We have chosen January 26 as the special day when farmers will march peacefully in all state capitals along with tractors, bulls, ploughers and whatever they have."
A few hundred members of Bengal's culture clan joined the convention to express solidarity with the fight to repeal the three controversial acts.
The convention was organised by the Barrackpore-based Platform for Education-Theatre-Culture, in association with Pather Panchali and Sanskriti Samanway.
Sources said various local organisations and individuals in total contributed nearly Rs. 4 lakh to the movement.
Delivering an ultimatum to the Centre in his speech, Mollah reiterated that the time had come for "decisive" action claiming the Centre was not actually eager to listen to the farmers properly.
"The Centre claims the acts will deliver goods for farmers, but in real terms, they are planning to change the character of our farming culture with dependence on the corporate sector. The Centre forced farmers to become desperate and we will never compromise until and unless the three acts are repealed," the elderly peasant leader said.
Mollah said prior to Kisan Parades in all state capitals, the fresh phase of decisive "struggle" pan-India would begin from January 21, when farmers in 700 districts of the country would organise protest rallies. "Later, during January 23-25, farmers will gherao the governors' houses in all state capitals which will be followed by the Republic Day's Kisan Parade."
Bengal Congress leader Abdul Mannan, CPM leader Mohammed Salim, theatre personality Koushik Sen and playwright Chandan Sen, who is the president of the platform that organised the convention, also spoke at the programme.