NH12 repair on pause over pay
1300 refuse to work till they get salaries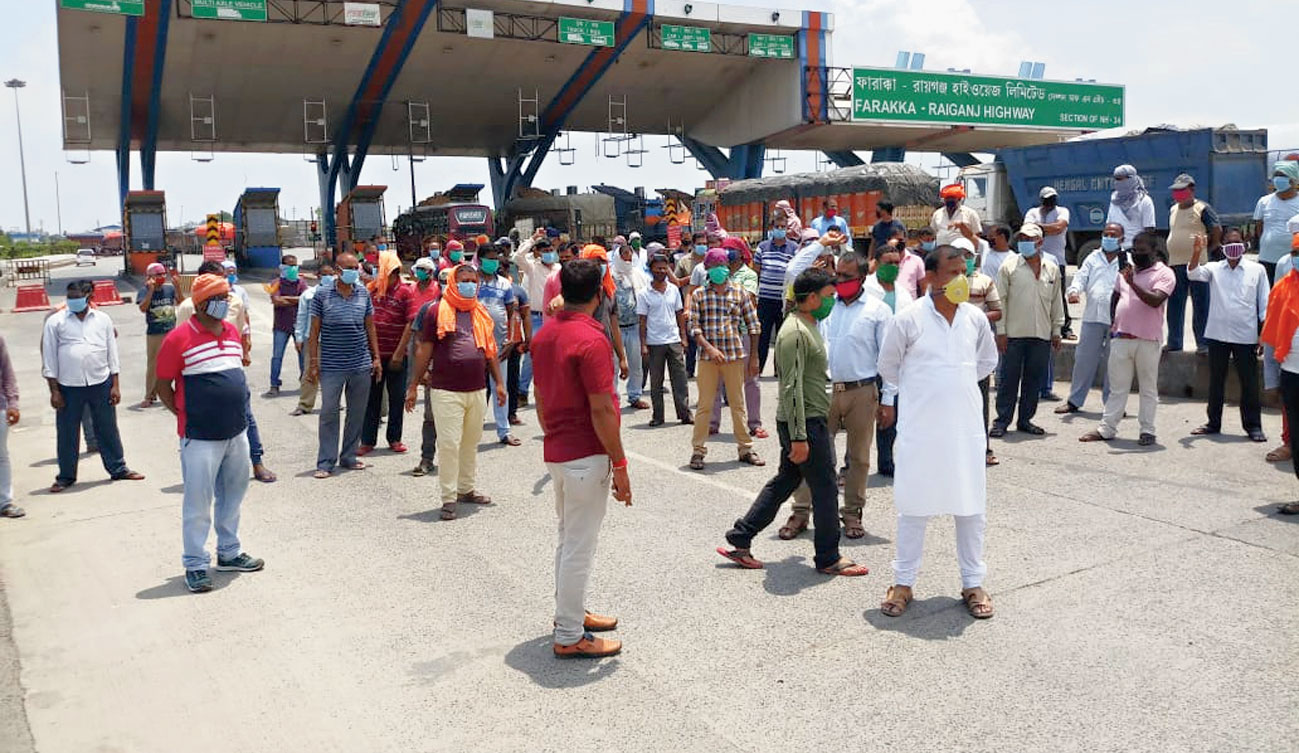 ---
|
Malda
|
Published 11.06.20, 11:02 PM
---
The long-delayed widening and repair work on NH12 on the Farakka-Malda has received a further blow.
Around 1,300 workers, skilled and unskilled, have stopped work since May 17 over unpaid salaries, even as the bitumen cover on 30km stretch of the highway has peeled off, baring craters and potholes that make it a nightmare ride.
The work on the highway, which began in February 2011 with a 42-month deadline, was supposed to be over by 2014-end.
The Centre had entrusted HCC, a leading construction company, to widen the highway from Farakka to Raiganj into a four-lane stretch on BOT (built, operate, transfer) basis.
The company floated the Farakka Raiganj Highways Limited, a concessionaire subsidiary, to start work.
"They were supposed to finish the work by 2014-end, but because of land acquisition problems and some other issues, the project is still underway," said a source in the National Highways Authority of India (NHAI).
The fresh deadlock came about as the company stopped paying salaries, workers told The Telegraph. Among the workers for the 30km stretch, some 600 are from Bengal and the rest 700 are from states such as Kerala, Odisha, Uttar Pradesh and Bihar.
"For past seven months, workers were not paid, but still worked onsite. But when the lockdown started, avenues of income of their other family members dried up. Workers also got stuck at the site here and could not send money home. All these factors made the workers decide to stop work from May 17 onwards," said Federation of All Indian Hindustan Construction Workers' Union general secretary Sunil Sarkar.
On Wednesday, the company arranged two months of salary to pay workers. Gautam Biswas, a personnel manager of HCC, said on Thursday that workers were not ready to resume their duties unless they got their entire dues (five months of pending salary). Monthly salaries of skilled workers vary between Rs 16,000 and Rs 35,000. Unskilled ones get Rs 10,000 to Rs 15,000.
Omnath Bihari, a deputy manager of NHAI posted at the office of the project director here, said they had asked HCC officials to sort out the issue soon.