Fani arrives weak and harmless
Moderate rain and wind in city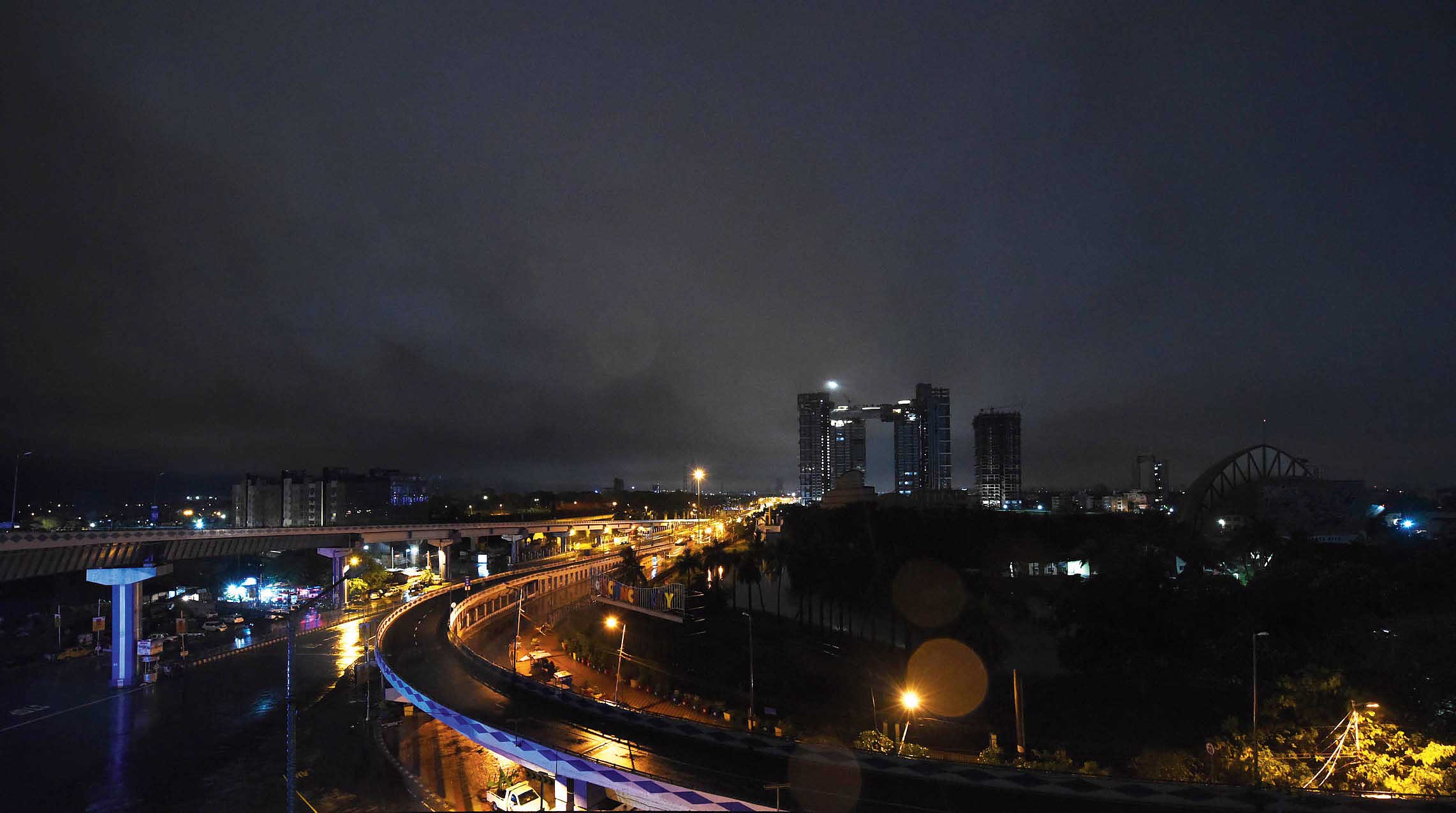 ---
|
Calcutta
|
Published 04.05.19, 08:50 PM
---
Cyclone Fani fizzled out as it passed over the city early on Saturday.
The sleeping city barely felt the light to moderate rain and 40kmph winds that the system triggered. The gusts sometimes went up to 52kmph, but nothing beyond.
When Fani made landfall in Puri on Friday morning, it was an extremely severe cyclonic storm with windspeed gusting up to 205kmph. A revised forecast said it would hit Bengal as a cyclonic storm with windspeed of around 80kmph.
When Cyclone Fani blew over Calcutta, it was still a cyclone but minus the fury that it had packed in Odisha.
The weatherman attributed the loss of steam to the time and distance travelled by the storm and high altitude winds that made Fani gain extra speed but drain out faster.
"The cyclone further weakened on Saturday into a depression and emerged over Bangladesh around noon. It is expected to continue moving north-eastward and turn into a low-pressure area within the next 12 hours," G.K. Das, the director of India Meteorological Department, Calcutta, said.
The system travelled over 700km for over 24 hours to reach Bangladesh on Saturday afternoon after crossing West Midnapore, Hooghly and Nadia districts.
The journey from Puri to West Midnapore alone is around 400km. "When cyclones hit the coast and move over land, they lose their source of moisture — the sea — and rapidly lose strength," said Das.
A senior official at the India Meteorological Department headquarters in New Delhi said tropospheric winds at six to 12km altitude gave a push to Fani, causing it to gain extra speed between Balasore and Midnapore and weaken faster than expected as it neared Calcutta.
The cyclone with wind speeds gusting up to 205kmph during landfall moved north-east along the coast at 15kmph but accelerated to about 30kmph between Balasore and Midnapore during Friday evening.
"The faster Fani moved over land, the further it got away from the sea, its source of moisture," said Mrutyunjaya Mohapatra, head of cyclone forecasting services at the IMD headquarters.
Moisture from the sea is the fuel of cyclones and as it lumbered at nearly twice its initial speed, its windspeed reduced at a pace slightly faster than initially predicted.
The result — Fani had lost much of its power by the time it reached Arambagh.
The city stayed mostly indoors throughout Friday anticipating sweeping winds and massive rain. Over 4,000 people had been temporarily evacuated to safe shelters, civic and police officers said.
When the showers started in the early hours of Saturday, most Calcuttans were sleeping. "Winds blew at an average speed of 40kmph, with gusts up to 52kmph," said Das.
The damage was limited to about 15 trees — including two in Salt Lake — and three light posts being uprooted across Calcutta and its adjoining areas. A portion of a tiled roof of a Jorabagan house caved in after midnight, leaving five persons injured.
The wind was faster and rain heavier in Digha and Bakkhali, closer to the sea. Bakkhali recorded winds blowing at over 80kmph. Over 20 homes were damaged in East Midnapore, district officials said. Birbhum, North and South 24 Parganas, Nadia and Murshidabad also got more showers.
The skies over Calcutta are expected to clear on Saturday night and the next couple of days will see the return of the scorching May sun and sweat, he added.
Sanjib Bandyopadhyay, deputy director general at IMD Calcutta, said Fani lost more fuel because it was a pre-monsoon cyclone. "The water bodies are overflowing after the monsoon. A post-monsoon cyclone can draw some moisture from them while barrelling over land. Pre-monsoon cyclones cannot draw that moisture," he said. The IMD has also advised fisherfolk in Bengal not to venture into the Bay before Sunday.