Family get silent nod to queries
'How could the train move with the 66-year-old hanging from the door?'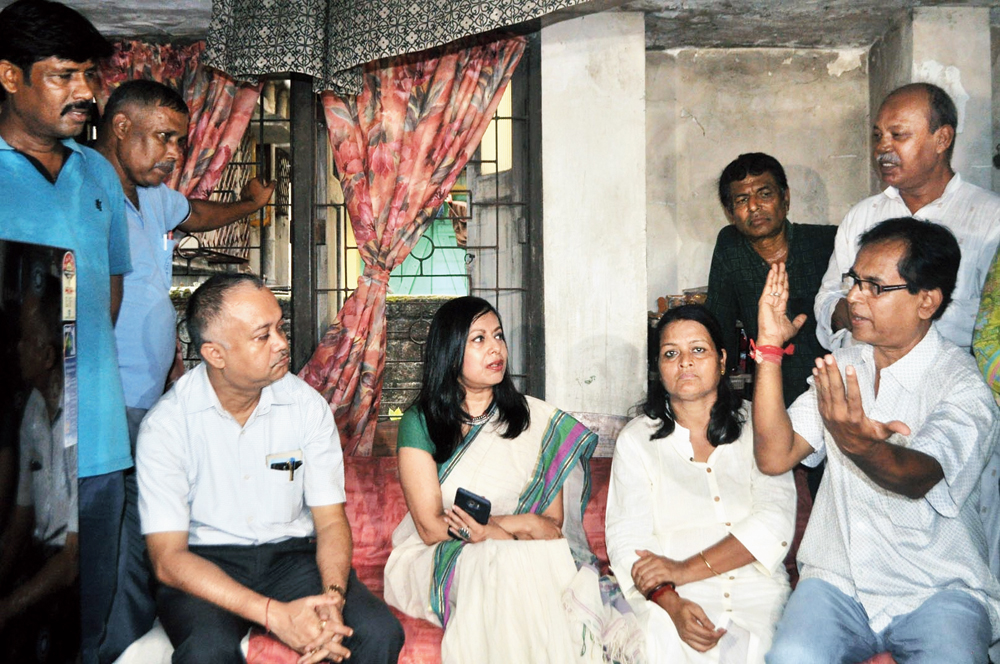 ---
|
Calcutta
|
Published 16.07.19, 11:02 PM
---
Sajal Kumar Kanjilal's family had one question when Metro officials met them on Tuesday: how could the train move with the 66-year-old hanging from the door?
Metro spokesperson Indrani Banerjee, principal chief operations manager Satyaki Nath and the officials accompanying them sat quiet and just nodded.
This was the first time Metro representatives called on relatives of Kanjilal, who met a brutal end at Park Street station on Saturday evening.
Kanjilal's hand got stuck between closing door flaps of a coach of an air-conditioned train at Park Street station and he was dragged to a gruesome death.
The Metro officials faced a barrage of questions from family members, who are still clueless about the reasons behind the death.
"A person's hand got trapped and the rest of him was on the doorplate. How could the train move? This happens on a local train. How could this happen in Metro?" Kanjilal's brother-in-law Subrata Das asked.
"I will tell you about my experience. Once a bag had got stuck in the door. The guard intervened and got the door reopened before the train left. In this case, a person hanging with his hand stuck in the door failed to draw the attention of the guard or RPF personnel! Who gave the all-clear signal to the driver?" wondered Das.
Nath replied in a meek voice: "We are trying to find out who was at fault." Banerjee added: "We have to find out, so that it does not recur."
Another relative at this point said: "We have lost a member and you have earned a bad name. A person was hanging on the footplate. The guard did not spot anything, the RPF personnel did not feel the need to blow the whistle to alert the driver and the driver started the train. The RPF personnel should have stepped in."
The officials remained clammed up.
Papia Das, a cousin of Kanjilal, alleged that the red button on a talkback unit (through which passengers can communicate with the driver) in the coach that the victim tried to board did not work. Passengers in the coach had said they had tried in vain to alert the driver through the unit.
Nath, however, said the system did work, though it failed to save a life.
As family members kept reeling off allegations, Banerjee could be heard saying: "The loss is irreparable."
When the family members wondered how the train could leave with a hand stuck in a door, Banerjee said an RPF jawan had rescued a person who was trying to prise open a door of a Metro rake at Park Street station on Monday evening.
A Metro official had on Sunday called Kanjilal's cousin Rajkumar Mukherjee and told him that a representative would pay tribute to the victim at the Keoratala crematorium. No one turned up.
When Subrata Das reminded the officials about the no-show, one of them said: "It was a case of miscommunication. We had gone to the Academy of Fine Arts. But by then the body had left for the crematorium."