Faith doesn't matter, need does
A 60-year-old helps as many as 50 children, some Hindus and some Muslims, financially so they don't have to give up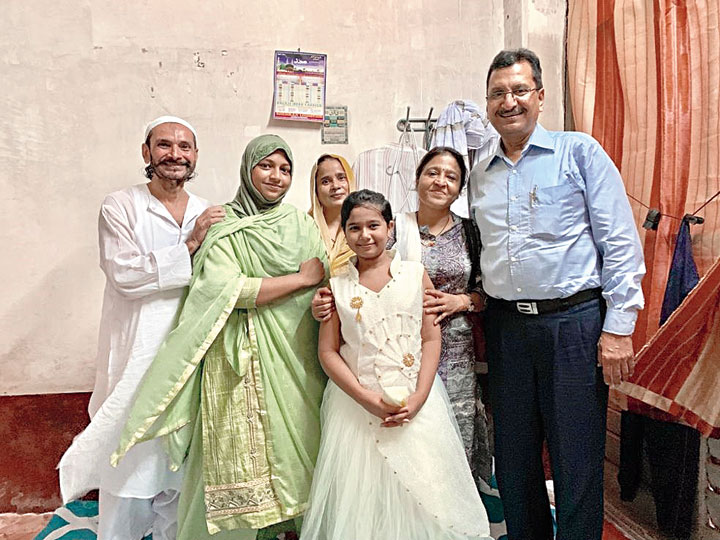 Nirmal Jalan (from right) and his wife Pramila with Faizan's sister (in front) Farha Naaz and parents, and Ayesha Farheen (in green)
Telegraph picture
---
Calcutta
|
Published 19.01.20, 10:50 PM
|
---
A Burrabazar businessman counts many as his children — some Hindus and some Muslims. Their religion does not matter to Nirmal Jalan, their need does.
The 60-year-old who had to quit college during the first year to keep a job and earn a living for the family has helped as many as 50 children financially so they don't have to give up like he did many decades back.
"I never saw their religion. What difference would their religion make to me if I want to help them? I help them because they need it and deserve it," Jalan said. He has been doing this for 14 years now.
Some of those he has helped since 2006 are abroad, some placed in multinationals, some happy to do with pride whatever they are doing and some still studying.
Among Jalan's children are a research scholar in his thirties now based in the Czech Republic after completing engineering and a 16-year-old who is in Class XI in Calcutta. Jalan speaks about all of them with pride.
Sampa Maity, 26, is now a lab assistant at a private engineering college. Jalan funded Sampa's education in a polytechnic. "My father was then a rickshawpuller and mother a domestic help. I could complete my education because of Sir," said Sampa, who keeps visiting the Jalans.
For Jalan, it is not about giving money alone but visiting them at their homes, getting to know them and breaking bread with them.
During Id last year, Jalan, along with his wife and daughter, visited Ayesha Farheen, who scored 94.2 per cent, and Mohammad Faizan, who scored 92.2 per cent in their ICSE. He is supporting both.
Before Jalan's support, Ayesha's family depended entirely on what her elder sister earned from giving private tuition. Faizan's family income would be less than Rs 5,000 a month. When Jalan and his family went to Faizan's house, his father Mohammad Arshad started crying in disbelief. He told his benefactor that no one visited them and it "made their festival complete" to see them.
Jalan, who keeps a low profile and agreed to speak only after a lot of coaxing, told Metro: "They offered us sweets and so much more. I visited them because I wanted to make them feel that there is no difference."
"Yes, there are sometimes differences in the way we dress and what we eat. But at the end of the day we are all human beings. And if we have the humanity in us, nothing else should matter."
He took Faizan and his younger sister Farha Naaz to a restaurant in the city during a family gathering. "It is about treating people as your own. He does not see us as any differently because of our religion," said Mohammad Arshad.
Jalan does so because he wants to make them comfortable. Make them his own.
"I don't want them to feel that I am superior to them. But if I go to their home, sit on the floor, invite them to my house, it makes them more comfortable with us," he said.
Jalan, who lives in Golaghata off VIP Road, said students "need an initial push" and that is how he helps them. That little push opens many doors for them.
"I know how education can make a difference to a family. When I see students trying to study but being pulled down by poverty, I try to help because I know that education will help them change the fate for themselves and their families. They should not forget their families and let them live in poverty," said Jalan, now managing director of a company that sells engineering parts.
It all started in 2006 when Jalan read about a Class XII student who had scored 85.2 per cent but his father, who worked in a jute mill, barely earned Rs 3,000 a month.
Jalan paid his admission fee and a part of his tuition fees so that he could enrol himself for an information technology course at a private engineering college.
The student went on to pursue MTech from Kalyani University, completed his PhD and then went to Poland for an internship. He worked as an assistant professor in a private engineering college in the city and is now in the Czech Republic for research.
"Had it not been for him, I would not have been able to pursue engineering despite qualifying for it. At that time, even Rs 2,000 every month was a hefty sum for us," the young man told this newspaper.
Jalan knows each of the students by their name and occasionally meets them to discuss their career goals. "I take a promise from them that when they have a job, they will also help one or two students. I don't know whether they will do so or not but I try to inculcate this in them," he said.
He is hopeful of an India "as I see it".