'Failure trial' for smooth East-West Metro
In the first phase, trains will run around 6km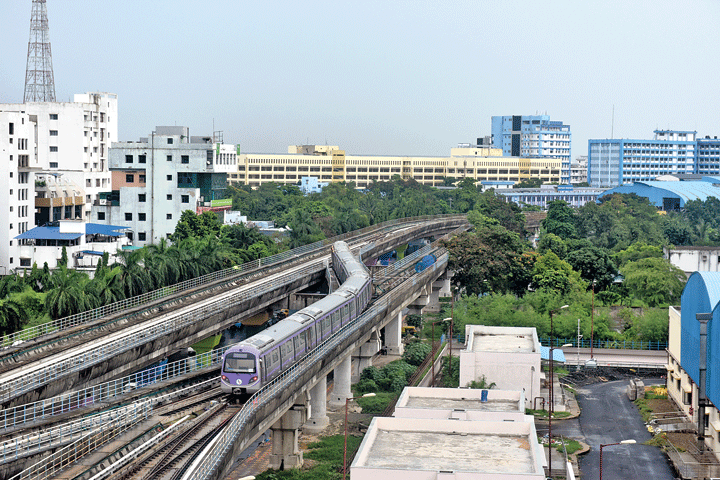 ---
|
Calcutta
|
Published 05.12.19, 08:15 PM
---
East-West Metro is undergoing "failure trial" to make the people who will run it familiar with emergencies.
The authorities hope to unveil the first phase of East-West Metro — between Sector V and the Salt Lake stadium — this month. Once fully functional, the Metro corridor will stretch 16.5km, between Sector V and Howrah Maidan. In the first phase, trains will run around 6km.
"East-West Metro runs on a more advanced technology compared with the north-south line. The service, however, will be operated by those who run the north-south Metro. We need to upgrade their skills because some possible technical faults on the new route will be different from the existing Metro. Hence, the need for failure trial," a railway official said on Thursday.
The Telegraph gives a lowdown of the failure trial.
What if the platform screen doors do not open?
East-West Metro has platform screen doors whose movements are synchronised with the train doors. Situations are being created during the trial to ensure that screen doors do not open even after a train enters the station. "The screen doors can be opened manually, too. There are keys with which the doors can be opened fast. The personnel are being trained in opening the doors with the keys," an official said.
Signal malfunction
The system will run on a communication-based control and signalling system, in which there are no signal posts. A train will pick up signals from the tracks. A train can move only if the earlier one moves. In the first phase, however, the automatic train protection system will not be used. A Metro official said the communication-based system was an established procedure across the world and it had a low failure rate. "We are conducting failure trial as a precautionary measure," he said.
Passenger evacuation
The trial is focussing on evacuating passengers in the event of a train getting stuck in the tunnel. "We are ascertaining how fast passengers can be evacuated and taken to the nearest station," said an official. "We are testing how the train's communication system functions during an emergency," the official said.