Export to Bangladesh suspended briefly, Indian drivers seek security
Mostly from Uttar Pradesh and Bihar, they suffered injuries from daggers and knives as goons robbed them of their cash, jewellery and at least 12 smartphones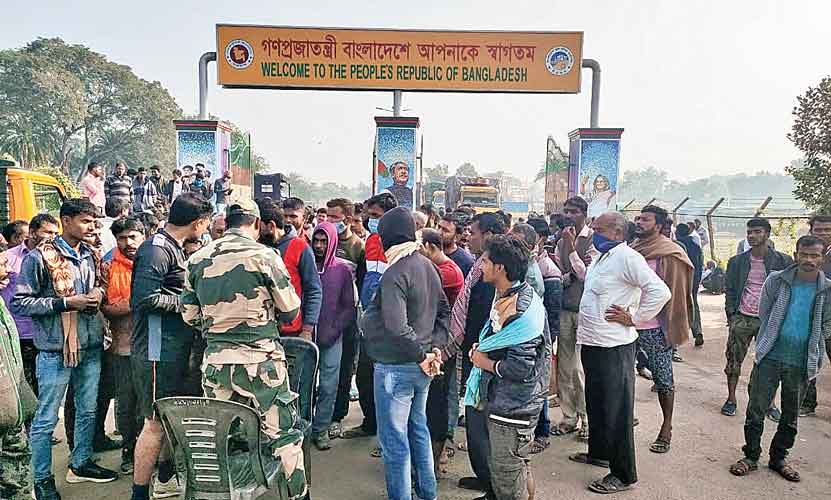 A BSF official (in camouflage) speaks to agitating Indian drivers at the zero point of the India-Bangladesh border near Petrapole .
Chanchal Pal
---
Calcutta
|
Published 16.12.21, 01:54 AM
|
---
Export to Bangladesh was suspended for about five hours on Wednesday as Indian drivers demonstrated on the "zero line" of the international border near the Petrapole land port to protest attacks on Indian drivers for cash and valuables at Benapole port in Bangladesh when vehicles are unloaded.
Protesting drivers alleged that in less than a week after an attack on a driver, at least a dozen more were attacked and looted during the early hours Wednesday in Anchra village of Benapole when they were asleep inside their vehicles.
The drivers, mostly from Uttar Pradesh and Bihar, suffered injuries from daggers and knives as goons robbed them of their cash, whatever jewellery they had on, and at least 12 smartphones.
Hrishikesh Yadav, a driver from Uttar Pradesh, suffered a deep wound when he tried to resist a goon. He received six stitches at a clinic inside the port after Bangladeshi officials rescued him.
Bhuban Kumar Das, an Indian driver, filed a complaint at Benapole port police station.
On their return to Indian soil in Petrapole, Indian drivers came the "zero line" to stage a demonstration and draw the attention of Indian and Bangladeshi authorities to their plight.  Hundreds of Indian clearing agents also joined the agitation, demanding more security at the Benapole port. Trade stopped for five hours till 11am.
Drivers and clearing agents warned authorities that unless security was ensured for them from here on, they would launch a larger agitation and suspend import-export activities through the Petrapole-Benapole land ports.
On the most recent attack, driver Sonu Rai told The Telegraph: "Around 2pm, a group of goons began spraying chemicals inside our cabin to make us unconscious. We tried to flee. But they blocked our way brandishing sharp weapons, and thrashed us while looting our valuables. They took our cash, jewellery and phones. I had Rs 4,000 on me which I had to hand over to a goon. No security personnel was seen."
Added Vinod Singh, a truck driver from Bihar: "This is not the first such incident. Every time we enter Benapole port, goons openly threaten us, demand money, and if we resist, attack us. There is no security for us."
"A few days ago, when a similar incident occurred, Bangladesh authorities assured us it would not happen again. But if the attacks continue, we have no choice but to suspend trade activities via Petrapole port," said Kartick Chakraborty, secretary of the Petrapole Clearing Agents Staff Welfare Association.
The BSF has taken note. A BSF official in Petrapole said: "We got complaints from drivers. We will talk to (Bangladesh) authorities to ensure the security of drivers for smooth bilateral trading activities."