Endurance test through wetlands
The Kolkata Ultra 60, in association with The Telegraph, saw 48 men and women attempt to run 60km

Participants of the Kolkata Ultra 60, in association with The Telegraph, run through the East Calcutta Wetlands on Sunday.
Pictures by Bishwarup Dutta
---
Calcutta
|
Published 08.12.19, 07:25 PM
|
---
They beat the Sunday morning laziness, tied their shoelaces, did a little warm-up and set out to run through the wetlands in Calcutta's east on Sunday.
The Kolkata Ultra 60, in association with The Telegraph, saw 48 men and women attempt to run 60km — a 20km course that had to be covered thrice — on their own. All but four succeeded.
There were 57 other participants, who were split into 19 teams of three members each. The three runners in each team — at least one of them was a woman — had to finish the ultramarathon in relays.
The run started at Urbana, a residential complex in Anandapur, off the Bypass. This was also the end point for the solo runners and the baton-handover point for the relay teams.
The run — Calcutta's only ultramarathon, according to the organisers — saw a motley of characters. At least one of the runners flew down to Calcutta only to participate in the race.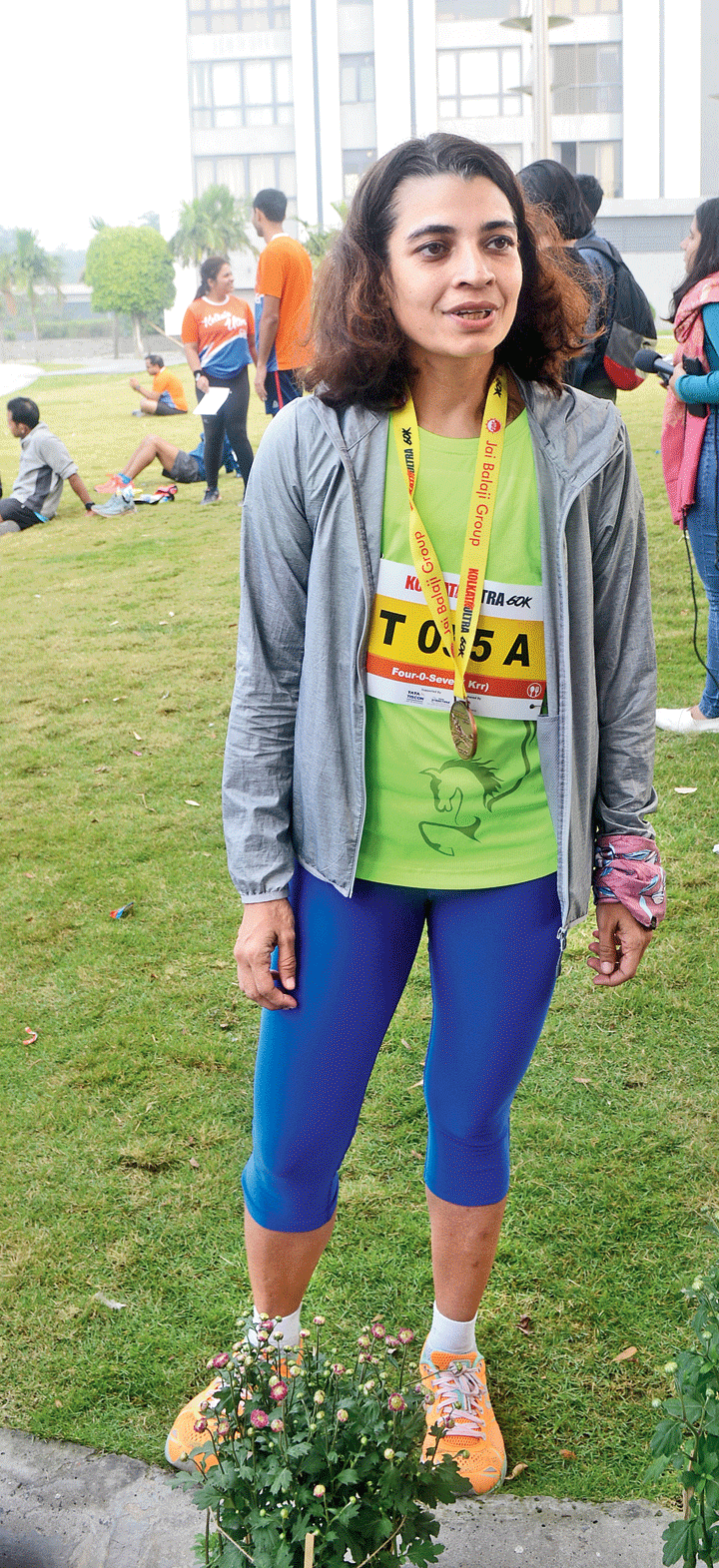 Sunmbul Rahman had lost her husband in 2005. Her younger daughter was then one year old and the elder one was seven. Three years later, she turned to running to overcome her grief and lack of confidence. "I started running in 2008. The next year I won a 5km run and that gave me confidence," she said. Her team, Four-O-Seven, bagged the third position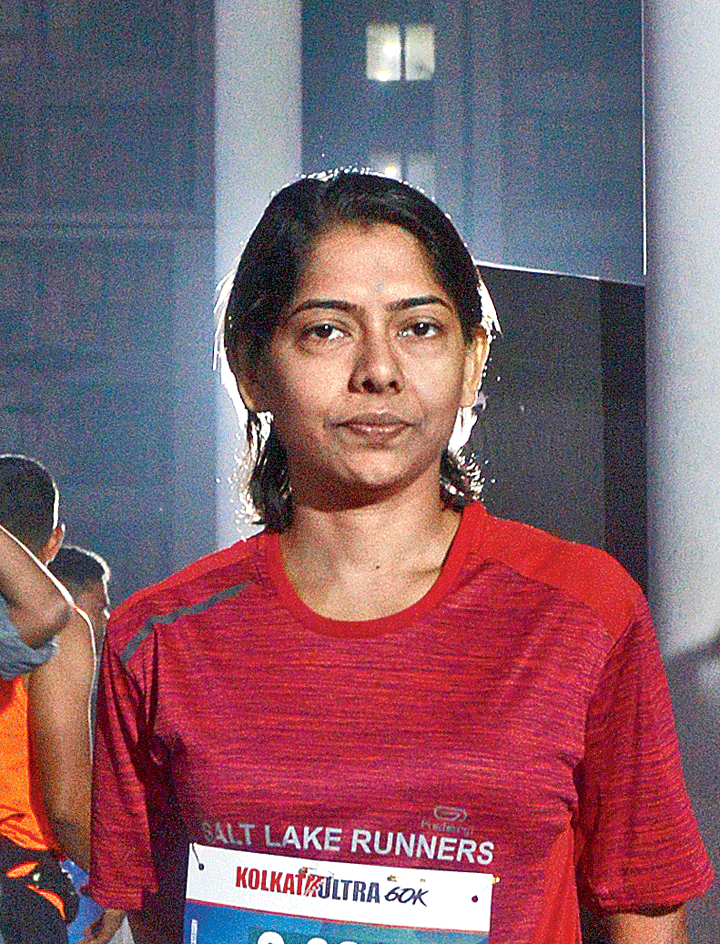 Tamali competed in the solo category and bagged the third position after finishing 60km in nine hours. She had started running five years ago. "By god's grace, I never suffered any injuries though I started late as a runner," said Tamali, a businesswoman.
"I ran the first 30km slowly. The next half I walked very fast,"she said.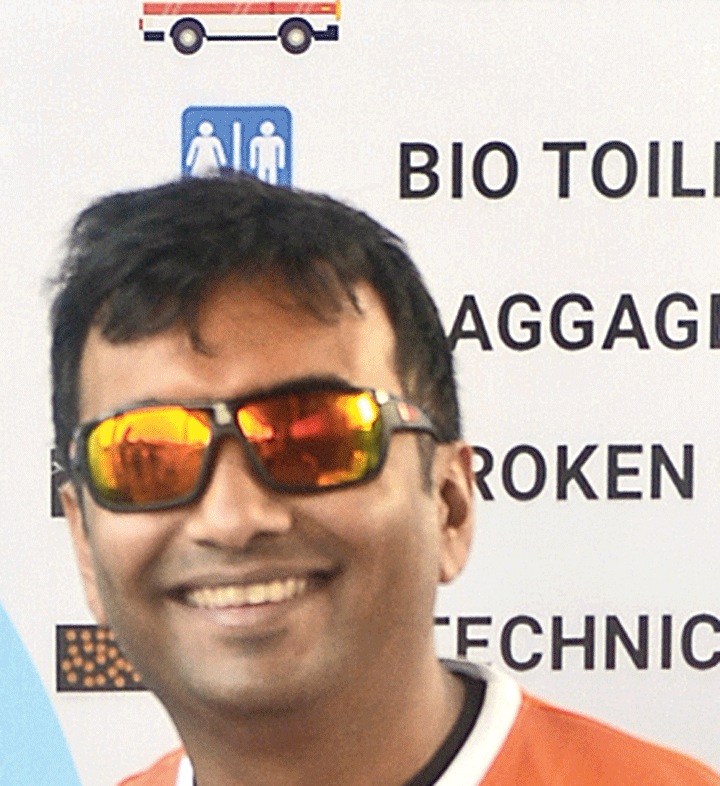 Varun volunteered to run the last lap for his team because the others were new to running. He felt he should be running when the sun would be at its fiercest. "Since I am experienced, I decided to run in such conditions," he said. Varun started running when he was in
New York in 2012-13. "Running is like spending time with myself. That is how I started and today I am hooked on running,"he said.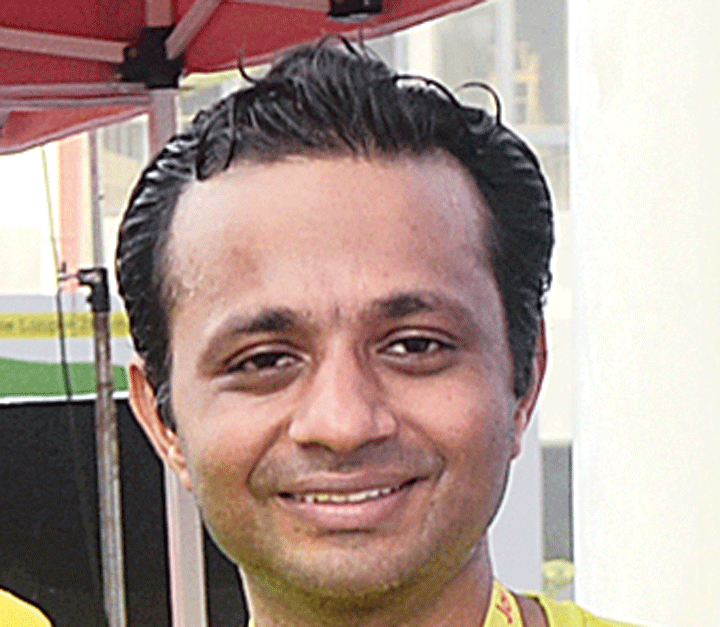 Varun Swarup was diagnosed with a condition of the legs called compartment syndrome in 2006. It did not let him run for more than two or three minutes. He was advised surgery. "In 2013 I found out that it could be cured by changing the way one landed his foot," said Varun, who finished 20km in 1.37 hours on Sunday. His team Octane bagged the second position.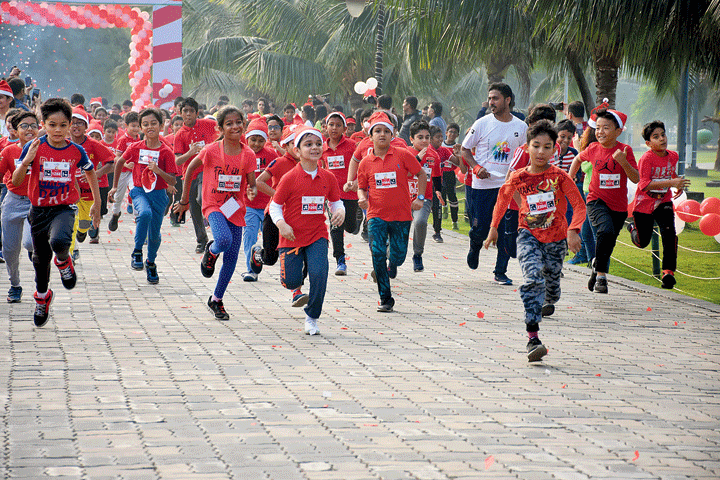 One of the participants had been nursing an injury and returned to running after two years and another, a member of a relay team, ran his part, had a quick breakfast and drove his children to Kiddathon at another end of the city.
Barun Karmakar, 40, flew down from Mumbai early on Friday to take part in the run. "I was supposed to land in Calcutta late on Friday but the flight got delayed and I landed past midnight. I took rest yesterday," the chemical engineer said while waiting for the go-ahead.
For Karmakar, who took part in 11 marathons last year, the run through the East Calcutta Wetlands was on his bucket list.
"I felt the difference between running through a concrete jungle and a natural jungle. Every time a bus passes by while I am running on a road, the smell of the fuel and its smoke fills me with disgust. Today I was breathing in fresh air while running," he said.
Naina Patni, 34, had to stay away from running for two years because of an ankle injury and was back on track this year. "I run with my friends at least once a fortnight," said the businesswoman from Alipore.
The organisers had kept dates, biscuits, bananas,
salt, chocolates and water bottles at regular intervals along the trail for the runners to refuel.
Three mentors held training sessions before the run. One of then, Shalu Bajaj, 45, said: "A mentor runs the trail with the objective of helping people finish their run. If we find someone has got a cramp, we make the person do the right stretching to overcome the cramp or advise proper nutrition so that they can complete the run."
"It is sheer joy organising such a race where people with beaming faces are just waiting to get the go-ahead and run. I love doing this," said Srinivas Vedula, an organiser of the ultramarathon and a keen runner himself.