Realty bite: No 'M's allowed. Some find it funny!
Ayesha Alam says when she visited a property near Joka on Sunday, a person who was showing her family around told them that it was exclusively for Hindus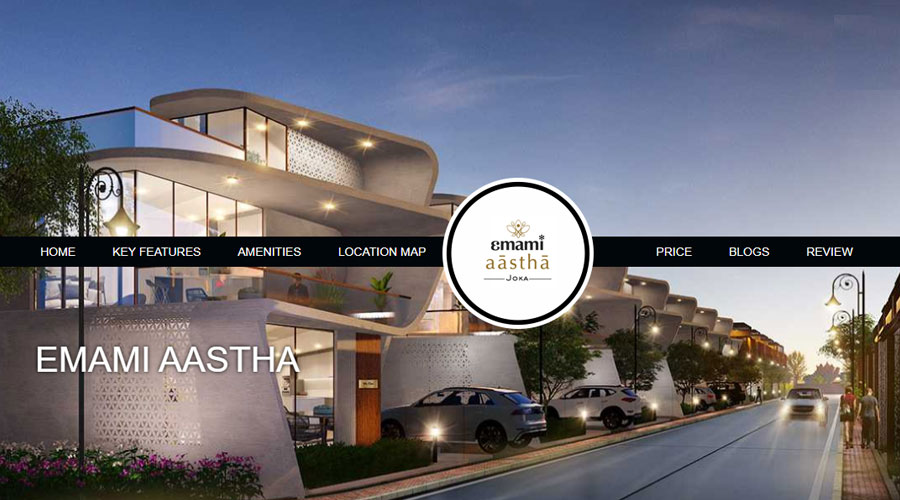 Screengrab of www.aasthakolkata.org.in
---
Calcutta
|
Published 26.07.22, 01:57 AM
|
---
Ayesha Alam, a 37-year-old professional and a Calcuttan, has said that when she visited a property associated with Emami Realty near Joka on the outskirts of the city on Sunday, a person who was showing her family around told them that the property was exclusively for Hindus and it would not be sold to Muslims.
The following is the account of Alam:
"One of the major USPs of this property is that it will be sold to Hindus only. No 'M's are allowed," that person told us. He wasn't even willing to say the word Muslim. I was so taken aback that I couldn't speak for some time. And this was happening in front of my father, an aged Muslim.
I believe the presenter, whose name if I correctly remember is Gopal Sharma, mistook us for a Hindu family since I'm married to a non-Muslim. My husband's name is Abhay Kumar Keshri and the site booking was by his name. But I don't believe that can be an excuse for imposing any such religious condition at all.
We are residents of Anandapur and were looking for an additional property, which can be used as a weekend getaway. We had put in an enquiry on the property's website (https://www.aasthakolkata.org.in) and they got in touch with us. They asked us to come and visit the property. The person we spoke to on the phone gave us directions.
We started from Anandapur, picked up my father from Park Circus and drove to Joka, only to face this humiliation.
Mr Sharma went out of his way to be polite with us. He welcomed us and said that he wanted us to go through a five-minute presentation before he took us to visit the model building.
During the presentation, he kept emphasising on two points. First, that the property is close to the Swami Narayan temple in Joka, and second, that the property has a temple within its compound.
Nothing abnormal occurred until he said that their USP was that Muslims wouldn't be allowed to buy property there. He went on to give us a break-up of how many people (from which state) had bought properties there.
At this point, I told him that I was a Muslim and there was no point going through the presentation anymore.
What came next was hilarious. He said that my identity wouldn't matter since the booking would be in my husband's name. I walked out of the room, just telling him that I would not want my child to ever come back to such a sickening environment.
I understand that it is their discretion to sell their property to whoever they want to. But why don't they put it up on their website then?
Yesterday (Sunday) after the incident, I tried to call a few of the numbers mentioned on the website. Nobody picked up. We had left a text with one of the numbers on the website, detailing our sickening experience.
They replied only in two lines: "I am really sorry for this bad experience, Sir. We are marketing consultants, and so, we have our own limitations."
Today they rang me up and very casually said that they don't have any employee called Gopal Sharma. I told them that I might have got the name wrong. Then they said that there is one Chetan Sharma and I told them that could be the name, but I'm not sure.
I got so furious that I vented my anger on social media. At this point, I see the post has more than 600 reactions, 62 shares and 26 comments. But alarmingly, 525 people are laughing at my post. If they find it funny, they don't actually understand that they are rearing a Frankenstein's monster, which will eventually backfire.
But people have also expressed their solidarity with me, which shows that not all is lost.
We welcome all religions: Emami Eealty
Nitesh Kumar, CEO of Emami Realty, told The Telegraph on Monday: "We don't have any employee named Gopal Sharma. So if anybody is saying anything about the property, it cannot be taken as a statement from Emami. We welcome all religions, and our other projects have such a diverse characteristic. Any third party can say anything to sell the property but we don't endorse such statements. The lady can contact us with her grievance and we will address it."