Eloquent Modi has no word on Vidyasagar
The Prime Minister addressed two rallies in Bengal but did not utter a word about Ishwarchandra Vidyasagar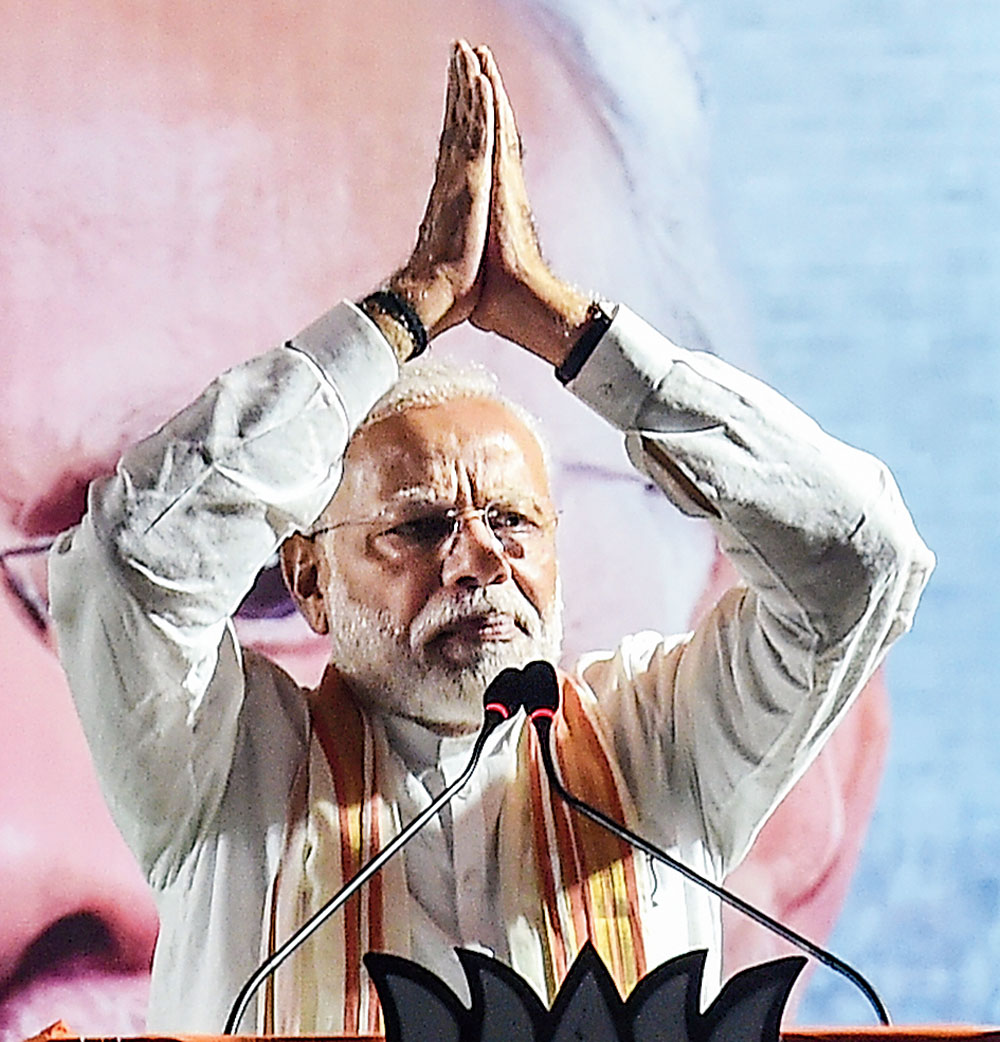 Modi at the Diamond Harbour rally on Wednesday
Picture by PTI
---
Calcutta
|
Published 15.05.19, 08:41 PM
|
---
The silence said it all.
Prime Minister Narendra Modi addressed two rallies in Bengal on Wednesday but did not utter a word about Ishwarchandra Vidyasagar.
Less than 24 hours earlier, a bust of the Bengal Renaissance icon had been vandalised at Vidyasagar College in Calcutta during BJP president Amit Shah's road show.
Even when the Prime Minister spoke on Wednesday about the "eminent sons of Bengal" — specifically naming Sri Ramakrishna, Swami Vivekananda, Rabindranath Tagore, Rishi Aurobindo and Netaji Subhas Chandra Bose — he omitted Vidyasagar.
At his rallies in Taki and Diamond Harbour, Modi obliquely referred to Tuesday evening's incident. In an interview to ABP Ananda on the sidelines of the Taki rally — telecast on Wednesday evening — the Prime Minister skirted the core issue of the assault on the icon's legacy. Asked whom he held responsible for Tuesday's incident, he iterated what he had said at the rally: "My opinion is not necessary."
At the rally, Modi said: "Yesterday, the whole nation saw the picture of Calcutta and is discussing it. Brothers and sisters, the people of the country and the world are watching what Didi, nervous at the pro-BJP wave in Bengal, has stooped to. Mamatadi had declared that she would take badla (revenge) by the inch. In keeping with her declared agenda, she got the BJP's national president Amit Shah attacked within 24 hours…. An attack was launched on his road show."
"After the attack, you (Mamata Banerjee) and your courtiers, the kind of politics you have been up to, it is being revealed by students of the university…. Didi's vision is obstructed by the curtains of pride. Didi is shredding to ruin the culture of the Bengali bhadralok," Modi added.
At a news conference on Wednesday night, Mamata questioned Modi's silence on the core issue. "Modibabu ki ekbaro dukkhoprokash korechhen? (Did Modibabu express regret even once?)" the Trinamul chief asked.
She then added: "Oboshyo dukkhoprokash korleyo Banglar manusher kichhu jaay-ashey na (However, even if he did, it does not matter to the people of Bengal)."
At his rally in Diamond Harbour, Modi — known for avoiding direct confrontations on awkward issues — had steered clear of direct references to the Vidyasagar College rampage. "Didi took her badla by the inch yesterday, but braving stones thrown on the chest, the people of Bengal saved Amit Shah…. You (Mamata) talk about badla with gaaliyan, goley, hathiyar (abuses, shells, weapons)... this is your fear of badlav (change) in Bengal," Modi said.
"Didi was thinking she would keep ruling the state by scaring and intimidating the people of Bengal. But this soil has the sanskar of great people such as……the people of this soil will not tolerate this. The people of Bengal now want freedom from Didi…. She turned loktantra (democracy) into gundatantra (regime of goons)," Modi added.