East West Metro set off on its first public ride
One hundred and seventy four passengers boarded the first train from Sector V to the stadium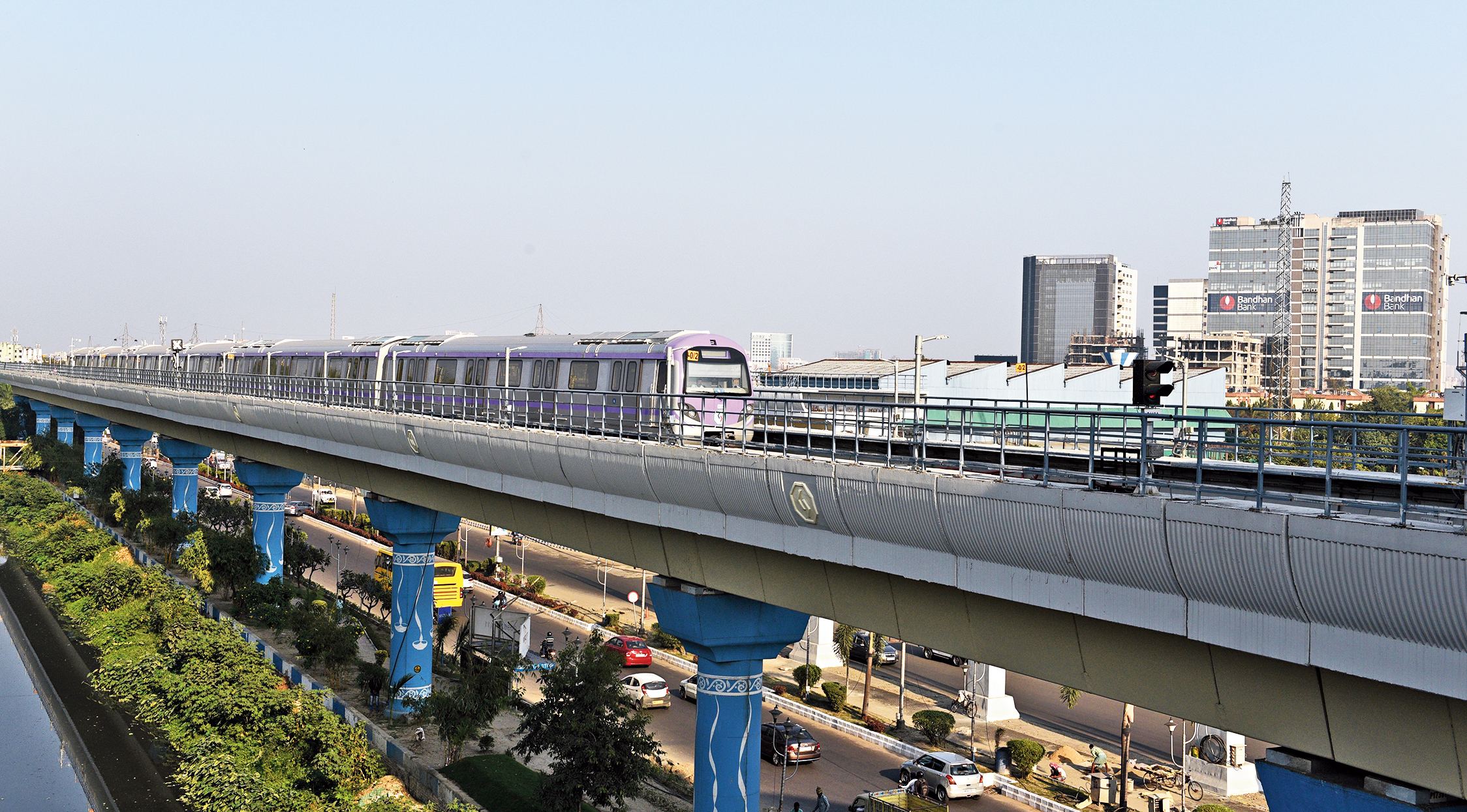 A train rolls out of Sector V station en route to Karunamoyee.
Picture by Pradip Sanyal
---
Calcutta
|
Published 20.02.20, 07:22 PM
|
---
Debut Dossier
First train from Sector V-end: 174 passengers
First train from Stadium-end: 102 passengers
Total passenger count on Day 1: 13,495
Revenue generated on Day 1: Rs 1,31,130
Busiest station on Day 1: Sector V (3,575 passengers)
Distance covered: 5.3km
Time taken for full ride: 13 minutes
Top speed: 80kph
Stations: Sector V, Karunamoyee, Central Park, City Centre, Bengal Chemical, Salt Lake Stadium
Tokens gone missing on Day 1: 353
(Tokens are to be returned before leaving the station but passengers sneaked away with their "souvenirs"
The East-West Metro took off on February 14 at a 100 smiles an hour. One hundred and seventy four passengers boarded the first train from Sector V to the stadium. The first train from the stadium-end had 102 passengers. And not one of them could suppress their smile.
"We've seen the Metro being built from Day 1," said Subhadip Pyne, who lives in Purbachal and boarded the first train from the stadium. "We suffered road blocks, traffic jams and what not during its construction but this ride today makes me overlook it all. It has been worth it."
First day first shows
The Sector V Metro station was abuzz with passengers, officials and reporters at 8am on Friday. "I wanted to be the first passenger but someone beat me to it," laughed Tapas Guha, who had come from EE Block with daughter Somrwita.
Rajib Roy was the first in queue to buy a token. "I had come to CL Block to drop my son at Sri Aurobindo Institute of Education and walked over as I wanted to be on the first ride," said the man, who also was on the first Metro train ride in Dubai. "That train was driverless but this one is of international standards too."
Officials clicked his picture, gifted him mementoes and noted down his name for the record. When the train finally started rolling, passengers broke into cheers and applause.
"How beautiful Salt Lake looks from the top," exclaimed Itu Saha of CK Block. "When we were building our house here in 1984 a bus would drop us off at Karunamoyee and we would have to walk through forests of kash to reach the plot. And today we have a Metro!"
The bird's eye view from the train is lovely. The landmarks are familiar but the perspective fresh. "That's my college!" exclaimed Saikat Paul, an alumnus of Bidhannagar College nostalgically as the train drove past. One could see cars driving away from Karunamoyee, the Book Fair stalls being dismantled at Central Park, visitors walking into City Centre... Even the Duttabad slums looked beautiful with its water bodies! For one and all
If the ubiquitous image inside the older Metro is that of passengers hanging from railings, the new Metro has passengers extending their right hands out and smiling into their phone cameras. The clicking began at the entry escalator, build up steam before the platform screen doors, peaked inside the train and ended only after leaving the destination.
"Actually one is not allowed to click pictures in the Metro but people are so excited and want to share it with the world. We are not stopping them today," said Sector V station master Sukanta Roy.
People came from all corners and walks of life. There was Amal Kumar Mondal, who had trekked from Belur to be a part of this historic ride; Gour Saha, a corporation sweeper, who wanted to take a tour before setting out to work; and Golok Das, who runs a lottery stall at Karunamoyee.
"Seven out of 16 members at Yoga Centre AL Park have come after our work-out," smiled a member, Kanu Bose, showing the logo of their club on his T-shirt. "We have been waiting for this day for years."
Several students, mostly from Duttabad, came aboard. "I came to collect my admit card from school but couldn't leave without a ride on this train," smiled Sannibha Mitra of Class XII, Hariyana Vidya Mandir.
Soma Dey Ghosh was the second passenger on the train from the Sector V side and along with her husband Susanta Dey, comprised the first couple. "We've never really celebrated Valentine's Day but today will be memorable," she said.
Geetali and Aloke Chakravartty, senior citizens of DB Block, also took a train to celebrate Valentine's Day. "In 1984, we had taken the first train of North-South Metro along with our toddler son and wanted to repeat the feat today," said Geetali. On Monday, she took her brother and sister for another joyride. "I shall now offer a ride to all my guests coming from outside Salt Lake." All in a day's work
Biswajit Bhowmik lives in Phoolbagan and so naturally, wishes the Metro had started from there. "But even this will save me a lot of time," says the Sector V employee. "If I come by car, bus or auto it takes 45 to 60 minutes to reach work. But if I can take an auto till the stadium it'll take me only 13 minutes to reach Sector V."
Roy, the first passenger on the Metro, bought prepaid smart cards for his son and himself. "The Metro will be cheaper than his Rs 600 school bus fee," he noted. "I'll take the train from City Centre."
On Monday evening, Indrajit Maiti tested waters with the Metro on his way home from his Sector V office. "Actually I need to reach Bidhananagar railway station and there's no direct route by the Metro but I want to try it anyway. If it's convenient I'll take it daily," he said.
Life with the Metro
At the time of construction, residents living adjacent to its route had raised concerns about noise, vibration and the like but as of now they are not complaining. "There is a mild sound when the train passes but it's not a disturbance. Trucks and buses are louder; so loud that we cannot hear the television before us sometimes," says Geetali Chakravartty, whose DB Block apartment faces the Metro. "Heavy vehicles driving by make our four-storey building tremble too; but nothing of the sort is happening with the trains."
At present, the train's passenger count is too low to impact business of autos and rickshaws, but they are scared that the equation may change once the Metro route touches Phoolbagan later this year.
"The last few days, mainly local residents have been taking Metro rides. They're coming on foot or by car. Maybe one in 10 is taking a rickshaw home. They're not using us for last-mile connectivity," said Biswanath Das, who stays parked at the rickshaw stand meters away from the Sector V station. "I'm afraid we'll lose business. Why will someone take a Rs 45 rickshaw ride to City Centre when they can take a Rs 10 ride by Metro now?"
Rabiul Gazi, another electric rickshaw driver in CL Block, says it's only the aged who will call them for door-to-door pick up. "As it is, bike cabs have eaten into our market and our Rs 22,000 rickshaw batteries are lasting less than a year. Now with the Metro as an added rival, I don't know how to make ends meet," said the youth.
Auto drivers on the Karunamoyee-Phoolbagan route are anxious too. "Once the trains go up till Phoolbagan, we'll have to make hay before and after Metro hours, I guess," said Suraj Ram. The drivers say they ply from 4am to 11pm. Metro runs from 8am to 8pm at 20-minute intervals.