East Midnapore: High tides trigger floods
Residents of low-lying areas wake up to waist-high waters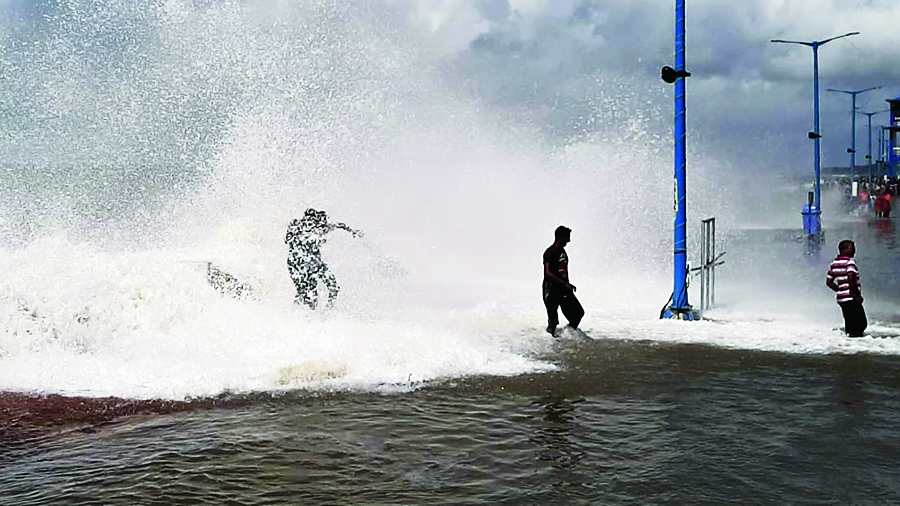 Tourists on Digha beach during high tides on Wednesday.
Kanishka Maity
---
Tamluk(EastMidnapore)
|
Published 14.07.22, 01:15 AM
|
---
Several villages around East Midnapore's seaside tourist towns of Tajpur and Mandarmani were flooded early on Wednesday following a full moon tide that showed signs of rough waters starting on Tuesday afternoon.
Residents of low-lying areas on Wednesday morning woke up to waist-high waters, temporarily displacing several persons. On Tuesday evening, two persons drowned in the sea off Mandarmani when they were drawn in by unexpected waves.
The bodies of Pritam Sheet, 20 and Brishti Das, 19 were fished out  by civic volunteers on Tuesday evening and Wednesday morning, respectively.
"The situation is getting serious, so we are focusing at the moment on evacuating tourists and preventing the influx of new ones. The tide started on Tuesday and swelled by Wednesday morning," said a district official. The two deceased were reportedly a couple and part of a group of tourists from Jhargram.
"They broke off from the group and went bathing. Not long after, the screams of the flailing male youth were heard. The girl was nowhere to be seen," said a source.
The incident prompted district officials to bar deep sea bathing across East Midnapore seaside towns starting on Wednesday.
"Intense tides were noticed near the shore around 8.30am on Wednesday. Soon, large waves started crashing onto the guard wall in Digha. After some time, the water flooded the area around the beach. Police are controlling the tourist situation at the moment," said a Digha-Sankarpur Development Authority official, adding that they and police officers were preparing for worsening tides.
Rimi Majumder, a Behala housewife and Digha tourist on Wednesday, said initially she was "a little upset" that she would not be able to take a bath in the sea, but at the end she was grateful to the officials for putting precautionary measures in place.
In a related development, a portion of Marine Drive between Digha and Mandarmani was damaged on Wednesday by flood waters.
Biswajit Jana, gram panchayat pradhan in Tajpur, said water had flooded several villages near Tajpur including Jaldha, Jamra and Shampur. "Water has also entered some houses. There is a possibility of flooding again at night. The cyclone shelter has been kept ready. The situation will be watched and immediate action will be taken. If necessary, arrangements will be made for the villagers to stay in the shelter," he said.
Similar weather-related damage was recorded in coastal North and South 24-Parganas. In North 24-Parganas' Sandeshkhali, dykes of the Dasa and Raimangal rivers threatened to give way, with their water levels already having breached 'critical'.
Sources said the phenomenon was not unexpected in the Sunderbans delta. In the Basirhat sub-division, only 120km of 750km of dykes are reinforced with concrete.
"The situation is very concerning to us. We may have to leave at a moment's notice depending on whether the earthen dams hold up," said a local resident.